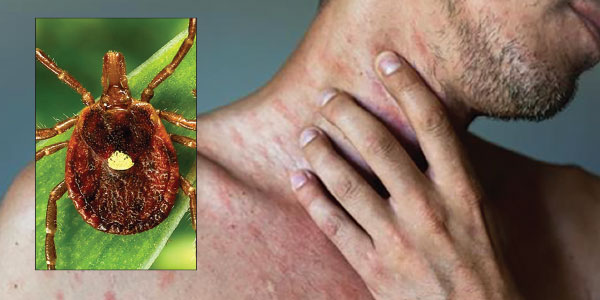 By Chara
The U.S. Centers for Disease Control and Prevention (CDC) claims it is difficult to determine the number of U.S. cases of alpha-gal syndrome (AGS), an allergic reaction linked to ingesting certain types of meat; exposure to products with alpha-gal, such as gelatin; and lone star tick bites.
Between 2010 and 2022, more than 110,000 suspected AGS cases were recognized in the United States, the CDC stated in a July 27 press release. However, there might be as many as 450,000 cases, according to the federal health agency.
According to the CDC, many U.S. health care providers are unfamiliar with AGS. In a study of 1,500 of health care workers, including family doctors and nurse practitioners, nearly half hadn't heard of it, a third expressed lack of confidence in diagnosing or managing it and only 5 percent expressed confidence in treating it, the news release stated.
"The burden of alpha-gal syndrome in the United States could be substantial, given the large percentage of cases suspected to be going undiagnosed due to non-specific and inconsistent symptoms, challenges seeking health care and lack of clinician awareness," Dr. Johanna Salzer was quoted by the CDC as saying. "It's important that people who think they may suffer from AGS see their health care provider or an allergist, provide a detailed history of symptoms, get a physical examination and a blood test that looks for specific antibodies (proteins made by your immune system) to alpha-gal."
As the CDC states on its website, AGS symptoms include a skin rash, nausea, heartburn, diarrhea, breathing problems, feeling dizzy or faint and "severe stomach pain." The CDC also states that the symptoms generally appear between two and six hours after ingesting "meat or dairy products, or after exposure to products containing alpha-gal."
Diagnosis of AGS requires a physical exam and perhaps a blood test or allergy testing on the skin, according to the CDC.
---
Número de casos de AGS difícil de determinar, afirma CDC
Los Centros para el Control y la Prevención de Enfermedades (CDC) afirman que es difícil determinar la cantidad de casos de síndrome alfa-gal (AGS, por sus siglas en inglés) en Estados Unidos. Este síndrome es una reacción alérgica relacionada con la ingestión de ciertos tipos de carne; exposición a productos con alfa-gal, como la gelatina; y picaduras de garrapatas de estrella solitaria.
Entre 2010 y 2022, más de 1110.000 casos sospechosos de AGS fueron reconocidos en los Estados Unidos, declaró el CDC en un comunicado de prensa del 27 de julio. Sin embargo, podría haber hasta 450.000 casos, según la agencia federal de salud.
Según los CDC, muchos proveedores de atención médica de Estados Unidos no están familiarizados con AGS. En un estudio de 1500 trabajadores de la salud, incluidos médicos de familia y enfermeras practicantes, casi la mitad no había oído hablar de él, un tercio expresó falta de confianza para diagnosticarlo o manejarlo y sólo el 5 por ciento expresó confianza para tratarlo, el comunicado de prensa indicó.
"La carga del síndrome alfa-gal en Estados Unidos podría ser sustancial, dado el gran porcentaje de casos que se sospecha que no se diagnostican debido a síntomas inespecíficos e inconsistentes, desafíos para buscar atención médica y falta de conocimiento médico", dijo la dra. Johanna Salzer, según el CDC. "Es importante que las personas que creen que pueden sufrir de AGS consulten a su proveedor de atención médica o a un alergólogo, proporcionen un historial detallado de los síntomas, se realicen un examen físico y un análisis de sangre que busque anticuerpos específicos (proteínas producidas por su sistema inmunológico) para alfa-gal."
Como afirma el CDC en su sitio web, los síntomas de AGS incluyen erupción cutánea, náuseas, acidez estomacal, diarrea, problemas respiratorios, mareos o desmayos y "dolor de estómago intenso'. El CDC también afirma que los síntomas generalmente aparecen entre dos y seis horas después de ingerir "carne o productos lácteos, o después de la exposición a productos que contienen alfa-gal".
El diagnóstico de AGS requiere un examen físico y quizás un análisis de sangre o una prueba de alergia en la piel.