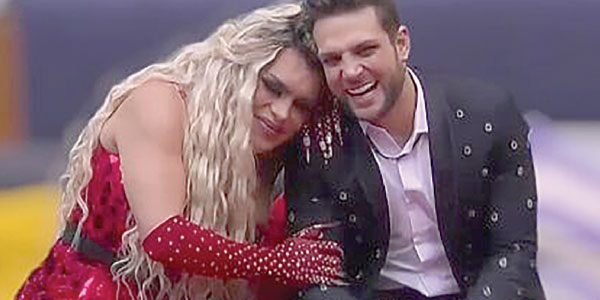 By Tere Siqueira
In a riveting culmination to months of drama, a Mexican reality show has crowned its winner, captivating millions in its wake.
The show, known as "La Casa de los Famosos México", recently announced Wendy Guevara, the trans influencer, as its champion, concluding over 70 days of intense competition.
After enduring over 70 days of isolation in Mexico's captivating reality TV sensation, Guevara claimed the grand prize of 4 million pesos.
The show consistently heightened interest each week. Crucially, platforms like ViX provided round-the-clock footage, facilitating discussions and fan theories on other digital venues. A notable highlight this season was the formation and strategies of 'Team Infierno', led by Sergio Mayer and Poncho de Nigris. Their gameplay, marked by an intense rivalry with the 'Cielo' team, became a central narrative for this season.
In a show of immense fandom, Zona Rosa in Mexico City turned into a sea of celebration for Wendy Guevara ahead of the grand finale. Fans from all walks of life congregated in this iconic location, with large screens ensuring no one missed out on the culmination of the show. This gathering wasn't just a testament to Wendy's popularity but also demonstrated the cultural significance of "La Casa de los Famosos México".
Like all successful shows, "La Casa de los Famosos México" wasn't just a hit regarding viewership; it was a commercial goldmine. Ad slots for the show reportedly flew off the shelves.
The season's closure not only marked Wendy's victory but also celebrated the journey of other finalists: Wendy Guevara, Poncho de Nigris, Nicola Porcella, Emilio Osorio, and Sergio Mayer. Their respective narratives, filled with alliances, drama, and unexpected turns, have set an exhilarating precedent for future seasons of the show.
---
Wendy Guevara triunfa en "La Casa de los Famosos México"
En una apasionante culminación de meses de drama, un reality show mexicano ha coronado a su ganadora, cautivando a millones en su proceso.
El programa, conocido como "La Casa de los Famosos México", recientemente anunció a Wendy Guevara, la influencer trans, como su campeona, concluyendo más de 70 días de intensa competencia.
Tras soportar más de 70 días de aislamiento en la sensación de la televisión real mexicana, Guevara reclamó el gran premio de 4 millones de pesos.
El programa aumentó consistentemente el interés cada semana. Crucialmente, plataformas como ViX ofrecieron imágenes las 24 horas, facilitando discusiones y teorías de fanáticos en otros medios digitales. Un destacado de esta temporada fue la formación y estrategias del 'Equipo Infierno', liderado por Sergio Mayer y Poncho de Nigris. Su juego, marcado por una intensa rivalidad con el equipo 'Cielo', se convirtió en una narrativa central de esta temporada.
En una muestra de inmenso fanatismo, la Zona Rosa en la Ciudad de México se convirtió en un mar de celebración para Wendy Guevara antes de la gran final.
Fanáticos de todos los ámbitos de la vida se congregaron en esta icónica ubicación, con grandes pantallas que garantizaban que nadie se perdiera la culminación del programa. Esta reunión no sólo fue un testimonio de la popularidad de Wendy, sino que también demostró la significancia cultural de "La Casa de los Famosos México".
Como todos los programas exitosos, "La Casa de los Famosos México" no sólo fue un éxito en términos de audiencia; fue una mina de oro comercial. Se informa que los espacios publicitarios para el programa se vendieron rápidamente.
El cierre de la temporada no sólo marcó la victoria de Wendy, sino que también celebró el viaje de otros finalistas: Wendy Guevara, Poncho de Nigris, Nicola Porcella, Emilio Osorio y Sergio Mayer. Sus respectivas narrativas, llenas de alianzas, drama y giros inesperados, han establecido un emocionante precedente para las futuras temporadas del programa.