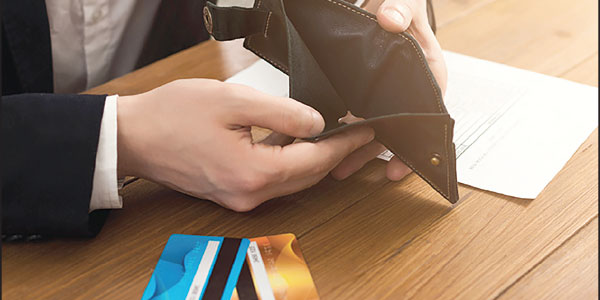 The economy's recovering, the federal government keeps telling us. It's on the upswing, and the rate of inflation's on the downswing. Americans aren't buying it. Soaring prices for gas, groceries, housing, insurance, taxes and utilities make economic recovery a hard sell. Based on their own experience, 70% of Americans regard the economy as worsening, not improving, a Sept. 14 Sawyer Business School/USA Today survey showed. Their wages are shrinking compared to the rate of inflation.
There's ample empirical proof that the climbing cost of living is hurting households. According to the latest Census Bureau report on income and poverty (https://www.census.gov/newsroom/press-releases/2023/income-poverty-health-insurance-coverage.html), median household income dropped $1,750 last year. The middle class is falling behind. Wages haven't kept pace with inflation. Real median earnings for full-time working women and men fell $2,880 and $3,670, respectively.
Full-time workers in the bottom 10% of earners were 6.3% poorer in 2022. They feel most acutely the deadweight of inflation because they must necessarily spend most of their income on essentials – food, fuel and housing. Not incidentally, the number of children in the U.S. living in poverty more than doubled between 2021 and 2022.
Consumer prices through August have risen 3.7%, the federal government reported last week. Retail gas prices have steadily risen from $3.44 in January to $3.95 per gallon in August. Auto insurance rates have gone up 17.1% this year. The cost of homeowners insurance rose 9%. The cost of food rose 5.9%.
This weighs heavily on Americans at all income levels. Nine percent fewer people in the middle-income range report being able to live comfortably on their income with a little left over while an additional 9% low-income workers report they can just make ends meet, a Sept. 5-8 CBS News/YouGov survey showed.
For the first time since 2010, the U.S. poverty rate increased, the Census Bureau reported Sept. 12. It rose by 4.6 percentage points.
What if prices continue to mount? How long can inflation climb? Until 2024, CNBC reported in August after surveying various economic experts. According to Barron's, however, "it could take a decade." Either way, stunting the surging rate of inflation won't return prices to pre-inflation levels, will it? Can wages ever catch up?
---
Inflación salvaje versus salarios bajos
La economía está en recuperación, así nos sigue diciendo el gobierno federal. Está en alza y la tasa de inflación está en baja. Los estadounidenses no se lo creen. Los crecientes precios de la gasolina, los alimentos, la vivienda, los seguros, los impuestos y los servicios públicos hacen que la recuperación económica sea difícil de vender. Según su propia experiencia, el 70% de los estadounidenses considera que la economía está empeorando, no mejorando, según mostró una encuesta de Sawyer Business School/USA Today del 14 de septiembre. Sus salarios se están reduciendo en comparación con la tasa de inflación.
Hay abundantes pruebas empíricas de que el creciente coste de la vida está perjudicando a los hogares. Según el último reporte de la Oficina del Censo sobre ingresos y pobreza (https://www.census.gov/newsroom/press-releases/2023/ Income-poverty-health-insurance-coverage.html), el ingreso familiar medio cayó $1,750 el año pasado. La clase media se está quedando atrás. Los salarios no han seguido el ritmo de la inflación. Los ingresos medios reales de las mujeres y los hombres que trabajan a tiempo completo cayeron $2,880 y $3,670, respectivamente.
Los trabajadores a tiempo completo del 10% de los que ganan menos eran un 6,3% más pobres en 2022. Sienten de manera más aguda el peso muerto de la inflación porque necesariamente deben gastar la mayor parte de sus ingresos en productos básicos: alimentos, combustible y vivienda. No es casualidad que el número de niños en Estados Unidos que viven en la pobreza se haya más que duplicado entre 2021 y 2022.
Los precios al consumidor hasta agosto han aumentado un 3,7%, reportó el gobierno federal la semana pasada. Los precios minoristas de la gasolina han aumentado constantemente de $3,44 en enero a $3,95 por galón en agosto. Las tarifas de los seguros de automóviles han aumentado un 17,1% este año. El costo del seguro para propietarios de viviendas aumentó un 9%. El costo de los alimentos aumentó un 5,9%.
Esto pesa mucho sobre los estadounidenses de todos los niveles de ingresos. Un nueve por ciento menos de personas en el rango de ingresos medios informan que pueden vivir cómodamente con sus ingresos y les sobra un poco, mientras que un 9 por ciento adicional de trabajadores de bajos ingresos informan que pueden llegar a fin de mes, según una encuesta de CBS News/YouGov del 5 al 8 de septiembre.
Por primera vez desde 2010, la tasa de pobreza de Estados Unidos aumentó, reportó la Oficina del Censo el 12 de septiembre. Aumentó 4,6 puntos porcentuales.
¿Qué pasa si los precios siguen subiendo? ¿Hasta cuándo puede subir la inflación? Hasta 2024, reportó CNBC en agosto tras encuestar a varios expertos económicos. Sin embargo, según Barron, "podría llevar una década". De cualquier manera, frenar la creciente tasa de inflación no devolverá los precios a los niveles anteriores a la inflación, ¿verdad? ¿Podrán los salarios aumentar a la par alguna vez?