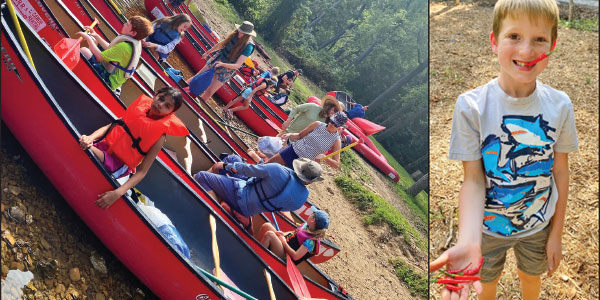 By Tere Siqueira
In the heart of Kansas City, Kansas' Argentine area is an organization aimed at nurturing young explorers: Endless Outdoors.
Dedicated to developing the bond between children and nature, Endless Outdoors offers activities for youngsters ranging from paddleboarding to archery.
"We are very hands-on. … We love to teach the children skills for every age that we have," said Zorahila Curiel, bilingual wilderness lead teacher, during a recent interview. "We have a different curriculum that helps build those skills. We really strive for the children to be out there on their own and do things by themselves without an adult telling them exactly what to do at all times. So it gives them the opportunity to learn different skills and use them for future needs."
Endless Outdoors, which prides itself on utilizing a holistic, year-round approach to encourage kids to engage with the outdoors, operates at three levels: Basecamp, Outpost and Summit. Basecamp serves as the starting point, allowing children to delve into exploration near their neighborhoods. Outpost allows for off-site, deeper excursions into nature. Summit takes the young explorers on professionally guided adventures to some of the top-rated wilderness destinations in the country.
In addition, Endless Outdoors prides itself on being parent-friendly. To allow parents to plan their kids' adventures around their lives, the organization offers a flexible program schedule. Parents may choose adventure times ranging from weekday evenings to weekend mornings.
Related to that sense of flexibility, Endless Outdoors strives to addresses the logistical concerns of transportation, especially for after-school offerings. To do so, the organization has established partnerships with community entities, ensuring that kids are picked up right after school and safely transported to the activity site. After a session, the same shuttle service ensures children return to the initial pickup spot.
Recognizing families' varied financial situations, Endless Outdoors offers a tiered pricing model. For families who qualify for free or reduced lunches, there's a significantly reduced membership cost.
Endless Outdoors is offering an event on Oct. 14 to encourage community members to experience a first-hand connection with nature. The community campout day will allow participants to familiarize themselves with the land, participate in outdoor activities and spend a night under the stars.
"I encourage all of you to come out and just try it," Curiel said. "Nature is good for brain development. I really think this is a very good program for any children, and it's a good way to engage kids and keep them off the screens and get them outside."
For more information about Endless Outdoors, visit https://endlessoutdoors.org/.
---
Una organización sin fines de lucro se centra en acercar a los niños a la naturaleza
En el corazón del área de Argentine en Kansas City, Kansas, se encuentra una organización cuyo objetivo es formar a jóvenes exploradores: Endless Outdoors.
Dedicada a desarrollar el vínculo entre los niños y la naturaleza, Endless Outdoors ofrece actividades para jóvenes que van desde el paddleboarding hasta el tiro con arco.
"Somos muy prácticos… nos encanta enseñar a los niños habilidades para las diferentes edades", dijo Zorahila Curiel, profesora bilingüe de actividades al aire libre, durante una entrevista reciente. "Tenemos un plan de estudios diferente que ayuda a desarrollar esas habilidades. Nos esforzamos para que los niños salgan solos y hagan cosas por sí mismos sin que un adulto les diga exactamente qué hacer en todo momento. Así les damos la oportunidad de aprender distintas habilidades y utilizarlas para necesidades futuras".
Endless Outdoors, que se enorgullece de utilizar un enfoque holístico durante todo el año para animar a los niños a relacionarse con el aire libre, funciona en tres niveles: Basecamp, Outpost y Summit. Basecamp sirve como punto de partida, permitiendo a los niños adentrarse en la exploración cerca de sus vecindarios. Outpost permite realizar excursiones más profundas en la naturaleza. Summit lleva a los jóvenes exploradores en aventuras guiadas por profesionales a algunos de los mejores destinos naturales del país.
Además, Endless Outdoors se enorgullece de adaptarse a las necesidades de los padres. Para que los padres puedan planificar las aventuras de sus hijos en función de sus vidas, la organización ofrece un horario flexible. Los padres pueden elegir horarios de aventura que van desde las tardes entre semana hasta las mañanas de los fines de semana.
En relación con este sentido de la flexibilidad, Endless Outdoors se esfuerza por resolver los problemas logísticos del transporte, especialmente en las actividades extraescolares. Para ello, la organización ha establecido asociaciones con entidades de la comunidad, garantizando que los niños sean recogidos justo después de la escuela y transportados de forma segura al lugar de la actividad. Después de una sesión, el mismo servicio de transporte se encarga de que los niños vuelvan al lugar de recogida inicial.
Endless Outdoors también reconoce la variada situación económica de las familias y ofrece un modelo de precios escalonado. Para las familias que tienen derecho a almuerzos gratuitos o reducidos, hay un coste de afiliación significativamente reducido.
Endless Outdoors ofrece un evento el 14 de octubre para animar a los miembros de la comunidad a experimentar una conexión de primera mano con la naturaleza. El día de acampada comunitaria permitirá a los participantes familiarizarse con el terreno, participar en actividades al aire libre y pasar una noche bajo las estrellas.
«Los animo a todos a que vengan y lo intenten", dijo Curiel. "La naturaleza es buena para el desarrollo del cerebro. Realmente creo que este es un programa muy bueno para cualquier niño, y es una buena manera de involucrar a los niños y mantenerlos alejados de las pantallas y sacarlos al aire libre."
Para más información sobre Endless Outdoors, visite https://endlessoutdoors.org.