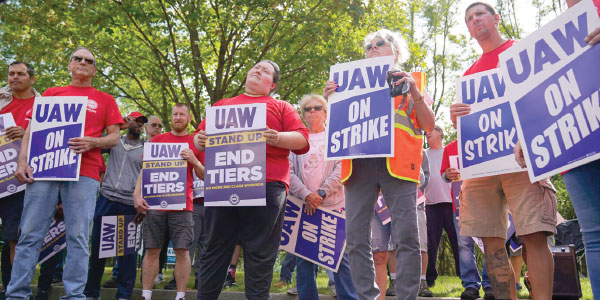 Labor Day preceded a historic moment in the U.S. labor movement. On Sept. 15, the United Auto Workers (UAW) declared the first ever simultaneous strike against The Big Three – Ford Motor, General Motors and Stellantis. It started with 12,700 employees stopping work at three assembly plants. A settlement remains out of reach despite ongoing negotiations, and work stoppage has spread to five automobile assembly plants and 38 parts warehouses. It's cost more than $5 billion in lost wages and losses sustained by auto manufacturers, parts suppliers and auto dealers and customers, according to data released this week.
Industries around the picket lines are also losing out. Plant workers account for much of their business. Those impacted include nearby bakeries, cafes, convenience stores, gas stations, restaurants and taverns.
Autoworkers are among some 453,000 employees who've participated in 312 strikes so far in 2023, a professor at Cornell University's School of Industrial and Labor Relations told ABC News. They're calling for better wages, benefits and working conditions; adequate staffing; control over adoption of new technologies that shape their respective work and workplaces; policies ensuring a safe and respectful work environment; reinstatement of benefits sacrificed to keep employers afloat financially during the 2008-2009 economic downturn and more.
On Monday, Walgreens pharmacists walked off their jobs at select stores across the country. The walkouts follow those at 22 local CVS locations last month to call attention to critical understaffing.
Earlier this year, production in Hollywood studios shut down when the writers and actors unions went on strike. The Writers Guild of America just reached an agreement to end their five-month-old strike. But scripted broadcast TV shows won't produce a new season this fall. The actors union – SAG-AFTRA – remains on strike.
Last week, 75,000 healthcare workers walked out at Kaiser Permanente in several states for 72 hours. They're back, but they've given notice. If a contract agreement isn't reached with Kaiser Permanente by Nov. 1, a follow-up strike is possible. It was the largest strike by healthcare workers in U.S. history. Strikers included home health aides, licensed vocational nurses, technicians in various departments and ultrasound sonographers.
So why all the strikes, and why now? The growing gulf between the pay of workers and top executives and the downward pressure of inflation on worker paychecks turned out to be the flashpoint, according to labor and management experts.
The strong post-pandemic labor market coupled with the low unemployment rate "made 2023 the perfect storm for labor movements." These current economic forces afford more employee leverage than in the past. Are workers judiciously using it to achieve equitable distribution of profits? Or will their workplace showdowns destroy their industries?
---
2023: año de huelgas
El Día del Trabajo precedió a un momento histórico en el movimiento laboral estadounidense. El 15 de septiembre, el United Auto Workers (UAW) declaró la primera huelga simultánea contra los tres grandes: Ford Motor, General Motors y Stellantis. Comenzó con 12.700 empleados que dejaron de trabajar en tres plantas de ensamblaje. Un acuerdo sigue fuera de alcance a pesar de las negociaciones en curso, y el paro laboral se ha extendido a cinco plantas de ensamblaje de automóviles y 38 almacenes de repuestos. Ha costado más de 5 mil millones de dólares en salarios perdidos y pérdidas sufridas por fabricantes de automóviles, proveedores de repuestos, concesionarios y clientes de automóviles, según datos publicados esta semana.
Las industrias alrededor de los piquetes también están perdiendo. Los trabajadores de las plantas representan gran parte de su negocio. Los afectados incluyen panaderías, cafeterías, tiendas de conveniencia, gasolineras, restaurantes y tabernas cercanas.
Los trabajadores automotores se encuentran entre unos 453.000 empleados que han participado en 312 huelgas en lo que va de 2023, dijo a ABC News un profesor de la Facultad de Relaciones Industriales y Laborales de la Universidad de Cornell. Piden mejores salarios, beneficios y condiciones laborales; dotación de personal adecuada; control sobre la adopción de nuevas tecnologías que dan forma a sus respectivos trabajos y lugares de trabajo; políticas que garanticen un ambiente de trabajo seguro y respetuoso; restablecimiento de beneficios sacrificados para mantener a los empleadores a flote financieramente durante la crisis económica de 2008-2009 y más.
El lunes, los farmacéuticos de Walgreens abandonaron sus trabajos en tiendas selectas de todo el país. Las huelgas siguen a las que se realizaron en 22 ubicaciones locales de CVS el mes pasado para llamar la atención sobre la crítica falta de personal.
A principios de este año, la producción en los estudios de Hollywood cerró cuando los sindicatos de escritores y actores se declararon en huelga. El Sindicato de Guionistas de Estados Unidos acaba de llegar a un acuerdo para poner fin a su huelga de cinco meses. Pero los programas de televisión con guión no producirán una nueva temporada este otoño. El sindicato de actores – SAG-AFTRA – sigue en huelga.
La semana pasada, 75.000 trabajadores de la salud se manifestaron en Kaiser Permanente en varios estados durante 72 horas. Han vuelto, pero han avisado. Si no se llega a un acuerdo contractual con Kaiser Permanente antes del 1 de noviembre, es posible una huelga de seguimiento. Fue la huelga más grande de trabajadores de la salud en la historia de Estados Unidos. Entre los huelguistas se encontraban asistentes de atención médica domiciliaria, enfermeras vocacionales autorizadas, técnicos de varios departamentos y ecografistas.
Entonces, ¿por qué todas las huelgas y por qué ahora? La creciente brecha entre los salarios de los trabajadores y los altos ejecutivos y la presión a la baja de la inflación sobre los sueldos de los trabajadores resultó ser el punto álgido, según expertos laborales y de gestión.
El fuerte mercado laboral postpandemia, junto con la baja tasa de desempleo, "hicieron de 2023 la tormenta perfecta para los movimientos laborales". Estas fuerzas económicas actuales permiten a los empleados tener más influencia que en el pasado. ¿Los trabajadores lo utilizan juiciosamente para lograr una distribución equitativa de las ganancias? ¿O sus enfrentamientos en el lugar de trabajo destruirán sus industrias?