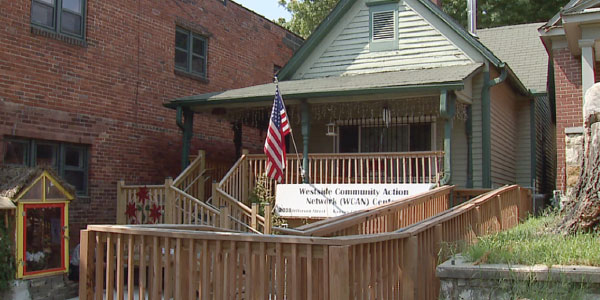 Last weekend, 173 cats and dogs were vaccinated, microchipped and licensed at a low-cost drive-thru pet clinic on Kansas City's storied Westside. In September, 2,287 pounds of produce was harvested at the location and shared with neighbors. And in July, 353 school kids lined up for complimentary backpacks containing all school district-required supplies. With the regular occurrence of such community spirited endeavors, the wider world is coming to recognize what Westside natives have long known. The Westside Community Action Network (Westside CAN) Resource Center is a treasure whose value transcends boundaries — ethnic, neighborhood, city, state and even national.
People show up from places far and near, Director Jorge Coromac tells us. And he accommodates no matter what country or part of the metro they're from. Nobody's turned away.
Westside CAN turns 29 this year, and it's only getting better. The 18th annual Family Fall Festival takes place next Thursday. This year's collection of milkweed seeds is being replanted and given to local gardeners. Hundreds of monarch butterflies heading south are expected; the garden's on their migratory path.
Every Earth Day, volunteers plant 10-20 new fruit trees. The orchard's now home to 176 apple, peach, pear and plum trees. Honey's being harvested from CAN's six beehives.
The immigrant day labor center is going strong. With the help of residents whose trust the police have earned, the organization's distinctive community policing program is deterring crime through intervention. Westside CAN continues educating and enrolling homeowners in the Chapter 353 Redevelopment Program, which it worked with local leaders to enact. The program freezes soaring property taxes for eligible homeowners for 25 years.
Volunteer ranks have grown from 120 pre-pandemic to 1,100 and includes Mayan speakers. Coromac sees Westside CAN's projects and initiatives as a beautiful way to engage residents and build community cohesion. Hundreds of neighbors tend the pollinator-friendly gardens. It's important to everyone, and everyone can do something, Coromac tells us. He sees nurturing the butterfly garden as an opportunity to learn about and celebrate the ancient traditions associated with the monarch butterflies.
CAN works with 89-plus government agencies, nonprofit and for-profit enterprises and foreign consulates to connect residents to services they need. Last year, 354 sought and got help with medical, dental or vision care; filing income tax; immigration or labor law; domestic violence; food, housing or job assistance; and much more.
Partnering with a handful of other area nonprofits, CAN distributed 136,500 pounds of food in 2022. The center arranged virtual meetings for organizations to offer training, educational activities and awareness on subjects that included alcoholism, DACA orientation, disaster response, mental health, scholarship opportunities, vaccinations and more.
The center welcomes volunteers individually or in groups. There's always something to care for or do.
---
El Westside CAN de KC puede hacerlo y lo hace
El fin de semana pasado, 173 gatos y perros fueron vacunados, colocados con microchips y autorizados en una clínica de mascotas de bajo costo en el histórico Westside de Kansas City. En septiembre, se cosecharon 2287 libras de verduras en el lugar y se compartieron con los vecinos. Y en julio, 353 escolares hicieron fila para recibir mochilas de cortesía que contenían todos los útiles requeridos por el distrito escolar. Con la aparición regular de tales esfuerzos de espíritu comunitario, el mundo en general está empezando a reconocer lo que los nativos del Westside saben desde hace mucho tiempo. El Centro de Recursos del Westside Community Action Network (Westside CAN) es un tesoro cuyo valor trasciende las fronteras: étnicas, de vecindario, de ciudad, estatales e incluso nacionales.
Llega gente de lugares cercanos y lejanos, nos cuenta el director Jorge Coromac. Y se adapta sin importar de qué país o parte del área metropolitana sean. Nadie ha sido rechazado.
El Westside CAN cumple 29 años este año y cada vez está mejorando más. El próximo jueves se llevará a cabo el 18º Festival Familiar de Otoño anual. La colección de semillas de algodoncillo de este año se replantará y se entregará a los jardineros locales. Se esperan cientos de mariposas monarca dirigiéndose hacia el sur; el jardín está en su camino migratorio.
Cada Día de la Tierra, los voluntarios plantan entre 10 y 20 nuevos árboles frutales. El huerto alberga ahora 176 manzanos, melocotoneros, perales y ciruelos. Se recolecta miel de las seis colmenas del CAN.
El centro de jornaleros para inmigrantes va fuerte. Con la ayuda de los residentes cuya confianza se ha ganado la policía, el distintivo programa de vigilancia comunitaria de la organización está disuadiendo el crimen mediante la intervención. El Westside CAN continúa educando e inscribiendo a propietarios de viviendas en el Programa de Reurbanización del Capítulo 353, para cuya implementación trabajó con líderes locales. El programa congela los crecientes impuestos a la propiedad para los propietarios elegibles durante 25 años.
Las filas de voluntarios han aumentado de 120 antes de la pandemia a 1.100 e incluyen hablantes de maya. Coromac ve los proyectos e iniciativas del Westside CAN como una hermosa manera de involucrar a los residentes y generar cohesión comunitaria. Cientos de vecinos cuidan los jardines aptos para los polinizadores. Es importante para todos y todos pueden hacer algo, nos dice Coromac. Considera que cuidar el jardín de mariposas es una oportunidad para aprender y celebrar las antiguas tradiciones asociadas con las mariposas monarca.
El Westside CAN trabaja con más de 89 agencias gubernamentales, empresas con y sin fines de lucro y consulados extranjeros para conectar a los residentes con los servicios que necesitan. El año pasado, 354 buscaron y obtuvieron ayuda con atención médica, dental o de la vista; presentación de impuestos sobre la renta; legislación laboral o de inmigración; violencia doméstica; asistencia alimentaria, de vivienda o laboral; y mucho más.
En asociación con un puñado de otras organizaciones sin fines de lucro del área, el Westside CAN distribuyó 136,500 libras de alimentos en 2022. El centro organizó reuniones virtuales para que las organizaciones ofrecieran capacitación, actividades educativas y concientización sobre temas que incluían alcoholismo, orientación DACA, respuesta a desastres, salud mental, oportunidades de becas, vacunas y más.
El centro da la bienvenida a voluntarios individualmente o en grupos. Siempre hay algo que cuidar o hacer.