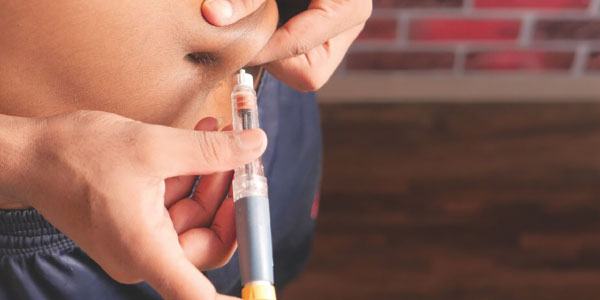 Commentary by Chara
The prevalence of diabetes in the United States grows every year.
The costs of managing diabetes continue to grow, too.
According to the American Diabetes Association (ADA), diabetes affects more than 37 million people, with 96 million American adults living with prediabetes – a condition that might lead to diabetes, if left untreated. The ADA also states that people with diabetes spend around $9,601 each year to manage their disease.
To address this disease and its associated costs, it's essential to explore ways to save money on insulin. In observance of November as American Diabetes Month, we at Dos Mundos offer the following resources, with assistance from the ADA website, to help anyone diagnosed with diabetes – or anyone at risk of developing diabetes, based on genetics or other factors – in securing insulin for free or at a reduced cost:
*Insurance: Review your health insurance policy to determine if it complies with the new cost-sharing limits, as mandated by the Affordable Care Act (ACA). The ACA requires certain preventive services to be covered at no cost for most insurance plans, including diabetes screenings and counseling.
*Medicare: If you're eligible for Medicare, check to see if you qualify for Extra Help, a program that helps cover the costs of prescription drugs, including insulin. If you qualify, the program will help reduce your out-of-pocket expenses. Beginning on July 1, insulin costs started being capped at $35 per month.
*Medicaid: As the ADA states on its website, "Most Medicaid enrollees receive insulin for free or at a significantly reduced cost." For more information about eligibility to enroll in the low-income government program, visit Medicaid.gov.
*Private insurance: Some private health insurance plans offer cost-saving options for supplies of insulin. And approximately half of all states have enacted legislation that caps monthly co-payments for insulin.
*Insulin manufacturers: As the ADA states, insulin manufacturers offer patient assistance programs that provide insulin at no cost to eligible individuals, ensuring that people have access to the essential diabetes medicine they need. Manufacturers that offer patient assistance include Lilly, Novo Nordisk and Sanofi.
For more information about diabetes and how to manage it, call the ADA at 1-(800)-342-23-83 or visit www.diabetes.org.
---
Hay recursos disponibles para lidiar con los costos de insulina
La prevalencia de la diabetes en Estados Unidos crece cada año.
Los costos del control de la diabetes también siguen aumentando.
Según la Asociación Estadounidense de Diabetes (ADA, por sus siglas en inglés), la diabetes afecta a más de 37 millones de personas, y 96 millones de adultos estadounidenses viven con prediabetes, una afección que podría provocar diabetes si no se trata. La ADA también afirma que las personas con diabetes gastan alrededor de $9,601 cada año para controlar su enfermedad.
Para luchar contra esta enfermedad y sus costos asociados, es esencial explorar formas de ahorrar en insulina. En conmemoración de noviembre como el Mes Estadounidense de la Diabetes, en Dos Mundos ofrecemos los siguientes recursos, con la ayuda del sitio web de la ADA, para ayudar a cualquier persona diagnosticada con diabetes (o cualquier persona en riesgo de desarrollar diabetes, según la genética u otros factores) a obtener insulina gratis o a precio reducido:
*Seguro: revise su póliza de seguro médico para determinar si cumple con los nuevos límites de costos compartidos, según lo dispuesto por la Ley de Atención Médica Asequible (ACA). La ACA exige que ciertos servicios preventivos estén cubiertos sin costo para la mayoría de los planes de seguro, incluidos exámenes y asesoramiento sobre diabetes.
*Medicare: si es elegible para Medicare, verifique si califica para Ayuda Adicional, un programa que ayuda a cubrir los costos de los medicamentos recetados, incluida la insulina. Si califica, el programa le ayudará a reducir sus gastos de bolsillo. A partir del 1 de julio, los costos de la insulina comenzaron a tener un límite de $35 por mes.
*Medicaid: como afirma la ADA en su sitio web, "la mayoría de los afiliados a Medicaid reciben insulina de forma gratuita o a un costo significativamente reducido". Para obtener más información sobre la elegibilidad para inscribirse en el programa gubernamental para personas de bajos ingresos, visite Medicaid.gov.
*Seguro privado: algunos planes de seguro médico privados ofrecen opciones de ahorro de costos para los suministros de insulina. Y aproximadamente la mitad de todos los estados han promulgado leyes que limitan los copagos mensuales de insulina.
*Fabricantes de insulina: como establece la ADA, los fabricantes de insulina ofrecen programas de asistencia al paciente que brindan insulina sin costo a personas elegibles, asegurando que las personas tengan acceso a los medicamentos esenciales para la diabetes que necesitan. Los fabricantes que ofrecen asistencia al paciente incluyen Lilly, Novo Nordisk y Sanofi.
Para obtener más información sobre la diabetes y cómo controlarla, llame a la ADA al 1-(800)-342-23-83 o visite www.diabetes.org.