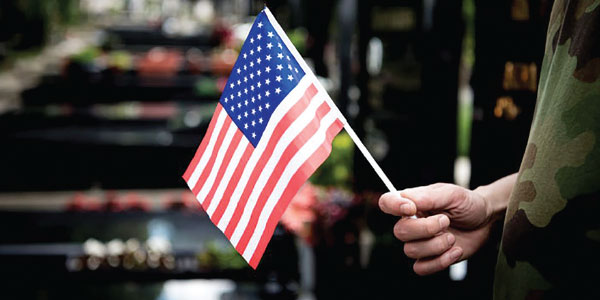 By Tere Siqueira
Every year on Nov. 11, the United States pauses to honor the millions of men and women who've served in the armed forces on what has become known as Veterans Day. Some of the ways that veterans are celebrated on the holiday include the following:
*Parades and public gatherings: The parades often feature war veterans, military bands, high school bands and members of veterans organizations.
*Silent time: As the Veterans Administration (VA) states on its website, U.S. residents are encouraged to be silent for two minutes on Veterans Day, per the Veterans Day Moment of Silence Act passed in 2016 by the Obama administration. The VA also states that the period of silence is to begin at 3:11 p.m. in the Atlantic Time Zone (1:11 in the Central Time Zone). In the Commonwealth of Nations, two minutes of silence traditionally are observed at 11 a.m. on Nov. 11, known in those nations as Armistice Day, to honor the time and date guns fell silent to mark the end of the First World War.
*Visits to war memorials and cemeteries: Many people place flags or flowers on the graves of deceased veterans. Wreath-laying ceremonies, moments of silence and the playing of "Taps" are common practices at monuments and cemeteries.
*Volunteering: Many people spend Veterans Day volunteering at veteran-related organizations or participating in projects to benefit veterans, such as a marathon or a 5-kilometer run/walk to raise money for veterans organizations.
*Special offers: Many businesses nationwide show their appreciation for veterans by offering them special discounts and promotions. Many restaurants, for example, provide free or discounted meals or beverages to veterans and active-duty military members.
---
El Día de los Veteranos está lleno de tradiciones
Cada año, el 11 de noviembre, Estados Unidos hace una pausa para honrar a los millones de hombres y mujeres que han servido en las fuerzas armadas en lo que se conoce como el Día de los Veteranos. Algunas de las formas en que se celebra a los veteranos durante el día festivo incluyen las siguientes:
*Desfiles y reuniones públicas: Los desfiles suelen presentar a veteranos de guerra, bandas militares, bandas de escuelas preparatorias y miembros de organizaciones de veteranos.
*Tiempo de silencio: como indica la Administración de Veteranos (VA) en su sitio web, se anima a los residentes de EE. UU. a guardar silencio durante dos minutos el Día de los Veteranos, según la Ley del Momento de Silencio del Día de los Veteranos aprobada en 2016 por la administración Obama. El VA también afirma que el período de silencio comenzará a las 3:11 p.m. en la zona horaria del Atlántico (1:11 en la zona horaria central). En la Commonwealth of Nations, tradicionalmente se guardan dos minutos de silencio a las 11 a. m. del 11 de noviembre, conocido en esas naciones como el Día del Armisticio, para honrar la hora y la fecha en que se silenciaron las armas para marcar el final de la Primera Guerra Mundial.
*Visitas a monumentos de guerra y cementerios: Mucha gente coloca banderas o flores en las tumbas de los veteranos fallecidos. Las ceremonias de colocación de ofrendas florales, los momentos de silencio y el toque de "Taps" son prácticas habituales en monumentos y cementerios.
*Voluntariado: Muchas personas pasan el Día de los Veteranos como voluntarias en organizaciones relacionadas con los veteranos o participando en proyectos en beneficio de los veteranos, como un maratón o una carrera/caminata de 5 kilómetros para recaudar fondos para las organizaciones de veteranos.
*Ofertas especiales: muchas empresas en todo el país muestran su agradecimiento a los veteranos ofreciéndoles descuentos y promociones especiales. Muchos restaurantes, por ejemplo, ofrecen comidas o bebidas gratuitas o con descuento a veteranos y militares en servicio activo.