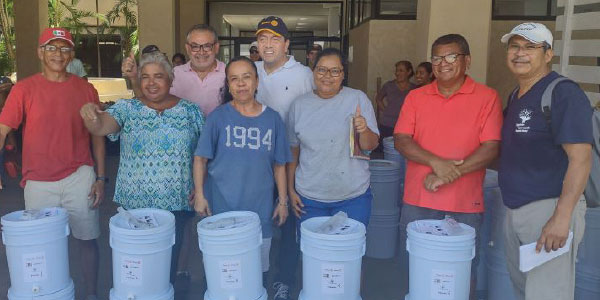 By Jorge Coromac
Rebuilding a community goes beyond the infrastructure: It is about restoring hope and dignity to its inhabitants
"Hurricane Otis took my roof, destroyed my home… there is no food, no water service, there is no electricity, there is so much trash, sewer system collapsed, there are still families that cannot access to their homes because there is no machines to clean the road to their homes… but still (I have) faith, hope and the dream that (there) will be better times," expressed Ermelinda Navarro, member of the Nuevo Renacer community, which, after nine days of the impact of Hurricane Otis, had not received any aid until Woodland Charity, Rotary and volunteers from the university were finally able to reach out to this community.
"I am not a leader, I am just a neighbor looking after all the neighbors in this time of crisis, we have to organize ourselves because no one is coming. Thank you to each of you that came so far, that you came from Kansas City, from Mexico City to this community. Please give our deepest thank you to everyone that donated to you to be able to come and donate to us… Thank you and please do not forget about us," concluded Mrs. Navarro.
Woodland Charity partnered with Ciudad de Mexico Rotary Club, the Rotary Club of Acapulco and the Americana University of Acapulco to provide water filters and food boxes with a week of essential supplies.
"These water filters are more than essential to us right now because there is no running water everywhere and the river is contaminated. It is incredible that this water filter will be able to purify the water and keep safe my children and my family," said Mrs. Margarita Bravo from the Frontera Nueva Generación community. "Please bring more water filters because there are so many many more families with children, with someone sick at their homes and water is so essential."
"So many stories about the chaos, the stress, and the scary moments that all families sharing while they wait in the line before receiving their box of food, diapers for children and adults, and bags of food for dogs," said Jorge Coromac, Woodland Charity director. "As we continue supporting the efforts in Acapulco we're also seeking financial support that we direct to make purchases in Mexico City and deliver by land to the communities. We are so grateful with the Ciudad Mexico and Acapulco Rotary Club because we already have the process in place, which includes finding better prices to obtain the supplies, transportation and distribution directed to the families in coordination with the local leader who are working tirelessly to reassure that everything arrives to all families. We are encouraging everyone to consider donating (something) as small as $20 that will help to provide a box with supplies for a week to a family or a $60 water filters that will provide safe drinking water for decades, or to support the purchase of metal sheets and lumber, queen beds/mattresses. Main needs are deworming, mosquito nets, home appliances, … we are also looking for volunteers to come to help and unify efforts for a short term (5 to 7 days) with local leader to help basic home repairs, install doors, windows, help to sanitize/paint a home, etc."
Because of the unsanitary conditions, all the neighbors and families are scared that soon health conditions will worsen. "We all worry about food, about access to water but there are some people with diarrhea and water borne disease. All the mold that came to all homes came with feces, death animal, all type of debris and who know what else."
"We are working in phases, for now, we are focusing on reaching out to those communities that have not received anything yet and our goal is food and water. We have a volunteer group that is helping us organize, put together and then distribute. That has been the process for the last seven days community by community," said Dr. Mario Mendoza, rector of the University Americana de Acapulco. "Every time we visit the community, we know that soon we will need the second phase that will be clothing, over the counter medicine, diapers, bedding. The third phase will take us to home appliances, stoves, dining tables, beds, toilet, metal sheets, lumber, doors, windows. In the mind time we hope the municipality continue working in bring electricity, water, pick up trash and medical care/medicine, deworming, mosquito nets, fumigation to prevent mosquito growing in all debris and water-mood around the streets and homes."
Oscar Rivera, President-elect of the Rotary Club Ciudad de Mexico said: "We are so grateful with Woodland Charity for the donation of water filters and food boxes and more importantly, to be here next to us visiting the communities affected. Woodland Charity has been helping since the earthquake in 2017. We admire and respect the commitment of Woodland to improve the lives of the people more affected. This time as soon as we hear about the damage of Hurricane Otis, we contacted Woodland Charity and it is amazing that they are here already with basic resources for the community. "
Otis' impact goes beyond physical destruction. The economic consequences are equally serious. Many of the inhabitants of these neighborhoods depend on tourism, an industry that is paralyzed by the arrival of a hurricane. The loss of jobs and the inability to work due to climatic conditions aggravate the already precarious economic situation of these families. In addition, basic infrastructure, such as water and electricity supplies, have been disrupted. Not only does this make daily life difficult, but it also poses serious health risks, especially in a climate as hot and humid as Acapulco's. Waterborne diseases and vectors increase significantly after floods and storms.
The education of children and young people is also compromised. Schools are damaged or used as temporary shelters disrupt learning and educational development, which can have long-term effects on the community. In the face of this situation, the rapid and effective response of local and national authorities, as well as the international community, is crucial. Solidarity is indispensable.
Donations of food, bedding, hygiene products and building materials are urgently needed to help these families rebuild not only their homes, but also their lives.
Psychological support for victims is also essential, to help them overcome post-disaster trauma and stress. Rebuilding a community goes beyond the infrastructure; it is about restoring hope and dignity to its inhabitants.
"We call on everyone to join in support of the families of Colonia Frontera and other affected areas of Acapulco. Every contribution, big or small, makes a difference. Together, we can help these communities rise up and rebuild for a more resilient and secure future," said Rivera.
Woodland Charity will continue coordinating efforts and seeking support to bring the essential resources much needed in this communities. To become a volunteer or to support Woodland programs visit: www.wwodlandcharity.org or for donations using Venmo go to:@Woodlandcharity, or to send direct donations to Ciudad de Mexico Rotary Club go to: https://www.rotarycdmx.mx/donar-ahora.
---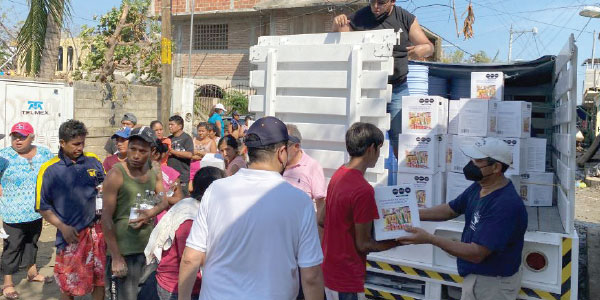 Reconstruir tras el paso del huracán Otis
Reconstruir una comunidad va más allá de la infraestructura, se trata de restaurar esperanza y dignidad a sus habitantes
"El huracán Otis se llevó mi techo, destruyó mi casa… no hay comida, no hay servicio de agua, no hay electricidad, hay tanta basura, el sistema de alcantarillado está colapsado, todavía hay familias que no pueden acceder a sus casas porque hay no hay máquinas para limpiar el camino a sus casas… pero aún (tengo) la fe, la esperanza y el sueño de que habrá tiempos mejores", expresó Ermelinda Navarro, integrante de la comunidad Nuevo Renacer, que luego de nueve días del impacto del huracán Otis, no había recibido ninguna ayuda hasta que Woodland Charity, Rotary y los voluntarios de la universidad finalmente pudieron llegar a esta comunidad.
"No soy una líder, sólo soy una vecina cuidando a todos los vecinos en este momento de crisis, tenemos que organizarnos porque no viene nadie. Gracias a cada uno de ustedes que llegaron hasta aquí, que vinieron desde Kansas City, desde la Ciudad de México a esta comunidad. Por favor, agradezcamos profundamente a todos los que donaron para poder venir a donarnos… Gracias y por favor no se olviden de nosotros", concluyó la señora Navarro.
Woodland Charity se asoció con el Club Rotario de Ciudad de México, el Club Rotario de Acapulco y la Universidad Americana de Acapulco para brindar filtros de agua y cajas de alimentos con suministros esenciales para una semana.
"Estos filtros de agua son más que esenciales para nosotros en este momento porque no hay agua corriente en todas partes y el río está contaminado. Es increíble que este filtro de agua pueda purificar el agua y mantener a salvo a mis hijos y a mi familia", dijo la señora Margarita Bravo de la comunidad Frontera Nueva Generación. "Por favor, traigan más filtros de agua porque hay muchas más familias con niños, con alguien enfermo en sus casas y el agua es muy esencial".
"Tantas historias sobre el caos, el estrés y los momentos de miedo que comparten todas las familias mientras esperan en la fila antes de recibir su caja de comida, pañales para niños y adultos y bolsas de comida para perros", dijo Jorge Coromac, Director de Woodland Charity. "A medida que continuamos apoyando los esfuerzos en Acapulco, también buscamos apoyo financiero que dirigimos para realizar compras en la Ciudad de México y entregar por vía terrestre a las comunidades. Estamos muy agradecidos con el Club Rotary de Ciudad México y Acapulco porque ya tenemos el proceso implementado, que incluye buscar mejores precios para obtener los insumos, transporte y distribución dirigidos a las familias en coordinación con el líder local quienes están trabajando incansablemente para tranquilizar. que todo llegue a todas las familias. Estamos animando a todos a considerar donar (algo) tan pequeño como $20 que ayudará a proporcionar una caja con suministros para una semana a una familia o filtros de agua de $60 que proporcionarán agua potable segura durante décadas, o para apoyar la compra de metal. sábanas y madera, camas tamaño queen/colchones. Las principales necesidades son desparasitación, mosquiteros, electrodomésticos… también estamos buscando voluntarios para que vengan a ayudar y unificar esfuerzos por un corto plazo (5 a 7 días) con el líder local para ayudar con reparaciones básicas del hogar, instalar puertas, ventanas, ayudar. para desinfectar/pintar una casa, etc.".
Debido a las condiciones insalubres, los vecinos y las familias temen que pronto las condiciones de salud empeoren. "Todos nos preocupamos por la comida, por el acceso al agua, pero hay algunas personas con diarrea y enfermedades transmitidas por el agua. Todo el moho que llegó a todos los hogares vino con heces, muerte de animales, todo tipo de escombros y quién sabe qué más".
"Estamos trabajando por fases, por ahora nos estamos enfocando en llegar a aquellas comunidades que aún no han recibido nada y nuestro objetivo es comida y agua. Contamos con un grupo de voluntarios que nos está ayudando a organizar, armar y luego distribuir. Ese ha sido el proceso durante los últimos siete días comunidad por comunidad", dijo el Dr. Mario Mendoza, Rector de la Universidad Americana de Acapulco. "Cada vez que visitamos la comunidad, sabemos que pronto necesitaremos la segunda fase que será ropa, medicamentos de venta libre, pañales y ropa de cama. La tercera fase nos llevará a electrodomésticos, estufas, mesas de comedor, camas, sanitarios, chapas, maderas, puertas, ventanas. Mientras tanto, esperamos que el municipio continúe trabajando para traer electricidad, agua, recoger basura y atención médica/medicamentos, desparasitación, mosquiteros, fumigación para evitar que los mosquitos crezcan en todos los escombros y el agua alrededor de las calles y hogares".
Oscar Rivera, presidente electo del Club Rotary Ciudad de México dijo: "Estamos muy agradecidos con Woodland Charity por la donación de filtros de agua y cajas de alimentos y, lo más importante, por estar aquí junto a nosotros visitando las comunidades afectadas. Woodland Charity ha estado ayudando desde el terremoto de 2017. Admiramos y respetamos el compromiso de Woodland de mejorar las vidas de las personas más afectadas. Esta vez, tan pronto como nos enteramos de los daños del huracán Otis, nos comunicamos con Woodland Charity y es sorprendente que ya estén aquí con recursos básicos para la comunidad".
El impacto de Otis va más allá de la destrucción física. Las consecuencias económicas son igualmente graves. Muchos de los habitantes de estos barrios dependen del turismo, industria que queda paralizada por la llegada de un huracán. La pérdida de empleos y la imposibilidad de trabajar debido a las condiciones climáticas agravan la ya precaria situación económica de estas familias. Además, la infraestructura básica, como el suministro de agua y electricidad, se ha visto afectada. Esto no sólo dificulta la vida diaria, sino que también plantea graves riesgos para la salud, especialmente en un clima tan cálido y húmedo como el de Acapulco. Las enfermedades y los vectores transmitidos por el agua aumentan significativamente después de inundaciones y tormentas
La educación de niños y jóvenes también está comprometida. Las escuelas dañadas o utilizadas como refugios temporales interrumpen el aprendizaje y el desarrollo educativo, lo que puede tener efectos a largo plazo en la comunidad. Ante esta situación, la respuesta rápida y eficaz de las autoridades locales y nacionales, así como de la comunidad internacional, es crucial. La solidaridad es indispensable.
Se necesitan con urgencia donaciones de alimentos, ropa de cama, productos de higiene y materiales de construcción para ayudar a estas familias a reconstruir no sólo sus hogares, sino también sus vidas.
El apoyo psicológico a las víctimas también es esencial para ayudarlas a superar el trauma y el estrés posteriores al desastre. Reconstruir una comunidad va más allá de la infraestructura; se trata de devolver la esperanza y la dignidad a sus habitantes.
"Hacemos un llamado a todos a sumarse en apoyo a las familias de Colonia Frontera y otras zonas afectadas de Acapulco. Cada contribución, grande o pequeña, marca la diferencia. Juntos, podemos ayudar a estas comunidades a levantarse y reconstruirse para un futuro más resiliente y seguro", dijo Rivera.
Woodland Charity continuará coordinando esfuerzos y buscando apoyo para traer los recursos esenciales que tanto se necesitan en estas comunidades. Para ser voluntario o apoyar los programas de Woodland visite: www.woodlandcharity.org o para donaciones usando Venmo vaya a:@Woodlandcharity, o para enviar donaciones directas al Club Rotario de Ciudad de México vaya a: https://www.rotarycdmx.mx/donar-ahora.