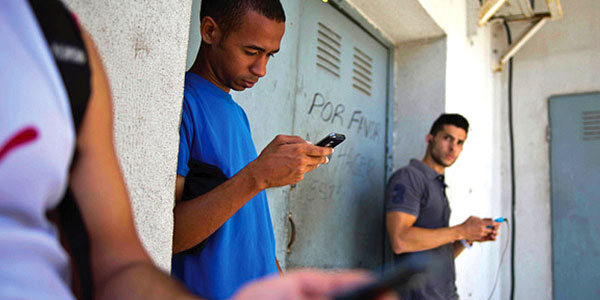 El gobierno de Cuba está modestamente expandiendo el acceso a Internet en la isla y reduciendo el costo por hora que pagan los usuarios. ETESCA (Empresa de Telecomunicaciones de Cuba, S.A.), la compañía de comunicaciones del estado de Cuba publicó el anuncio en la edición del 18 de junio de Juventud Rebelde, un diario operado por el Estado dirigido a la juventud cubana.
Es la primera expansión de Internet de importancia desde diciembre cuando el gobierno cubano prometió dar un mayor acceso a sus 11 millones de habitantes como parte del aligeramiento histórico con Estados Unidos
A partir del mes de julio ETESCA hará disponible Wi-Fi en 35 centros gubernamentales de computadoras en todo el país y reducirá los costos de acceso a Internet de $4.50 a $2 por hora, de acuerdo con los reportes de la AP y otros medios de noticias de Estados Unidos.
Aunque el Internet en Cuba está menos censurado que en otros estados totalitarios, se calcula que solamente el 5% de los cubanos tienen acceso directo al Internet, lo reportó The Los Angeles Times el 19 de junio. El acceso a Internet en los hogares es ilegal para la mayoría de los cubanos, y el acceso en las oficinas está limitado y estrictamente monitoreado, de acuerdo a NBC News. El Wi-Fi actualmente solo está disponible en hoteles a un precio impagable para los cubanos que en promedio ganan $20 al mes.
El costo reducido por hora es de todos modos lo suficientemente elevado para mantener el acceso fuera del alcance para un número significante de cubanos, lo reporta The Los Angeles Times. También YouTube permanece bloqueado, así como sitios en la red que sean anticastristas. Sin embargo, si el gobierno cubano no aumenta la censura, el aumentado  acceso en línea, aunque sea pequeño, defiende la causa de libertad en Cuba, indica The Times.
Después de 55 años de hostilidad con Cuba, el presidente Obama anunció el 17 de diciembre planes para restablecer los enlaces diplomáticos con la isla ubicada a 90 millas de la Florida. Desde entonces, un banco de Estados Unidos con sede en Florida y de servicio completo anunció que abriría una cuenta para el gobierno cubano, lo cual abrirá el camino para las relaciones financieras normales entre los dos países. Además, el Departamento de Estado de Estados Unidos oficialmente retiró a Cuba de la lista de Estados Patrocinadores del Terrorismo.
Obama ha emitido órdenes ejecutivas para aligerar algunas restricciones financieras y de viajes, y varias compañías de Estados Unidos están contemplando oportunidades comerciales en Cuba, de acuerdo con medios de noticias de Estados Unidos.
A pesar del progreso para normalizar las relaciones con Cuba, todavía existe el embargo comercial de Estados Unidos; para levantarlo se necesita una acción del Congreso. Existen leyes en el Senado de Estados Unidos para revocar el embargo – SB 1543 – y eliminar la prohibición de viajes, entre otras medidas a Cuba.
Aunque en comparación pocos cubanos tienen acceso a Internet, y la banda ancha de alta velocidad que se usa para transmitir películas es inexistente, Netflix, Inc anunció a principios de este año sus planes para expandirse a Cuba. El servicio de video anticipa estar listo para entrar a un nuevo mercado en Cuba en el futuro cercano mientras que Estados Unidos y Cuba avanzan hacia la normalización de relaciones, de acuerdo con el The Wall Street Journal.
Cuba to offer island-wide WiFi
By Edie R. Lambert
The government in Cuba is modestly expanding Internet access across the island country and cutting the online hourly cost that users pay. ETESCA (Empresa de Telecomunicaciones de Cuba, S.A.), Cuba's state communications company published the announcement in the June 18 edition of Juventud Rebelde, a state-run daily aimed at Cuba's youth.
It's the first Internet expansion of importance since December when the Cuban government pledged to give greater access to its 11 million people as part of the historic détente with the United States.
ETESCA will make WiFi available in 35 government computer centers across the country, starting in July and drop Internet access rates from $4.50 to $2 per hour, according to reports by the AP and other U.S. news media.
While Cuba's Internet is less censored than in other totalitarian states, it's estimated that only 5 percent of Cubans have direct Internet access, The Los Angeles Times reported on June 19. Home Internet access is illegal for most Cubans, and access in offices is limited and strictly monitored, according to NBC News. WiFi is presently only available in hotels at a price unaffordable to Cubans who make, on average, $20 a month.
The reduced hourly rate is still steep enough to keep online access out of reach for a significant number of Cubans, The Los Angeles Times reports. YouTube remains blocked, too, as well as anti-Castro Web sites. However, if the Cuban government doesn't tighten censorship, increased online access, however small, advances the cause of freedom in Cuba, The Times noted.
After 55 years of hostility with Cuba, President Obama announced on Dec. 17 plans to re-establish diplomatic ties with the island nation 90 miles from Florida. Since then, a full-service Florida-based U.S. bank announced that it was opening an account for the Cuban government, which will pave the way for normal financial relations between the two countries. And the U.S. State Department officially removed Cuba from the list of State Sponsors of Terrorism.
Obama has issued executive orders to relax some financial and travel restrictions, and several U.S. companies are eyeing commercial opportunities in Cuba, according to U.S. news media. Despite progress in normalizing relations with Cuba, there remains a U.S. trade embargo; lifting it will take an act of Congress. There are bills in the U.S. Senate to overturn the embargo – SB 1543 — and remove the travel ban, among other Cuba measures.
Even as comparatively few Cubans have Internet access, and high-speed broadband that's used to stream movies is nonexistent, Netflix, Inc. announced earlier this year plans to expand to Cuba. The streaming video service anticipates being ready to tap into a new market in Cuba in the near future as the U.S. and Cuba move towards normalization of relations, according to The Wall Street Journal.