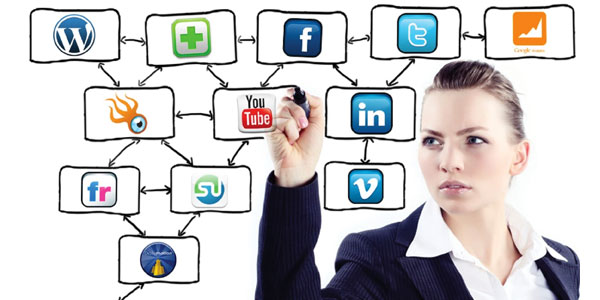 La manera en que se hace negocios ha cambiado en los últimos años.
La mayoría de las actividades y proyectos se hacen de una manera electrónica incluyendo el mercadeo, la comu nicación con clientes y la comunicación interna. Por esto, usar de una manera correcta las redes sociales es fundamental para el éxito de un negocio.
Lo siguiente son algunos consejos para promover y progresar su negocio por medio de las redes sociales:
*Haga un plan: incluya una lista de tácticas y estrategias en su plan de mercadeo de cómo incrementar el número de clientes por medio de redes sociales.
*Crea una cuenta en LinkedIn: LinkedIn es una de las mejores plataformas para salir al mercado. Este actúa como un perfil electrónico del negocio en donde gente de la misma industria o aquellos interesados puede comunicarse y compartir intereses similares.
*Dedique tiempo a las redes sociales: haga un horario en donde se dedique únicamente a las redes sociales. Puede realizar comentarios o poner cosas en su perfil una o más veces a la semana si es necesario. Así mismo, asegúrese de mantener las redes sociales al día.
*Interactúe: cuando vea comentarios, o 'me gusta', o tweets, etc. Interactúe con estas personas de esa manera su audiencia sabe que le interesa.
*Incremente las visitas a su página de internet por medio de las redes sociales: cree enlaces entre sus cuentas sociales para que todos conduzcan a su página. Asegúrese que su página tenga links fáciles de encontrar para Facebook, Twitter, Instagram, etc.
*Verifique: siempre sepa el número de visitas, 'me gusta', comentarios, etc. que usted está recibiendo. Esto le dará un mejor entendimiento de cuánta gente está interesada en su negocio por medio de las redes sociales. Así mismo, esto le ayudará a mejorar o hacer cambios en su plan de mercadeo.
___________________________________________________________________________________________________
Take your business to the next level with social media
By Paula Alzate
The manner of doing business has changed over the past few years.
Most business activities are done electronically, including marketing, communicating with clients and internal communication. Thus, using and controlling social media is important to a business' success.
The following are some useful tips to improve your business through social media:
*Plan ahead: Include tactics in your marketing plan on how you plan to increase the number of clients or customers by using social media platforms.
*Create a LinkedIn account: LinkedIn is one of the best outsourcing platforms. It acts as an electronic business card where people in your field can see and communicate similar interests.
*Dedicate time to social media: Schedule a time when you'll post to social media during the day. You can do this one or two days a week, if necessary. Moreover, make sure to periodically update the information on your social media sites.
*Be engaged: When you see people liking, sharing, retweeting or commenting on your posts, interact with them. That way, your audience knows you're involved.
*Increase your Web site visits through social media: Link all of your social media accounts together and drive your social media visitors to your Web site. Make sure you have links to Facebook, Twitter, Instagram, etc. available and easy to find.
*Audit: Always know the number of visits, likes, comments, tweets, etc. you're receiving. This will give you a better understanding of how many people are engaged with your business through social media and will help you improve and plan your marketing.