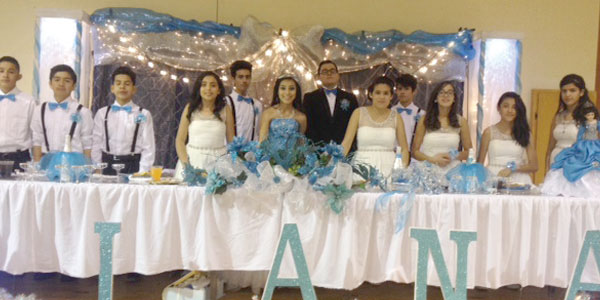 Diana Sofía celebró sus quince años con una misa de acción de gracias efectuada en el templo San Juan Bautista el día 5 de diciembre a las 2:00 pm. La misa fue oficiada por el Fr. Kent O'Connor y el Fr. Oscar Garavito.
Sus padres son: Agustín y Virginia Oropeza, chambelán de honor, Carlos Orozco; Padrinos de honor: Mark y Verónica Hare. Damas y chambelanes: Cecilia Nava y Marcos Rodríguez, Jaileen Escalante y Steven Oropeza, Isabella Oropeza y Irving  Alcore, Lizbeth Medina y Kevin Gutiérrez, Marisol Oropeza y Johan Juárez.
Después de la misa tuvieron una recepción en el Pierson Community Center, 1800 So. 55th Street, Kansas City, KS. en donde se bailó el vals y siguió la fiesta.
---
On Dec. 5, Diana Sophia Oropeza celebrated her quinceanera (quinceañera in Spanish) at St. John the Evangelist-Our Lady of Unity Parish in Kansas City, Kan.
The Revs. Kent O'Connor and Oscar Garavito celebrated the Mass. A reception following the Mass was held at the Pierson Community Center in Kansas City, Kan.
Carlos Orozco served as chambelan of honor. Mark and Veronica Hare were the padrinos of honor. The damas and chambelanes were Cecilia Nava, Marcos Rodriguez, Jaileen Escalante, Steven Oropeza, Isabella Oropeza, Irving Alcore, Lizbeth Medina, Kevin Gutierrez, Marisol Oropeza and Johan Juarez.
Oropeza is the daughter of Agustin and Virginia Oropeza.