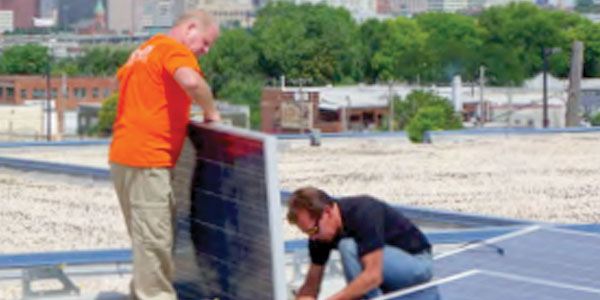 Kansas City, Missouri brilla al conducir la 46ª  celebración anual del Día de la Tierra el 22 de abril. Los programas y proyectos atestiguan el compromiso de la ciudad hacia la conservación y protección ambiental.
«Es parte del propósito y declaración de objetivos y reglamentos adoptados por el Consejo Municipal», dijo Gerald Schecter, coordinador de sostenibilidad de Kansas City.
Kansas City está encaminada a cumplir las metas y  parámetros periódicos que fueron establecidos en el 2008 para reducir las emisiones de gases invernaderos y el uso de hidrocarburos, reducir el consumo de energía y conservar el agua, «porque la sostenibilidad es un buen modelo comercial». En diciembre del 2013, el Departamento de Calidad Ambiental del municipio publicó un reporte de progreso de 21 páginas.
Entre el 2010 y 2013, el consumo de energía en nueve edificios municipales disminuyó 14 por ciento al año: se instalaron 80 sistemas de placas solares y tres generadores de viento en los techos en los edificios que son propiedad del municipio; se instalaron 18 bombas de calor para calefacción y enfriamiento con agua de manantiales geotérmicos en el Aeropuerto Internacional de Kansas City; 400 luces LED reemplazaron luces de halógeno de metal en un estacionamiento en la zona centro; nuevos planes de cronometraje en 203 intersecciones mejoraron el flujo del tráfico y redujeron el uso de combustible; y en promedio, se reciclan mensualmente 16 o más toneladas de desperdicio de alimentos en el City Market.
Además, el Consejo Municipal aprobó un decreto para requerir que los proyectos de vivienda con fondos municipales cumplan con estándares federales ENERGY STAR. El Consejo también aprobó revisar los estándares municipales del código de energía para calefacción, aire acondicionado y aislamiento en construcciones nuevas y renovaciones.
Más recientemente, se han instalado placas solares en 60 edificios adicionales que son propiedad del municipio; los ingenieros están estudiando la posibilidad de instalar placas solares sobre Bartle Hall, casi todos los semáforos son ahora LED; 43 edificios financiados por el municipio tienen ahora certificación Energy Star; y otros 852 edificios públicos han medido su consumo de energía utilizando el Administrador de Portafolio ENERGY STAR de la Agencia de Protección Ambiental de Estados Unidos (EPA, por sus siglas en inglés).
«Es muy posible que más de esos 43 obtuvieron alta calificación que era suficiente para calificar para la certificación ENERGY STAR, pero optaron por no entregar la solicitud de certificación para EPA», declaró el director ambiental de Kansas City, Dennis Murphey, a Dos Mundos.
Muchos de los proyectos de sostenibilidad fueron financiados mediante subsidios federales de $272 millones. "Siempre estamos solicitando nuevos subsidios para financiar nuevas iniciativas de sostenibilidad, gran parte en colaboración con otros donde sea apropiado, tales como el Consejo Regional Mid –America y Bridging the Gap", dijo Schecter.
En enero del 2015, Kansas City Power & Light Co (KCP&L  por sus siglas en inglés) presentó un nuevo proyecto de sostenibilidad: el Clean Charge Network (Red de Recarga Limpia). KCP&L instaló y está operando 1,001 estaciones de recarga de vehículos eléctricos por toda el área metropolitana. Durante los primeros dos años, recargar en las estaciones de recarga es gratis para los propietarios de carros. Posteriormente, se espera que la recarga cueste unos $0.70 por galón.
El pasado otoño, Kansas City presentó una Cumbre de Sostenibilidad y Resistencia regional..
"Cuando se trata de eficiencia de energía, sostenibilidad y protección climática, Kansas City continúa esculpiendo un papel de liderazgo en el corazón del Medio Oeste", indicó Bloomberg Philanthropies en un reporte el 8 de septiembre del 2015.
Kansas City, Missouri gana derechos de alarde encima de Kansas City, Kansas. El progreso de sostenibilidad aparentemente se interrumpe en la orilla este del Rio Kansas.
"No se de nada que hayamos hecho por un tiempo", dijo a Dos Mundos, Edwin Birch vocero del Gobierno Unificado del Condado Wyandotte y Kansas City, Kansas.
Nota del Editor: Lea el reporte del progreso de Calidad Ambiental de Kansas City en línea en https://data.kcmo.org/Government/KCMO-Sustainability-Report-2013/yddk-vb4y.
________________________________________________________________________________________________________
Earth Day: New initiatives across state line
By Edie R. Lambert
Kansas City, Mo., shines in the lead-up to the 46th annual observance of Earth Day on April 22. Programs and projects attest to the city's commitment to conservation and environmental protection.  
"It's part of the city's mission and vision statement and policies adopted by the City Council," said Gerald Schecter, Kansas City's sustainability coordinator.
Kansas City's on track to meet goals and periodic benchmarks set in 2008 to reduce greenhouse gas emissions and fossil fuel usage, reduce energy consumption and conserve water, "because sustainability is a good business model." In December 2013, the city's Office of Environmental Quality published a 21-page progress report.
Between 2010 and 2013, energy consumption in nine city buildings dropped 14 per cent a year; 80 solar panel systems and three rooftop wind turbines were installed on city-owned buildings; 18 heat pumps for heating and cooling with water from geothermal wells were installed at Kansas City International Airport; 400 LED lights replaced metal halide lights in a downtown parking garage; new timing plans at 203 intersections improved traffic flow and reduced fuel usage; and on average, 16-plus tons of City Market food waste is being recycled monthly.
In addition, the City Council approved an ordinance to require city-funded housing projects meet federal ENERGY STAR standards. The council also approved revising the municipal energy code standards for heating, air conditioning and insulation in new construction and renovations.
More recently, solar panels have been installed on 60 additional city-owned buildings; engineers are studying the feasibility of installing solar panels atop Bartle Hall; nearly all traffic lights are now LED; 43 city-funded buildings are now Energy Star certified; and another 852 public buildings have benchmarked their energy consumption using the U.S. Environmental Protection Agency's ENERGY STAR Portfolio Manager.
"It's very possible that more than 43 of those scored high enough to qualify for ENERGY STAR certification but chose not to submit the certification application to EPA," Kansas City's chief environmental officer, Dennis Murphey told Dos Mundos.
Many of the sustainability projects were funded through $272 million in federal grants.
"We're always applying for new grants to finance new sustainability initiatives, mostly in collaboration with others where it's appropriate, such as the Mid-America Regional Council and Bridging the Gap," Schecter said.
In January 2015, Kansas City Power & Light Co. rolled out a new sustainability project: the Clean Charge Network. KCP&L installed and is operating 1,001 electric vehicle charging stations throughout the metro. For the first two years, filling up at the charging stations is free to car owners. After that, charging is expected to cost about 70 cents per gallon.
Last fall, Kansas City hosted a regional Sustainability and Resiliency Summit.
"When it comes to energy efficiency, sustainability and climate protection, Kansas City continues to carve out a leadership role in the heartland Midwest," Bloomberg Philanthropies noted in a September 8, 2015 report.
Kansas City, Mo. wins bragging rights over Kansas City, Kan. Sustainability progress ostensibly halts on the east bank of the Kansas River.
"I don't know of anything we've done in a while," Unified Government of Wyandotte County and Kansas City, Kan., spokesperson Edwin Birch told Dos Mundos.
Editor's Note: Read Kansas City's Environmental Quality progress report online at https://data.kcmo.org/Government/KCMO-Sustainability-Report-2013/yddk-vb4y.