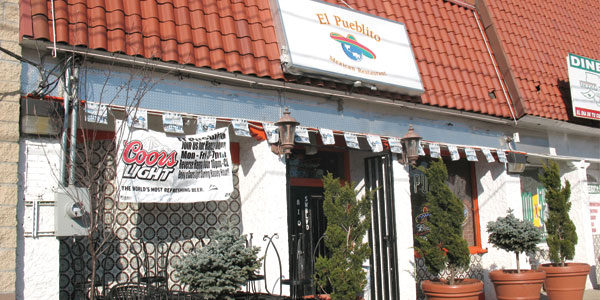 Desde hace 25 anos, El Pueblito ha estado en la misma direccion: 810 Southwest Blvd. en Kansas City, Mo.
Israel Méndez, copropietario y presidente del restaurante mexicano, fue testigo de la fruición del favorito local cuando sus padres alquilaron el espacio en 1991. La idea de abrir el restaurante surgió cuando Méndez y su familia estaban en camino a casa después de visitar un amigo de la familia en Atchison, Kansas, y se perdieron en Kansas City.
"Nos encontramos con un pequeño restaurante – California Taquería – que estaba en la calle 20 y Southwest Boulevard," recordo Méndez. "En aquel entonces, no había muchos restaurantes  y la comida era regular, pero el lugar estaba lleno de gente. Y así, empezamos a pensar que no sería una mala idea abrir un restaurante mexicano."
Poco después, Méndez y su familia se trasladaron a Kansas City. Inmediatamente, se pusieron a trabajar y abrieron El Pueblito.
"No pensamos que estaríamos en este negocio durante tanto tiempo porque es difícil," dijo Méndez. "Se necesita mucho tiempo y dedicación."
En 1996, los padres de Méndez estaban dispuestos a vender el restaurante, pero Méndez creía que tenía más potencial y compró El Pueblito. Con el apoyo de la comunidad, el restaurante prosperó. Sigue siendo un favorito local.
"La comunidad (ha) desempeñado una parte importante en el éxito del restaurante," dijo Méndez. "Han sido maravillosos."
Para más detalles sobre El Pueblito, visite la página de Facebook: El Pueblito Restaurante.
_______________________________________________________________________________________________________
Mexican restaurant continues to thrive after 25 years
By Katherine Diaz
For 25 years, El Pueblito has been at the same address: 810 Southwest Blvd. in Kansas City, Mo.
Israel Mendez, co-owner and president of the Mexican restaurant, witnessed the fruition of the local favorite when his parents leased the space in 1991. The idea for opening the restaurant came about when Mendez and his family were on their way home from visiting a family friend in Atchison, Kan., and they got lost in Kansas City.
"We came across a small restaurant – California Taqueria – that was on 20th Street and Southwest Boulevard," Mendez recalled. "Back then, there weren't many restaurants and the food was so-so, but the place had been packed. And so, we started thinking it wouldn't be a bad idea to open a Mexican restaurant."
Soon afterward, Mendez and his family relocated to Kansas City. Immediately, they got to work and opened El Pueblito.
"We didn't think we would be in this business for this long because it is difficult," Mendez said. "It takes a lot of time and dedication."
In 1996, Mendez's parents were ready to sell the restaurant, but Mendez believed it had more potential and bought El Pueblito from them. Through community support, the restaurant thrived. It continues to be a local favorite.
"The community (has) played a big part in the restaurant's success," Mendez said. "They have been wonderful."
For more details on El Pueblito, visit the restaurant's Facebook page: El Pueblito Restaurante.