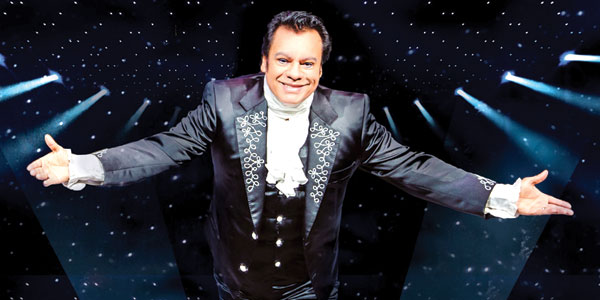 El mundo está de luto por la pérdida de la leyenda musical Juan Gabriel.
Juan Gabriel murió el domingo (28 de agosto) en Santa Mónica, California, de un ataque al corazón. El compositor y cantante de 66 años de edad, había dado un concierto en Los Ángeles y estaba programado para ir en una gira de 15 conciertos  alrededor de EE.UU.
La muerte del artista fue anunciada en múltiples plataformas de medios sociales, su hijo dio un comunicado que fue publicado en su página web.
"Su muerte prematura es una pérdida trágica para todos nosotros – su familia, colegas y todos sus seguidores", indicó. "Agradecemos sinceramente la efusión de condolencias que hemos recibido de todo el mundo, incluyendo las del presidente (de México) Enrique Peña Nieto. Sabemos que nuestro padre extrañara entretener a sus incontables seguidores, quienes le dieron una tremenda alegría en vida".
Dignatarios como el presidente de EE.UU. Barack Obama, también comentaron sobre la muerte de Juan Gabriel. En un comunicado difundido por la Casa Blanca, el Presidente hizo las siguientes observaciones:
"Por más de 40 años, Juan Gabriel llevó su adorada música mexicana a millones, más allá de las fronteras y generaciones. Para muchos mexicano-americanos, mexicanos y personas de todo el mundo, su música suena como estar en casa. Con sus letras románticas, presentaciones apasionadas y estilo único, Juan Gabriel cautivó al público e inspiró a un innumerables músicos jóvenes. Fue uno de los grandes de la música latina – y su espíritu vivirá en sus canciones inmortales y en los corazones de los fans que lo amaban".
Nacido en Parácuaro, Michoacán en México, con el nombre de Alberto Aguilera Valdez, Juan Gabriel se mudó a Chihuahua, México, donde asistió a un internado durante ocho años. Intentó lograr su sueño de entrar en el negocio de la música, realizando presentaciones en muchas  ciudades alrededor de México.
Su leyenda en la música comenzó con presentaciones en clubs y TV, su carrera despegó después de cantar en el club nocturno El Noa Noa en Juárez.
Durante su larga carrera, Juan Gabriel se convirtió en un compositor de renombre, además de haber vendido más de 100 millones de discos en todo el mundo y ser nominado para varios premios Grammy y Billboard. Su último disco, "Vestido de Etiqueta", incluyó los éxitos "Ya lo se que tu te vas," "Hasta que te conocí" y "Te lo Pido Por Favor."
Los restos del cantante fueron cremados y su servicios funebres se llevaran acabo en Ciudad Juarez y se realizaran varios homenajes en todo Mexico.
---
Mexican legend Juan Gabriel dies
By Chara
The world is mourning the loss of musical legend Juan Gabriel.  
Juan Gabriel died on Sunday (Aug. 28) in Santa Monica, Calif., from a heart attack. The 66-year-old singer and songwriter had recently given a concert in Los Angeles and was scheduled to go on a 15-city U.S. tour.
The entertainer's death was announced on multiple social media platforms. His son released a statement that was posted on his website.
"My father's untimely passing is a tragic loss for all of us – his family, colleagues and fans alike," the statement read. "We give (our) heartfelt thanks for the outpouring of condolences we have received from around the world, including from (Mexican) President Enrique Pena Nieto (Peña Nieto in Spanish). We know that our father will miss entertaining his countless fans, who brought him tremendous joy in life."
Dignitaries such as U.S. President Barack Obama also commented on Juan Gabriel's death. In a statement released by the White House, the president made the following remarks:
"For over 40 years, Juan Gabriel brought his beloved Mexican music to millions, transcending borders and generations. To so many Mexican-Americans, Mexicans and people all over the world, his music sounds like home. With his romantic lyrics, passionate performances and signature style, Juan Gabriel captivated audiences and inspired countless young musicians. He was one of the greats of Latin music – and his spirit will live on in his enduring songs, and in the hearts of the fans who love him."
Born Alberto Aguilera Valdez in Paracuaro, Michoacan, Mexico, Juan Gabriel moved from his birthplace to Chihuahua, Chihuahua, Mexico, where he attended boarding school for eight years. He tried many times to accomplish his dream of entering the music business by performing in various cities across Mexico.
His music legend started with nightclub and TV appearances. His career took off after performing in the nightclub El Noa Noa in Juarez.
During his lengthy career, Juan Gabriel became a renowned songwriter. He also sold more than 100 million records worldwide, and was nominated for several Grammys and Billboard awards. His last album, "Vestido de Etiqueta," included the hits "Ya lo se que tu te vas," "Hasta que te conoci" and "Te lo Pido Por Favor."
The iconic singers' remains have been cremated and funeral services will be held in Ciudad Juarez and there will be several tributes throughout Mexico.