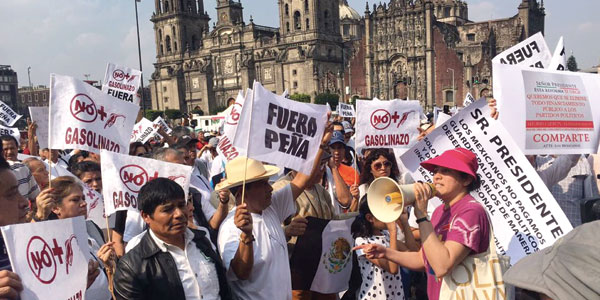 Las protestas y los bloqueos de carreteras emergieron el lunes (2 de enero) en México después de que el "gasolinazo" – un término en español para un incremento forzoso en los precios de la gasolina – entró en efecto para el año nuevo.
Los medios de comunicación informan que el incremento marca una nueva política gubernamental de desregulación de la industria petrolera del país, antiguamente nacionalizada. Esto viene en un momento en que la economía mexicana ha sido el centro de atención debido a los planes declarados por el presidente electo Donald Trump en relación a México.
De acuerdo con Los Angeles Times un galón de gasolina regular sin plomo subió de $ 2.60 el 31 de diciembre a alrededor $ 2.95 el domingo (1 de enero). También se informó que se produjeron aproximadamente 21 bloqueos de carreteras en todo el país en respuesta al gasolinazo, además de manifestaciones después de que Jesús Zambrano, del Partido de la Revolución Democrática de izquierda, solicitara una respuesta pública pacífica.
"Peña debe echar atrás el decreto del gasolinazo", Zambrano twitteó el domingo, refiriéndose al presidente mexicano Enrique Peña Nieto. "Saludo a las manifestaciones sociales contra el aumento".
Sin embargo, en un artículo de opinión realizado por Forbes el martes (3 de enero), Tim Worstall opinó que el incremento en los precios de la gasolina son "una de las medidas más eficaces para combatir el cambio climático según la Autoridad Internacional de la Energía". Worstall argumentó que los recursos del gobierno deben estar dirigidos a los pobres, en lugar de a la gasolina.
Según un análisis de Bloomberg, los mexicanos gastan más en gasolina que otros 59 países, igualados únicamente por Sudáfrica.
"El gasolinazo fue un mal comienzo para el año en México", indicó a Dos Mundos Teresa Siqueira, residente de la Ciudad de México. "La gente está preocupada porque el precio de la gasolina aumentó un 20 por ciento – y eso está afectando el precio de todo, porque obviamente se necesita gasolina para todas las actividades".
Business Insider informó recientemente que los precios de la gasolina se ajustarían cada dos semanas en febrero y que en marzo México se dividiría en zonas donde los precios de la gasolina cambiarían dependiendo de la demanda.
______________________________________________________________________________________________
Mexico's "gasolinazo" draws protests
By Nicholas Peterson
Protests and road blockades emerged on Monday (Jan. 2) in Mexico after a "gasolinazo" – a Spanish term for a forceful hike in gas prices – kicked into effect for the new year.
The hike marks a new government policy of deregulating the country's previously nationalized oil industry, news outlets are reporting. It comes at a time when the Mexican economy has been in the limelight because of President-elect Donald Trump's professed plans regarding Mexico.
A gallon of regular unleaded gas rose from around $2.60 on Dec. 31 to $2.95 on Sunday (Jan. 1), according to the Los Angeles Times. That paper also reported that approximately 21 road blockades took place around the country in response to the gasolinazo, with protests appearing after Jesus Zambrano of the leftist Democratic Revolution Party called for a peaceful public response.
"Peña must reverse the gasoline decree," Zambrano tweeted on Sunday, referring to Mexican President Enrique Pena Nieto (Peña Nieto in Spanish). "I greet the social demonstrations against the increase."
However, in an opinion piece for Forbes on Tuesday (Jan. 3), Tim Worstall opined that higher gas prices are "one of the single most effective measures at beating climate change according to the International Energy Authority." Worstall also argued that government subsidies should go to the poor, rather than for gasoline.
According to a Bloomberg analysis, Mexicans spend more for gasoline than 59 other countries, matched only by South Africa.  
"The gasolinazo was a bad start for the year in Mexico," Mexico City resident Teresa Siqueira told Dos Mundos. "The people are worried because the price of the gasoline increased 20 percent – and that is affecting the price of everything, because obviously you need gasoline for all the activities."
Business Insider recently reported that gas prices would be adjusted every two weeks in February – and that in March, Mexico would be partitioned into zones where gas prices would change, depending on demand.