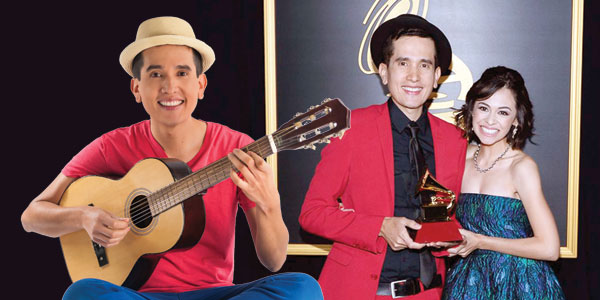 En 2003, Andres Salguero, de 24 años, llegó a Estados Unidos para estudiar música en la Universidad de Arkansas en Fayetteville. Para un nativo de Bogotá, Colombia, fue un dramático cambio cultural.
"¡Me sentí como en un set de películas!", indicó a través de correo electrónico.
Salguero se graduó en Arkansas en 2005 con una maestría en interpretación de clarinete, luego se estableció en el área de Kansas City, donde terminó un doctorado en interpretación de clarinete en la Universidad de Missouri-Kansas City.
"Me encantó Kansas City desde el primer momento", dijo.
En 2009, Salguero utilizó su extensa formación en la música para convertirse en 123 Andrés (léase "Uno, Dos, Tres Andrés"), un músico infantil de canciones en español e inglés.
"Vi terreno fértil para plantar un mensaje que crecería", mencionó durante una entrevista. "Así que nuestro mensaje es apoyar a los niños latinos y hacer que se sientan orgullosos de su herencia –  del lenguaje de sus padres y de su propio idioma".
Desde que se convirtió en 123 Andrés, Salguero ha sido nominado dos veces para un Grammy Latino. En 2016, ganó el Grammy Latino al mejor álbum infantil Latino por "Arriba Abajo", un álbum de 20 canciones con 10 canciones en español y 10 canciones en inglés.
"Es un montón de adrenalina y emoción que no puedes imaginar", dijo sobre ganar el premio. "Fue una experiencia maravillosa."
Vale la pena escuchar "Arriba Abajo". En la canción "Diez pajaritos", se puede escuchar la facilidad de Salguero con el clarinete, así como su influencia latina y la alegría de la música infantil. La canción es pegajosa.
Salguero parece entender la gran responsabilidad que tiene para educar a los niños.
"Si los niños van a estar conectados con nuestra música, ¡tengo que asegurarme de que sea música de alta calidad que nutra sus mentes y espíritus!", indicó por correo electrónico.
________________________________________________________________________________________________
Who is "Uno, Dos, Tres Andres"?
Profile and commentary by Nicholas Peterson
In 2003, a 24-year-old Andres Salguero arrived in the United States to study music at the University of Arkansas in Fayetteville. For the Bogota, Colombia, native, it was a dramatic cultural switch.  
"I felt like I was in a movie set!" he said via email.
Graduating in 2005 from Arkansas with a master's degree in clarinet performance, Salguero then settled in the Kansas City area, where he eventually completed a doctorate in clarinet performance at the University of Missouri-Kansas City.
"I loved Kansas City from the first moment," he said.
In 2009, Salguero used his deep training in music to become 123 Andres (read as "Uno, Dos, Tres Andres"), a children's musician of singable songs in Spanish and English.
"I saw fertile ground for planting a message that would grow," he said during an interview. "So our message is supporting the Latino kids and making them feel proud of their heritage – and their parents' language, and their own language."
Since becoming 123 Andres, Salguero has been nominated twice for a Latin Grammy. In 2016, he won the Best Children's Album Latin Grammy for "Arriba Abajo" – a 20-track album with 10 songs in Spanish and 10 songs in English.
"It's such a rush of adrenaline and of excitement that you cannot really think," he said of winning the award. "It was a beautiful experience."
"Arriba Abajo" is worth a listen. In the track "Ten Little Birds," you can hear Salguero's facility with the clarinet as well as his Latin influence and the joy of children's music. The song is catchy.
Salguero seems to understand the great responsibility he has for educating children, too.  
"If children are going to be connected with our music I have to make sure that it's high-quality music that will nurture their minds and spirits!" he said via email.