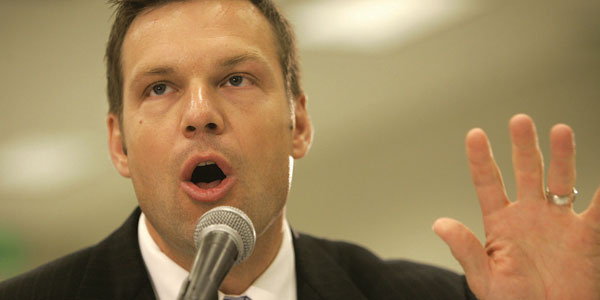 Frank Sharry: "Kobach's Record and Views Make Him Unfit to Serve in Today's America"
Courtesy of America's Voice
Washington, DC – Rumors are swirling that Kansas Secretary of State Kris Kobach will be nominated to a confirmable policy position at the Department of Homeland Security (DHS). The following is a statement from America's Voice Education Fund Executive Director Frank Sharry.
"Putting Kris Kobach anywhere near the reins of power would be the clearest sign yet that Donald Trump plans to aggressively pursue his radical agenda of deporting millions of immigrants, registering Muslims in America and mainstreaming noxious and extremist ideas about race, religion and the foreign born. In areas where Kobach has operated, from Kansas to Arizona to Alabama and beyond, he has left a trail of racial strife, discrimination and high costs for the governments that relied on him. Senators of both parties should recognize that Kris Kobach's awful track record and ugly views make him unfit to serve in today's America. Any Senator who proclaims their fealty to the ideals of our country — that we are to be judged by our character and contribution and not our background or birthplace — should reject any nomination that may be forthcoming and ensure that he finds no place in the new Administration."
Below are 12 of the most disturbing things about Kris Kobach (available online here).
Kobach is a former employee and ongoing ally of the Immigration Reform Law Institute, the legal arm of FAIR – an organization designated as a hate group by the Southern Poverty Law Center.
While serving as an advisor to Attorney General John Ashcroft, Kobach also dreamt up the notorious "Special Registration" program that was a massive exercise in government-sponsored racial profiling: "Special Registration was formally deactivated in April 2011, but the effects still linger. Many immigrant families in this country were torn apart by the program's deportation zeal. With its blunt and byzantine reporting requirements, Special Registration also alienated Muslim communities from law enforcement agencies and the Department of Homeland Security. And while the program is no longer active, it remains in place and can be resurrected at any time."
Kobach was the architect of Arizona's SB1070, the infamous anti-Latino, anti-immigrant "show me your papers" law, which was later ruled mostly unconstitutional by the US Supreme Court. Immediately after the Court's decision, Kobach filed "an anti-DACA suit on behalf of 10 ICE agents and Mississippi, alleging that they were being harmed by DACA. The case was dismissed in 2015 on the grounds that the plaintiffs lacked the standing to bring the case in the first place."
Kobach is the elected official behind one of the most egregious examples of voter suppression, disproportionately harmful to people of color. The ACLU sued in 2014, saying that "around 14 percent of all Kansans who have tried to register to vote since the state's proof of citizenship law went into effect in 2013 have been stymied".
In 2014, Kobach moaned that President Barack Obama's 2014 executive actions on immigration would lead to "socialism" and "ethnic cleansing".
Before Mike Pence's selection, Kobach was endorsed as a Vice-Presidential pick for Trump by the nativist group VDARE. SPLC describes VDARE as a hate group for regularly publishing writing by white nationalists and anti-Semites, and was named after Virginia Dare, the first white child born in the Americas to English settlers.
Kobach, along with another anti-immigrant ringleader, Mark Krikorian of the Center for Immigration Studies, championed state laws anchored in the concept of "self-deportation" (attempting to make life for immigrants so miserable they decide to leave the country).
In 2012, Kobach appeared on a Conservative Political Action Committee (CPAC) immigration panel with Robert Vandervoort, the white nationalist leader of a group that opposes bilingual ballots and bilingual education.
In 2015, Kobach was a featured speaker at a conference organized by white nationalists. The Writers' Workshop "is the brainchild of white nationalist and founder of the organized anti-immigrant movement, John Tanton".
Kobach suffered a resounding defeat when "a three-judge panel of the U.S. Court of Appeals for the District of Columbia blocked Kansas and two other states from requiring voters to show proof of citizenship if they register to vote using the federal form."
In 2016, Kobach was instrumental in the addition of border wall and anti-gay language into the GOP's platform, writing that the construction of a wall "that must cover the entirety of the southern border. Additionally, "the platform committee also adopted a Kobach provision that condemns the U.S. Supreme Court's 2015 decision to legalize same-sex marriage nationwide, a ruling he called 'obviously incorrect'".
Kobach was skewered in 2016 for giving false information on the Spanish-language version of his website that could have possibly led to disenfranchisement of Latino voters. A simple mistake, we're sure.