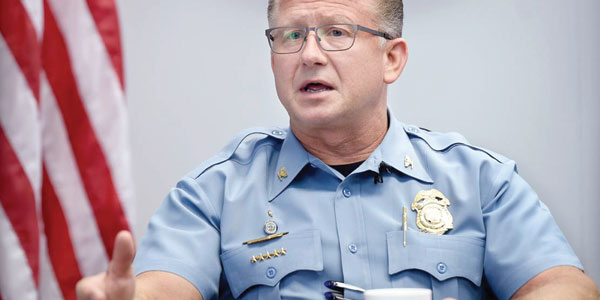 El jefe de la policía de Kansas City, Terry Zeigler, indicó recientemente a Fox 4 News que no concibe que su policía colabore con el gobierno federal en las nuevas iniciativas de inmigración publicadas el martes en los dos memorandos del Departamento de Seguridad Nacional.
"Tenemos suficientes asuntos de delincuencia para atender en la comunidad que no es posible que salgamos a buscar a personas que están aquí ilegalmente", indicó Zeigler a Fox 4.
Kansas City, Kansas, es el hogar de una población diversa y el Jefe Zeigler mencionó que su principal preocupación es mantener a la comunidad segura en medio del aumento del crimen violento. El temor a la aplicación de la ley de inmigración podría impedir que algunos miembros de la comunidad denuncien crímenes, algo que el jefe Ziegler no quiere que ocurra.
"Creo que la verdadera tragedia sería si la gente indocumentada que está en nuestra comunidad deja de presentarse para reportar crímenes o para proporcionar información a la policía", dijo Zeigler.
El Jefe Ziegler también declaró claramente que no tiene los recursos para colaborar con las nuevas iniciativas federales de inmigración que están causando preocupación entre los defensores de los inmigrantes.
"Si el gobierno federal quiere hacer eso, más poder para ellos", dijo Zeigler. "Pero yo no tengo los recursos disponibles para ser parte de eso".
______________________________________________________________________________________________
KCK Police Chief talks local immigration
By Nicholas Peterson
Kanas City Kansas Police Chief Terry Zeigler recently told Fox 4 News that he does not foresee his police collaborating with the federal government on the new immigration enforcement directives released on Tuesday in two memos from the Department of Homeland Security.
"We have enough crime issues to deal with in the community that it is not feasible for us to go out and look for people who are here illegally," Chief Zeigler told Fox 4.
Kansas City, Kansas, is home to a diverse population and Chief Zeigler said his top concern is to keep the community safe amidst an uptick in violent crime. Fear of immigration enforcement could keep some community members from reporting crime, something Chief Ziegler does not want to happen.
"I think the real tragedy would be if the undocumented people that are in our community quit coming forward to report crime or quit coming forward to provide information to the police," Chief Zeigler said.
Chief Ziegler also stated clearly that he does not have the resources to collaborate with the new federal immigration directives that are causing concern among immigrant advocates.
"If the federal government wants to do that, you know, more power to them," Chief Zeigler said. "But I do not have the resources available to be part of that.