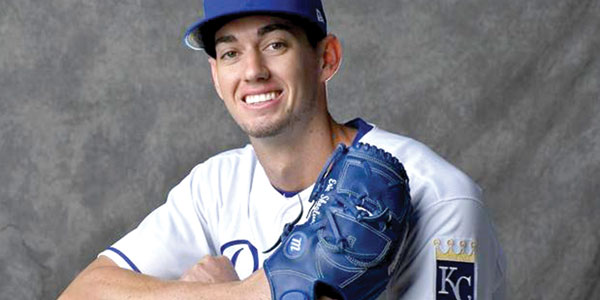 Compiled by the Dos Mundos Sports Staff
The Kansas City Royals formally introduced Eric Skoglund to Major League Baseball Tuesday night (May 30) – and Skoglund got introduced to a prankish postgame tradition associated with Royals catcher Salvador Perez.
Skoglund helped pitch the Royals to a 1-0 victory Tuesday against Detroit. As was mentioned during the Fox Sports Kansas City telecast of the American League Central Division meeting, it was the 24-year-old left-hander's first major-league start. In response, Skoglund threw a two-hitter through 61/3 innings, striking out five and walking one, making him the first Royals rookie in 12 years to win his initial outing.
"I'm waiting for someone to pinch me," the Florida native told broadcaster Joel Goldberg during a postgame interview, televised lived by Fox Sports Kansas City. "This is absolutely incredible."
Perez, who was Skoglund's catcher Tuesday, interrupted the interview twice by drenching Skoglund with buckets of water. Over the past few seasons, the native Venezuelan has developed a tradition of pranking teammates by drenching them during televised postgame interviews.
Shortly after the interview, Fox Sports Kansas City telecast Royals manager Ned Yost's press conference. Yost praised the performance by Skoglund, a 2014 Royals draft pick who got called up on Tuesday from Kansas City's Class AAA affiliate in Omaha, Neb.
"We didn't get a chance to see him in spring training, so we were excited to see him tonight," Yost stated. "He didn't disappoint."
Royals relievers Peter Moyland, Mike Minor and Kelvin Herrera helped Skoglund secure his first major-league victory. Moyland pitched 2/3 inning, with Minor and Kelvin Herrera pitching an inning each. Herrera, a Dominican Republic native, struck out two en route to getting his 12th save this season.
Correction/Clarification: In the May 25 issue, it was incorrectly stated that the Royals were playing a three-game series with the New York Yankees. The teams were scheduled to play a four-game series. It ended up being a three-game series, with the series finale on May 25 called because of rain.