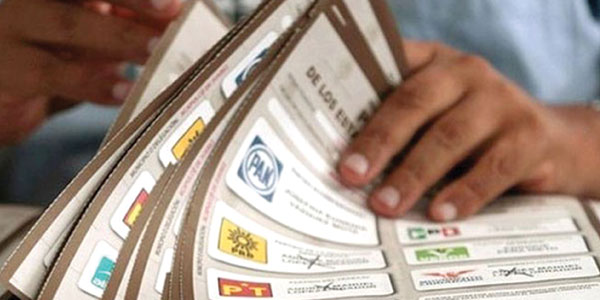 By Chara
The Instituto Nacional Electoral (INE) has opened the process to Mexican citizens residing outside the country to apply for a voting card and vote while they're living abroad.
According to INE statistics, there are 11,913,989 Mexicans living abroad, with 97.7 percent of them living in the United States.
Mexicans interested in voting abroad may send their votes by mail or submitting their voting ballot in person at their nearest embassy or consulate. In addition, the INE states that it's developing an electronic system to allow Mexicans living abroad to vote online.
To vote while living abroad, Mexican citizens need the voting card known as the "Credencial para Votar." To get one, a birth certificate or any document that provides proof of Mexican citizenship is required. A form of Mexican ID such as a passport, consular identification card and proof of address abroad also should be provided.
Once all the necessary documents are collected, then the application for a voting card may begin. Applicants are advised to call MEXITEL at 1-(877)-639-4835 and schedule an appointment with their nearest embassy or consulate. During the appointment, they'll present all their documentation.
The voting card will then be sent by mail. However, the process isn't complete until the card has been registered online.
Vote is a right granted to all Mexican citizens, as is stated in Article 35 of the Mexican Constitution. In 2014, the General Law of Institutions and Proceedings stated that Mexican people residing abroad may vote to elect the Mexican president, senators and governors.
For more information about the voting process, call the Consulate of Mexico in Kansas City at (816) 556-0800 or visit the consulate, located at 1617 Baltimore Ave. in Kansas City, Mo. Information also is available at http://portalanterior.ine.mx/portal/.
__________________________________________________________________________________
Proceso para el trámite de la credencial electoral abierto a mexicanos que viven en el extranjero
El Instituto Nacional Electoral (INE) ha abierto el proceso para este trámite a los ciudadanos mexicanos que residen fuera del país para solicitar una credencial para votar y hacerlo mientras viven en el extranjero.
Según estadísticas del INE, hay 11,913,989 mexicanos que viven en el extranjero, con un 97,7 por ciento viviendo en Estados Unidos.
Los mexicanos interesados ​​en votar en el extranjero pueden enviar sus votos por correo o presentar su voto en persona en la embajada o consulado más cercano. Además, el INE afirma que está desarrollando un sistema electrónico para permitir que los mexicanos que viven en el extranjero voten en línea.
Para votar mientras vive en el extranjero, los ciudadanos mexicanos necesitan la credencial electoral conocida como credencial para votar. Para obtener uno, se requiere un certificado de nacimiento o cualquier documento que demuestre la ciudadanía mexicana. También se debe proporcionar una forma de identificación mexicana como pasaporte, credencial de identificación consular y comprobante de domicilio en el extranjero.
Una vez que todos los documentos necesarios son recogidos, entonces la solicitud de la credencial electoral puede comenzar. Se aconseja a los solicitantes llamar a MEXITEL al 1- (877) -639-4835 y programar una cita con su embajada o consulado más cercano. Durante la cita, presentarán toda su documentación.
La credencial para votar se enviará por correo. Sin embargo, el proceso no se completa hasta que la tarjeta se haya registrado en línea.
El voto es un derecho otorgado a todos los ciudadanos mexicanos, como se establece en el artículo 35 de la Constitución mexicana. En 2014, la ley general de instituciones y Procedimientos señaló que los mexicanos que residen en el extranjero pueden votar para elegir al presidente, senadores y gobernadores mexicanos.
Para más información sobre el proceso de votación, llame al consulado de México en Kansas City al (816) 556-0800 o visite el consulado, ubicado en el 1617 de la avenida Baltimore en Kansas City, Mo. La información también está disponible en http://portalanterior.ine.mx/portal/.