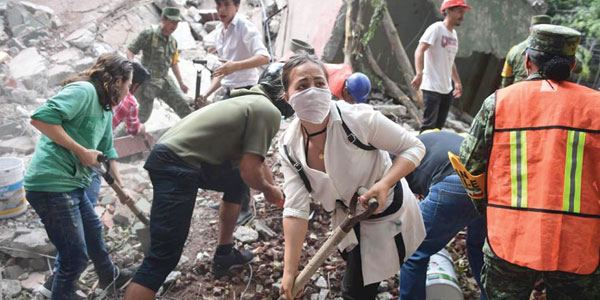 By Tere Siqueira
After the Sept. 19 earthquake that shook parts of Mexico, there were many stories shared of everyday citizens and Mexican businesses showing support for the victims.
Restaurants served free meals. Hotels let guests spend the night for free. Phone and internet providers offered free service so people could contact their loved ones.
At disaster sites, people formed human chains to remove rubble and rescue victims trapped in collapsed buildings. At press time, 15 dogs were used to help in rescuing survivors and find the bodies of deceased victims. Frida, a 7-year-old Labrador retriever belonging to the Mexican navy, earned international praise.
Stories of people carrying on during the disaster also were shared after the earthquake. It was reported that doctors were performing open heart surgery in a Mexico City hospital when the earthquake started. They decided to continue with the procedure, despite being on the seventh floor. By carrying on, the doctors saved a child's life.
---
Ciudadanos y empresas mexicanas muestran apoyo a víctimas del terremoto
Después del terremoto del 19 de septiembre que sacudió diversas partes de México, se compartieron muchas historias de ciudadanos y negocios mexicanos mostrando apoyo a las víctimas.
Los restaurantes sirven comidas gratuitas. Los hoteles permiten pasar la noche gratis. Proveedores de teléfono e internet ofrecen servicio gratuito para que la gente pueda contactar a sus seres queridos.
En los sitios de desastre, la gente formó cadenas humanas para remover los escombros y rescatar a las víctimas atrapadas en los edificios derrumbados. Al cierre de esta edición, 15 perros fueron utilizados para ayudar a rescatar a los sobrevivientes y encontrar los cuerpos de las víctimas fallecidas. Frida, una labradora de 7 años perteneciente a la marina mexicana, obtuvo reconocimiento internacional.
Después del terremoto, también fueron compartidas historias de personas durante el desastre. Se informó que unos médicos estaban realizando una cirugía a corazón abierto en un hospital de la Ciudad de México cuando comenzó el terremoto. Decidieron continuar con el procedimiento, a pesar de estar en el séptimo piso. Siguiendo adelante, los doctores salvaron la vida de un niño.