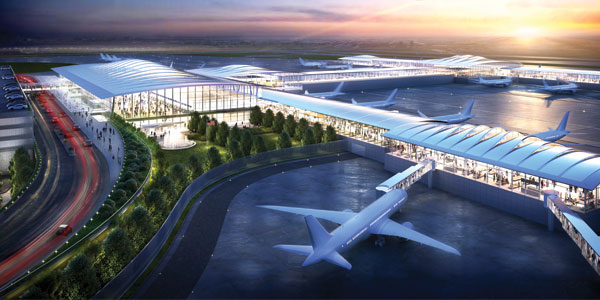 Compiled From Media Reports
Kansas City, Mo., voters have spoken – and they've said Kansas City International (KCI) Airport will undergo renovations.
On Tuesday (Nov. 7), the voters passed Question 1 49,950-16,378 (75 percent to 25 percent). As was stated on the ballot, Question 1 was a city request for approval to build a new terminal at the 45-year-old airport "and demolish existing terminals as necessary." According to the ballot proposal, Kansas City will finance the renovation through the money in takes in "from the operation of its airports and related facilities"; however, the city may issue bonds to help finance the project if voters pass a ballot issue granting the city permission to do so.
Talking to TV reporter Michael Mahoney, Kansas City Mayor Sly James said the landslide victory demonstrated that city residents "were much more in tune" with the need for renovations than city officials had thought they were – and it showed what could be achieved "when we have everybody in the city pulling together for a common cause."
The victory also might've resulted from a shift in the local debate from whether KCI should be revamped or not to what changes should be made, Mahoney suggested during his interview with James for KMBC-TV (Channel 9). James felt that Kansas City, Mo.-based company Burns & McDonnell played a key role in shifting the focus.
"They brought forth a plan that had never been considered before – and I think that we need to remember that," the mayor said. "They came forward when nobody else did."
As local news agencies have reported, however, Burns & McDonnell wasn't the company that received the city contract to develop the three-terminal airport into a one-terminal facility. Edgemoor Infrastructure & Real Estate, a Bethesda, Md.-based company, has been awarded that contract.
Reporting Wednesday (Nov. 8) for KSHB-TV 41 Action News, Charlie Keegan said the project was expected to be finished in 2021.
---
Los votantes de KCMO dan luz verde a la reforma de KCI
Kansas City, Mo., Los votantes han hablado, y han dicho que el Aeropuerto Internacional de Kansas City (KCI) se someterá a renovaciones.
El martes (7 de noviembre), los votantes aprobaron la Pregunta 1 con un 49,950 contra 16,378 (75 a 25 por ciento). Como se indicó en la boleta, la Pregunta 1 era una solicitud de la ciudad para la aprobación de construir una nueva terminal en el aeropuerto que tiene 45 años de antigüedad "y demoler las terminales existentes según sea necesario." De acuerdo con la propuesta, Kansas City financiará la renovación con el dinero "ganado de la operación de sus aeropuertos e instalaciones relacionadas." Sin embargo, la ciudad puede emitir bonos para ayudar a financiar el proyecto si los votantes aprueban un asunto de votación que otorga permiso a la ciudad para hacerlo.
Al hablar con el periodista de televisión Michael Mahoney, el alcalde de Kansas City, Sly James, dijo que la aplastante victoria demostró que los residentes de la ciudad "estaban mucho más sintonizados" con la necesidad de renovaciones de lo que los funcionarios de la ciudad pensaban y mostró lo que se podía lograr "cuando todos en la ciudad trabajan juntos por una causa común."
La victoria también podría haber sido el resultado de un cambio en el debate local sobre si KCI debería renovarse o no a qué cambios deberían hacerse, Mahoney sugirió durante su entrevista con James para KMBC-TV (Canal 9). James sintió que la compañía Burns & McDonnell, con sede en Kansas City, Missouri, jugó un papel clave en cambiar el enfoque.
"Trajeron un plan que nunca se había considerado antes, y creo que tenemos que recordar eso," indicó el alcalde. "Se presentaron cuando nadie más lo hizo."
Sin embargo, como informaron los medios de comunicación locales, Burns & McDonnell no era la compañía que recibió el contrato de la ciudad para desarrollar el aeropuerto de tres terminales en la instalación de una sola terminal. Edgemoor Infrastructure & Real Estate, una compañía con sede en Bethesda, Maryland, ha sido quien se encargará de ese contrato.
Reportando el miércoles (8 de noviembre) para KSHB-TV 41 Action News, Charlie Keegan mencionó que se esperaba que el proyecto finalizara en 2021.