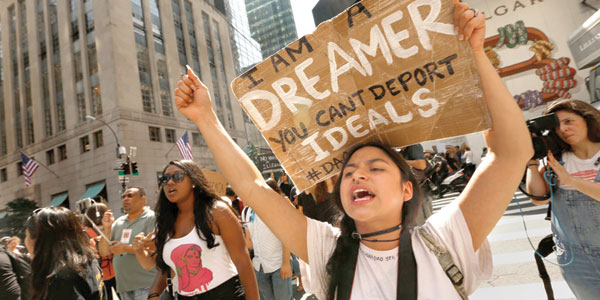 Last month, federal lawmakers in both parties failed the 689,800 DACA recipients, and immigrants, industries and institutions across the country are feeling the ripple effects. The Omnibus Spending Bill signed by President Trump and approved by Congress last month offered neither solution for the Deferred Action for Childhood Arrivals program nor any relief for current DACA recipients.
The failure of lawmakers to reach a compromise on the DACA program leaves 689,800 recipients in legal limbo. Also affected by this uncertainty are their employers; their colleges, universities and vocational schools; their financial institutions; and their families.
The most discouraging aspect of this setback is that it'll most likely persist indefinitely. No one apparently has any appetite for campaigning for the November midterm elections on immigration reform. Not even on policy as narrowly specific as DACA, a program most Americans support.
Businesses that employ DACA recipients are forewarned. They could face penalties that include fines and even jail time if they keep the young people on the rolls after their work permits expire. They worry about how the situation could adversely impact their workforce. The end of DACA could result in an average of 30,000 DACA recipients each month losing their jobs, the Center for American Progress estimates.
Losing their "lawful status" means losing their work authorization, along with their state identification cards, which permit them to drive legally. Ninety-one percent of DACA recipients are presently employed in an extensive array of professions and occupations. They can be found in classrooms, hospitals, restaurants, hotels, retail stores and even in church pulpits.
The Arizona Supreme Court ruled last week that students in the DACA program are no longer eligible for in-state college tuition. They don't qualify for federal or state financial aid either. The ruling, which took effect immediately, affects about 2,400 post-secondary students in Arizona, according to the Arizona Dream Act Coalition. In some cases, the fee changes will more than triple the annual cost of attendance.
Last month, the Missouri House rejected a state budget provision that would have lifted the ban on in-state tuition and state scholarships for DACA students. (Some 20 states, including Kansas allow DACA students to pay in-state tuition.)
Barring them from receiving state scholarships and financial assistance and making them ineligible for in-state tuition will put higher education out of reach financially for a lot of students.
As their DACA status expires, these young people brought into the country illegally as children lose their protection against deportation. Gone is their authorization to work and to drive, depending on their home state. And they face the very real threat of removal from the only home, the only country they've ever known, a country they love and respect and feel part of. For them, for their families, this heartless and unnecessary irresolution is torture.
If President Trump, as he has insisted, let DACA expire on March 5 in order to coerce legislation making DACA permanent, it's up to him to make that happen. Until then, the lives of 689,800 young people are on hold.
_______________________________________________________________________________________
Los legisladores federales siguen decepcionando
El mes pasado, los legisladores federales en ambos partidos le fallaron a los 689,800 beneficiarios de DACA y los inmigrantes, las industrias y las instituciones de todo el país están sintiendo los efectos dominantes. El proyecto de ley Omnibus Spending, firmado por el presidente Trump y aprobado por el Congreso el mes pasado, no ofreció ninguna solución para el programa de acción diferida para los menores llegados en la infancia ni alivio a los beneficiarios actuales de DACA.
El hecho de que los legisladores no lleguen a un acuerdo sobre el programa DACA deja a 689,800 beneficiarios en un limbo legal. También afectados por esta incertidumbre son sus empleadores, sus colegios, universidades y escuelas vocacionales, sus instituciones financieras y sus familias
El aspecto más desalentador de este revés es que lo más probable es que persista indefinidamente. Aparentemente, nadie tiene interés en hacer campaña para las elecciones de mitad de período de noviembre sobre la reforma migratoria. Ni siquiera en una política tan estrictamente específica como DACA, un programa que la mayoría de los estadounidenses respalda.
Las empresas que emplean destinatarios de DACA están advertidas. Podrían enfrentar sanciones que incluyen multas e incluso el tiempo en la cárcel si mantienen a los jóvenes en las listas después de que expiren sus permisos de trabajo. Se preocupan por cómo la situación podría afectar negativamente a su fuerza de trabajo. Según las estimaciones del Center for American Progress, el final de DACA podría resultar en un promedio de que cada mes 30,000 beneficiarios de DACA pierdan sus trabajos.
Perder su "estatus legal" significa perder su autorización de trabajo, junto con sus tarjetas de identificación estatal, lo que les permite conducir legalmente. Noventa y uno por ciento de los destinatarios de DACA están actualmente empleados en una amplia gama de profesiones y ocupaciones. Se pueden encontrar en aulas, hospitales, restaurantes, hoteles, tiendas minoristas e incluso en púlpitos de la iglesia.
La Corte Suprema de Arizona dictaminó la semana pasada que los estudiantes en el programa DACA ya no son elegibles para la matrícula universitaria en el estado. Tampoco califican para ayuda financiera federal o estatal. La decisión, que entró en vigencia de inmediato, afecta a unos 2,400 estudiantes de educación superior en Arizona, de acuerdo con el Arizona Dream Act Coalition. En algunos casos, los cambios en las tarifas serán más del triple del costo anual de asistencia.
El mes pasado, la Casa de Missouri rechazó una disposición del presupuesto estatal que habría levantado la prohibición de la matrícula en el estado y las becas estatales para los estudiantes de DACA. (Unos 20 estados, incluido Kansas, permiten que los estudiantes de DACA paguen la matrícula estatal).
Excluirles de recibir becas estatales y asistencia financiera y hacer que no sean elegibles para la matrícula en el estado pondrá a la educación superior fuera del alcance financiero de muchos estudiantes.
A medida que su estado DACA expira, estos jóvenes ingresaron ilegalmente al país cuando eran niños y pierden su protección contra la deportación. Atrás quedó su autorización para trabajar y conducir, dependiendo de su estado natal. Y se enfrentan a la amenaza muy real de ser expulsados ​​del único hogar, el único país que conocen, un país que aman, respetan y en el que se sienten parte. Para ellos, para sus familias, esta irresolución despiadada e innecesaria es una tortura.
Si el presidente Trump, como él ha insistido, deja que DACA expire el 5 de marzo para coaccionar la legislación que hace que DACA sea permanente, le corresponde a él hacer que eso suceda. Hasta entonces, las vidas de 689,800 jóvenes están en espera.