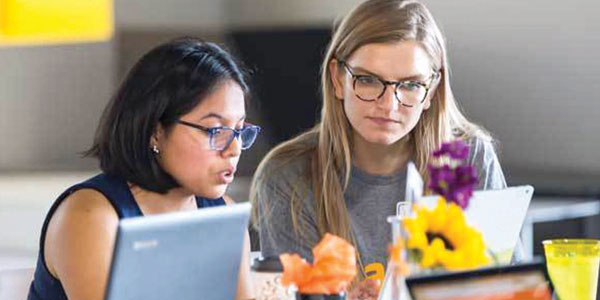 By Katherine Diaz
Kansas City Women in Technology (KCWiT) will teach the basics of coding and the importance of technology July 20-21, when the organization hosts its third Django Girls workshop in Kansas City, Mo.
The free, one-day workshop is part of KCWiT's mission to increase opportunities for women to learn how to program computers and possibly pursue computer programming as a career.
"This is a part of an international endeavor to bring programming to women," Ammaarah Khan, Django Girls diversity and inclusion chair, stated recently via email.
Workplace statistics have probably sparked that international effort. In 2017, 26 percent of the computing workforce consisted of women, with less than 10 percent being women of color. Breaking it down further, 5 of percent of those women were Asian, 3 percent were African American and 1 percent of those women were Hispanic, according to the National Center for Women & Information Technology.
Khan stated that, with international efforts, there's support for providing lessons and code to women beginners. Through Django Girls, Kansas City area women receive support in various ways.
"While they are at the workshop, it gives them an opportunity to learn about various technical roles available in the metro area by meeting men and women working in … fields such as software testing, business analyst/IT project management and web development," Khan wrote.
After completing the workshop, many women have applied their newly acquired skills to their current jobs to automate repetitive tasks or edit code in their organizations' content management systems. In addition, some Django Girls attendees have been inspired to further their technical education after their first experience of creating a web application during the workshop.
"By having an understanding of not only the software but (also) the hardware, (it) makes you more powerful in an industry where knowledge is a commodity," Khan stated. "Understanding allows for better comprehension of what your technology is able to do."
For more information about the workshop or to apply, visit djangogirls.org/kansascity. The application deadline is May 26.
---
Taller de niñas Django enseñando habilidades tecnológicas a las mujeres
Kansas City Women in Technology (KCWiT) enseñará los conceptos básicos de la codificación y la importancia de la tecnología del 20 al 21 de julio, cuando la organización realice su tercer taller Django Girls en Kansas City, Mo.
El taller gratuito de un día es parte de la misión de KCWiT de aumentar las oportunidades para que las mujeres aprendan a programar computadoras y posiblemente busquen la programación de computadoras como una carrera.
"Esto es parte de un esfuerzo internacional para llevar la programación a las mujeres", declaró recientemente Ammaarah Khan, presidenta de diversidad e inclusión de las niñas de Django, por correo electrónico.
Las estadísticas del lugar de trabajo probablemente hayan provocado ese esfuerzo internacional. En el 2017, el 26 por ciento de la fuerza laboral de cómputo estaba compuesta por mujeres y menos del 10 por ciento eran mujeres de color. Desglosándolo aún más, el 5 por ciento de esas mujeres eran asiáticas, el 3 por ciento afroamericanas y el 1 por ciento de esas mujeres eran hispanas, según el Centro Nacional para Mujeres y Tecnología de la Información.
Khan afirmó que, con los esfuerzos internacionales, hay apoyo para proporcionar lecciones y códigos a las mujeres principiantes. A través de Django Girls, las mujeres del área de Kansas City reciben apoyo de varias maneras.
"Mientras están en el taller, les da la oportunidad de aprender sobre varios roles técnicos disponibles en el área metropolitana al conocer hombres y mujeres que trabajan en campos como pruebas de software, analista de negocios / gestión de proyectos de TI y desarrollo web", Khan escribió.
Después de completar el taller, muchas mujeres han aplicado sus habilidades recién adquiridas a sus trabajos actuales para automatizar tareas repetitivas o editar códigos en los sistemas de administración de contenido de sus organizaciones. Además, algunos asistentes de las chicas Django se han inspirado para continuar su educación técnica después de su primera experiencia de creación de una aplicación web durante el taller.
"Al comprender no solo el software sino también el hardware, eso lo hace más poderoso en una industria donde el conocimiento es un producto básico", afirmó Khan. "El entendimiento permite una mejor comprensión de lo que tu tecnología puede hacer".
Para obtener más información sobre el taller o para postularse, visite djangogirls.org/kansascity. La fecha límite de solicitud es el 26 de mayo.