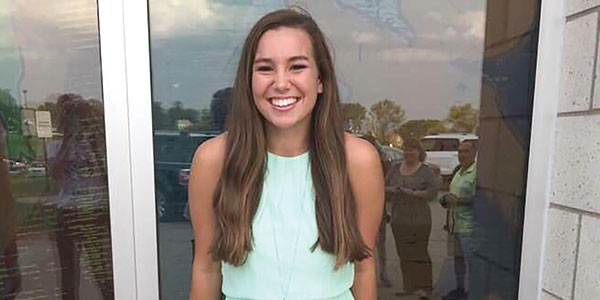 By Angie Baldelomar
With news going around about the murder of Mollie Tibbetts by an undocumented immigrant, conservative politicians led by President Trump were quick to use the story as proof for their case to impose harsher immigration laws. Trump, Vice President Mike Pence and many other conservative politicians quickly took to Twitter to react to the news, calling for harsher immigration laws.
Crimes happen all the time. Just last week, in Colorado, Chris Watts was charged in connection with the death of his wife and their daughters. However, the Trump administration did not comment on this case, or any other murder cases where the perpetrators are native-born citizens.
Despite what President Trump says about undocumented immigrants, studies have failed to demonstrate that immigrants, legal or otherwise, commit more crimes than native-born citizens. In fact, some studies have shown that undocumented immigrants are less likely to commit crimes than native-born citizens, with the number even lower for documented immigrants.
A study published in March in the journal Criminology examined whether places with higher percentages of undocumented immigrants have higher crime rates. The answer was a resounding no.
The study offers a number of statistical analyses to more clearly isolate the effects of illegal immigration from other factors that can affect crime rate. The study found that the relationship between high levels of illegal immigration and low levels of crime persists even after taking into account various economic and demographic factors.
Authors of the study Michael T. Light and Ty Miller concluded that the "study calls into question one of the primary justifications for the immigration enforcement build-up."
Light and Miller also offered some advice for crafting immigration policies.
"Any set of immigration policies moving forward should be crafted with the empirical understanding that undocumented immigration does not seem to have increased violent crime," they said in the study.
Even with studies like this one, the Trump administration continues to claim the opposite and takes advantage of isolated cases, like the Tibbetts one, to justify their case.
---
Trump usa el caso Tibbetts para continuar la guerra contra inmigrantes
Con el caso de Mollie Tibbetts, que fue asesinada por un inmigrante indocumentado, políticos conservadores liderados por el presidente Trump rápidamente usaron la historia como prueba para su caso de imponer leyes migratorias más duras. Trump, el vicepresidente Mike Pence y muchos otros políticos conservadores rápidamente usaron Twitter para reaccionar a la noticia de Tibbetts, hablando de imponer leyes migratorias más duras.
Crímenes ocurren todo el tiempo. La semana pasada Chris Watts fue acusado de matar a su esposa y sus hijas en Colorado. Sin embargo, la administración de Trump no comentó sobre el caso, o ningún otro caso donde los acusados son ciudadanos estadounidenses.
Pese a lo que el Presidente Trump diga sobre inmigrantes indocumentados, varios estudios han fallado en demostrar que los inmigrantes, legales o no, cometen más crímenes que ciudadanos estadounidenses. De hecho, algunos estudios han demostrado que los inmigrantes indocumentados son menos propensos a cometer crímenes que los ciudadanos nativos, y el número es aún menor para los inmigrantes documentados.
Un estudio publicado en marzo en la revista Criminology examinó si los lugares con porcentajes más altos de inmigrantes indocumentados tienen tasas de criminalidad más altas. La respuesta fue un rotundo no.
El estudio ofrece un número de análisis estadísticos para aislar más claramente los efectos de la inmigración ilegal de otros factores que pueden afectar la tasa de criminalidad. El estudio encontró que la relación entre altos niveles de inmigración ilegal y bajos niveles de delincuencia persiste incluso después de controlar diversos factores económicos y demográficos.
Los autores del estudio Michael T. Light y Ty Miller concluyeron que el «estudio cuestiona una de las principales justificaciones para la acumulación de la aplicación de la ley de inmigración».
Light y Miller también ofrecieron consejo sobre la elaboración de políticas de inmigración.
«Cualquier conjunto de políticas de inmigración que avance debe elaborarse con la comprensión empírica de que la inmigración indocumentada no parece haber aumentado el crimen violento», dijeron en el estudio.
Incluso con estudios como estos, la administración de Trump sigue diciendo lo contrario y aprovecha casos aislados, como el de Tibbetts, para justificar su caso.