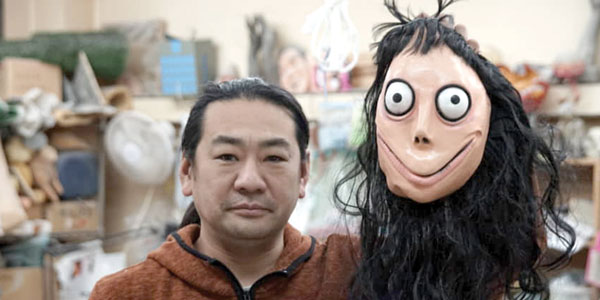 By Chara
The rumor of a new self-harm challenge spreading online is unfounded, according to the Washington Post.
According to the Post, the rumor started on Feb. 17, when a parent sent a warning about the "Momo" challenge to a Facebook group in England. The challenge reportedly involved the presence of a creepy character giving instructions to children on how to harm themselves.
The parent's post went viral, causing alarm among parents and police departments. Parents, celebrities and other people started sharing on social media that the "Momo" challenge character had been seen in various videos, including those for Peppa Pig, LOL Doll and the surprise eggs. The Post, however, started researching and found no evidence of a "Momo" challenge.
In addition, YouTube issued a statement denying the promotion of the challenge in videos on its social platform.
"After much review, we've seen no recent evidence of videos promoting the 'Momo' challenge on YouTube," the statement read. "Videos encouraging harmful and dangerous challenges are clearly against our policies, the 'Momo' challenge included. Despite press reports of this challenge surfacing, we haven't had any recent links flagged or shared with us from YouTube that violate our community guidelines."
Multiple media outlets in the United States have confirmed that the "Momo" challenge is a hoax.
___________________________________________________________________________
YouTube, medios de comunicación confirman el engaño del desafío "Momo"
El rumor de un nuevo desafío de autolesión que se difunde en línea es infundado, según el Washington Post.
Según el Post, el rumor comenzó el 17 de febrero cuando un padre envió una advertencia sobre el desafío "Momo" a un grupo de Facebook en Inglaterra. Según se informa, el desafío involucraba la presencia de un personaje espeluznante que daba instrucciones a los niños sobre cómo hacerse daño.
La publicación del padre se hizo viral, causando alarma entre padres y departamentos de policía. Los padres, las celebridades y otras personas comenzaron a compartir en las redes sociales que el personaje del desafío "Momo" se había visto en varios videos, incluidos los de Peppa Pig, LOL Doll y los huevos sorpresa. El Post, sin embargo, comenzó a investigar y no encontró evidencia de un desafío "Momo".
Además, YouTube emitió un comunicado negando la promoción del desafío en los videos de su plataforma social.
"Después de mucha revisión, no hemos visto evidencia reciente de videos que promocionen el desafío 'Momo' en YouTube", se lee en el comunicado. "Los videos que alientan los desafíos dañinos y peligrosos están claramente en contra de nuestras políticas, incluido el desafío 'Momo'. A pesar de los informes de la prensa sobre este desafío que surge, no hemos tenido enlaces recientes marcados o compartidos con nosotros desde YouTube que violen las pautas de nuestra comunidad".
Múltiples medios de comunicación en los Estados Unidos han confirmado que el desafío "Momo" es un engaño.