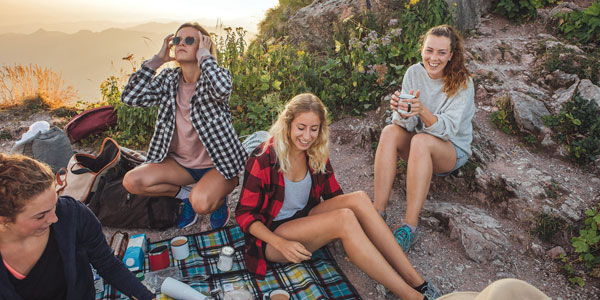 The arrival of vacation season means it's time to stop daydreaming about that getaway and start making some travel plans.
Getting organized for a grand adventure, especially if you'll be traveling with a group, requires some careful planning before you begin making reservations. Get started planning your dream vacation with these travel tips from the experts at Vrbo:
Narrow down the location. Vacation planning often begins with an idea more than a specific destination. For example, you may want to lay on the beach or visit the mountains. The first step should be figuring out exactly which beach or which mountain range captures your attention. Research your options online and look for information such as lodging, food and activities you may want to explore.
Set a budget. Daydreaming about a luxury excursion may be appealing when it's all in theory, but your bank account may have a different opinion. Also remember that if you're traveling with a group, you're likely to encounter household finances different from your own, so you'll need to set a budget that works for everyone.
Determine how you'll get there. The smaller your group, the more options you have for reaching your destination. As the group grows, you may have fewer alternatives, particularly if you want to travel together. For example, it can be difficult to get a large block of seats together on a commercial flight.
Think about where you'll stay. Vacation rentals typically offer more space and privacy than hotel rooms and allow everyone to stay together. Many offer amenities like a backyard or pool, and guests can split the cost several ways. You can give others a chance to weigh in with a tool like Trip Boards, a feature on the Vrbo website and mobile app that lets friends and family members collaborate during the decision-making process and find the perfect vacation home together. With inviting, voting and commenting capabilities, fellow travelers can see each other's favorited properties, vote and leave comments on which vacation homes they like best.
Discuss an itinerary ahead of time. With multiple personalities and interests involved, it can be challenging to keep everyone on a set schedule. Some may prefer to sleep in and others may have specific ideas about what time meals should be. Even if you don't have a formal itinerary, it's a good idea to talk through the schedule ahead of time, so expectations are clear. Breaking off into smaller groups part of the time may work better than keeping the entire group on the same schedule throughout the trip.
Look for group discounts. Though a larger group poses some challenges, there are also some perks that make bigger better. As you're planning activities and making reservations, be sure to inquire about specials and rates reserved for larger parties.
Use apps to get organized. From organizing everyone's travel schedules to voting on activities and coordinating payments, you can rely on apps to orchestrate most of the minutiae of a group getaway.
Find more information to help plan your next group vacation at Vrbo.com/tripboard.
---
Planee una escapada en grupo sin estrés
La llegada de la temporada de vacaciones significa que es hora de dejar de soñar con esa escapada y comenzar a hacer planes de viaje.
Organizarse para una gran aventura, especialmente si estará viajando con un grupo, requiere una planificación cuidadosa antes de comenzar a hacer reservaciones. Comience a planear las vacaciones de sus sueños con estos consejos de viaje de los expertos de Vrbo:
Defina el destino. La planificación de vacaciones a menudo comienza con una idea más que con un destino específico. Por ejemplo, puede que quiera ir a acostarse a una playa o visitar las montañas. El primer paso debe ser determinar exactamente qué playa o qué cadena de montañas capta su atención. Investigue sus opciones en línea y busque información como alojamiento, comida y actividades que desee explorar.
Establezca un presupuesto. Soñar despierto con una excursión de lujo puede ser atractivo cuando todo es en teoría, pero su cuenta bancaria puede tener una opinión diferente. También recuerde que si está viajando con un grupo, es probable que encuentre finanzas domésticas diferentes a las suyas, por lo que deberá establecer un presupuesto que funcione para todos.
Determine cómo llegará allí. Mientras más pequeño sea el grupo, tendrá más opciones para llegar a su destino. A medida que el grupo aumenta, puede que tenga menos alternativas, especialmente si desean viajar juntos. Por ejemplo, puede ser difícil conseguir un gran bloque de asientos en un vuelo comercial.
Piense en dónde se hospedará. Los alquileres de casas de vacaciones típicamente ofrecen más espacio y privacidad que habitaciones de hotel y permiten que todos se queden juntos. Muchos ofrecen amenidades como un patio trasero o una piscina y los huéspedes pueden dividir el costo de varias maneras. Puede darles a otros la oportunidad de participar con una herramienta como Trip Boards, una función en el sitio web Vrbo y una aplicación móvil que permite a sus amigos y familiares colaborar durante el proceso de toma de decisiones y encontrar la casa de vacaciones perfecta. Con capacidades de invitación, votación y comentarios, los demás viajeros puede ver las propiedades favoritas de cada uno, votar y dejar comentarios sobre las casas de vacaciones que más les gusten.
Discuta un itinerario con anticipación. Con múltiples personalidades e intereses involucrados, puede ser un desafío mantener a todos en un horario establecido. Algunos pueden prefieren dormir y otros pueden tener ideas específicas sobre a qué hora deben ser las comidas. Incluso si no tiene un itinerario formal, es una buena idea hablar sobre el horario con anticipación para que las expectativas sean claras. Dividirse en grupos más pequeños por parte del tiempo puede funcionar mejor que mantener a todo el grupo en el mismo horario durante todo el viaje.
Busque descuentos para grupos. Aunque un grupo más grande plantea algunos desafíos, también hay algunas ventajas que hace que los grandes sean mejores. Cuando esté planeando actividades y haciendo reservaciones, asegúrese de preguntar sobre las ofertas especiales y tarifas reservadas para grupos más grandes.
Utilice aplicaciones para organizarse. Desde la organización de los horarios de viaje hasta la votación de actividades y la coordinación de pagos, puede confiar en las aplicaciones para organizar la mayoría de los detalles de una escapada en grupo.
Encuentre más información para ayudar a planear sus próximas vacaciones en grupo en vrbo.com/tripboard.