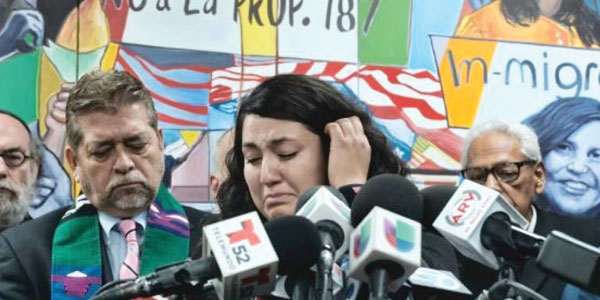 By Eulogio JP
According to immigrant advocates, a man died after being held at California's largest detention facility, located in Adelanto.
On Monday (April 8), the Coalition for Humane Immigrant Rights announced that 27-year-old Jose Ibarra Bucio had collapsed en route to an immigration court hearing in February. After the incident, he was taken to a hospital by detention officials and later went into a coma.
Immigration advocates are requesting a press conference to be held to seek information from U.S. and detention officials about his death.
According to U.S. Immigration and Customs Enforcement, the man was taken into custody from a state prison after being convicted for fleeing a traffic officer while driving recklessly. The agency also reported that Ibarra Bucio had been held in Adelanto's detention facility and released on Feb. 22.
Ibarra Bucio's unexpected death comes amid the recent news regarding the state government backing out of a contract with the facility where Ibarra had been held. Because of numerous complaints of bad conditions and inadequate medical care, the Adelanto city government took steps in late March to end its contract with U.S. immigration authorities.
---
Otro inmigrante muere bajo custodia
Según los defensores de los inmigrantes, un hombre murió después de ser detenido en el centro de detención más grande de California, ubicado en Adelanto.
El lunes (8 de abril), la Coalición por los Derechos Humanos de los Inmigrantes anunció que José Ibarra Bucio, de 27 años, había colapsado en el camino a una audiencia de la Corte de inmigración en febrero. Después del incidente, funcionarios de detención lo llevaron a un hospital y luego entró en coma.
Los defensores de la inmigración están solicitando una conferencia de prensa para solicitar información a los funcionarios de detención de los EE. UU. y su detención.
De acuerdo con el Servicio de Inmigración y Control de Aduanas de los Estados Unidos, el hombre fue detenido en una prisión estatal luego de ser condenado por huir de un oficial de tránsito mientras conducía de manera imprudente. La agencia también informó que Ibarra Bucio había sido retenido en el centro de detención de Adelanto y liberado el 22 de febrero.
La inesperada muerte de Ibarra Bucio se produjo en medio de las noticias recientes sobre el respaldo del gobierno estatal a un contrato con las instalaciones donde se había mantenido Ibarra. Debido a las numerosas quejas de malas condiciones y atención médica inadecuada, el gobierno de la ciudad de Adelanto tomó medidas a fines de marzo para finalizar su contrato con las autoridades de inmigración de los Estados Unidos.