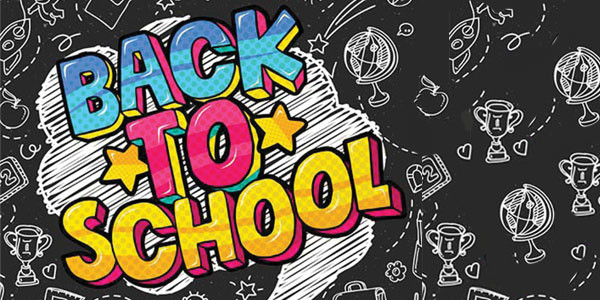 Commentary by Chara
Back-to-school season is here.
As you and/or your youngsters prepare for the upcoming school year, here is a list of the must-have items you should obtain:
*A "green" lunch pack: That does not mean the color green. It means reusable plastic containers for lunches that will help take care of the planet. In many supermarkets, you will find lunch packs, containers and wrapping made of environmentally friendly materials. Give them a try. Green lunch packs are cool.
*A watch: Having a watch is trendy. It also will help with getting to class on time. In addition, a smartwatch will help with tracking steps and exercise throughout the year. If you or your child does not like smartwatches, then get a regular watch. Regular watches are available for all ages – and in all styles.
*A "nice" calculator: There are some cool calculators that will be helpful with math classes. Some calculators are more helpful for middle school students. Others are better suited to high school or college students. But remember, there is no need to buy multiple calculators for each stage of school if you can find one that is helpful throughout all the stages of student life.
*Tech protectors: Try to go online and buy protectors for you or your student's technology gear, such as tablets and laptops. Protectors will keep those gadgets safe and without scratches.
---
Recuerde comprar los imprescindibles para la escuela
La temporada de regreso a la escuela está aquí.
A medida que usted y/o sus jóvenes se preparan para el próximo año escolar, aquí hay una lista de los artículos imprescindibles que debe obtener:
* Una lonchera "verde": no significa de color verde. Significa recipientes de plástico reutilizables que ayudarán a cuidar del planeta. En muchos supermercados, encontrará loncheras, contenedores y envoltorios hechos de materiales. Deles una oportunidad. Las loncheras verdes son geniales.
* Un reloj: tener un reloj está de moda. También le ayudará a llegar a clase a tiempo. Además, un reloj inteligente lo ayudará con los pasos de seguimiento y el ejercicio durante todo el año. Si a usted o su hijo no les gustan los relojes inteligentes, consiga un reloj regular. Los relojes regulares están disponibles para todas las edades, y en todos los estilos.
* Una "buena" calculadora: hay algunas calculadores interesantes que serán útiles con las clases de matemáticas. Algunas calculadoras son más útiles para los estudiantes de intermedio (o middle school). Otros son más adecuados para estudiantes de secundaria (o preparatoria) o universitarios. Pero recuerde, no es necesario comprar múltiples calculadoras para cada etapa de la escuela si puede encontrar una que sea útil en todas las etapas de la vida del estudiante.
* Protectores de tecnología: intente buscar en línea y compre protectores para su equipo tecnológico o el de su estudiante, como tabletas y computadoras portátiles. Los protectores mantendrán esos aparatos a salvo y sin rasguños.