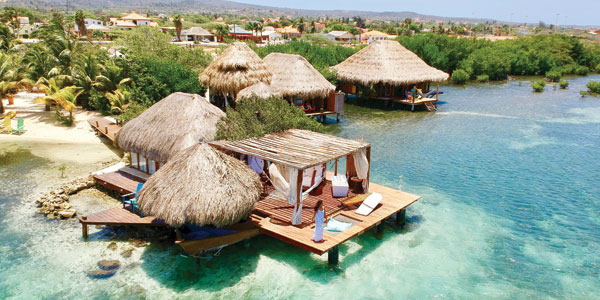 Welcome tourists! In this edition, we have to talk about a small island belonging to the Kingdom of the Netherlands. This island is also one of the most famous tropical paradises in the world and, even though for a time it was part of the European Union, the closest continent it is by is the Americas. We are talking about Aruba. The foundation of this island as an independent country dates back to 1986, and it has a little over 100,000 inhabitants.
Most of the people in this beautiful island are multilingual. The most used languages are Papiamento (official language), which is a mixture between Spanish and Afro Portuguese; Spanish; English; and because it is part of the Kingdom of the Netherlands, Dutch is also spoken.
Round-trip flights from Kansas to Aruba have an average cost of $500 and it has at least one layover. The best way to get around the island is by renting a car, though if what you want is to rest, there are cabs that take you almost everywhere. There are also different bus routes that work from 3 a.m. to 12 a.m. Lodging in this beautiful place is pretty accessible even though it is so popular. Rooms in a 3-star hotel have an average cost of $90 per night and in a 5-star hotel an average cost of $500. The island cuisine has a strong European influence so it is common to find bread and coffee everywhere in the mornings. For meals, being a Caribbean island, it is very common to find a variety of ceviches prepared with fruits, fish or seafood and some vegetables. But if you are not a fan of seafood, don't worry because BBQ ribs are very common there, plus in almost all restaurants you can find all kinds of international food. The average cost of a full meal is $17.
The places you should visit during your stay in the famous island of Aruba are the following:
*National Park of Arikok: This park represents almost 20 percent of the island. It is home to a large amount of flora and fauna in its more than 4,000 hectares, in addition to many attractions. Among them is the chance to explore the caves that have original rock art of the aborigines who lived there and you can also see the unusual geographical formations of lava, limestone, quartz and other types of stones. The entrance fee is $11, which is used for various park conservation programs.
*Historical Museum of the Fort Zoutman: Here you can learn a little more about Aruba's history. This building dates back to 1796 and it was built in honor of Rear Admiral Johan Arnold Zoutman, who defeated the English in the North Sea. In addition, the William III tower was built here, functioning as a lighthouse and a public clock. Every Tuesday night, here happens the welcome party to the island at the Bon Bini festival between 6:30 p.m. and 8:30 p.m.
*Cosecha: A handicraft market in the region. In this market, you can find different handicrafts that represent the traditions of Aruba. Besides being able to buy different products, here you can take some classes and workshops that will teach you how to make part of these crafts in the ancestral way.
*Eagle Beach: One of the best beaches in the world, according to TripAdvisor. It is the widest and most famous beach of the whole island and this is due to its soft white sand and the beautiful turquoise color of the Caribbean Sea. In addition, four species of sea turtles nest on this beautiful beach, which also makes it a highly protected place for the conservation of marine life. In spite of that, it is a beach where you can find all kinds of services, from information kiosks and tour sales, picnic areas, umbrellas areas and, being very close to many hotels, you will also find several restaurants nearby. On this beach, there are the two Fofoti trees, which are surely the best-known postcard of Aruba, as both trees are tilted towards the Caribbean Sea.
*Mangel Halto: the best place to go snorkeling in all Aruba. Here you will find the calmest and shallowest waters of the island, which allows you to practice scuba diving and kayaking. There is also the reef where you can enjoy a variety of marine life.
The official currency in Aruba is the Aruban Florin. Although dollars are well received in most parts of the island, it never hurts to change a bit of cash to the local currency.
Without more for the moment, I say goodbye not before I wish you have an excellent adventure. Greeting and have a safe trip!
---
Conoce Aruba
Bienvenidos turistas, en esta edición nos toca hablar de una pequeña isla perteneciente al Reino de los Países Bajos. Esta isla además es uno de los paraísos tropicales más famosos en el mundo y, aunque por un tiempo perteneció a la Unión Europea, la mayor cercanía que tiene con un continente es con América: nos referimos a Aruba. La fundación de esta isla como un país independiente fue en el año 1986 y cuenta con poco más de 100 mil habitantes.
La mayoría de los pobladores de esta hermosa isla son multilingües. Los idiomas que más se utilizan es el Papiamento (idioma oficial), el cual es una mezcla entre español y afro portugués; el español; el inglés y al ser parte del Reino de Países Bajos también se habla el neerlandés.
Los vuelos redondos de Kansas a Aruba tienen un costo promedio de $500 y cuentan con al menos 1 escala. La mejor forma de moverse por toda la isla es rentando un automóvil, aunque si lo que quieres es descansar de manejar hay taxis que te llevan por casi toda la isla además de distintas rutas de autobuses que funcionan de 3am hasta las 12am. El hospedaje en este hermoso sitio a pesar de ser tan popular y concurrido es bastante accesible para todos los presupuestos. Las habitaciones en un hotel 3 estrellas tienen un costo promedio de $90 la noche y en un hotel 5 estrellas un costo promedio de $500. La gastronomía de la isla tiene una fuerte influencia europea por lo que en las mañanas será muy común encontrar pan y café por todos lados. Para la comida al ser una isla caribeña será muy común encontrar una gran variedad de ceviches preparados con frutas, pescado o mariscos y algunos vegetales. Pero si no eres partidario de la comida proveniente del mar no te preocupes que las costillas a la BBQ también son muy comunes por allá, además de que en casi todos los restaurantes podrás encontrar todo tipo de comida internacional. El costo promedio de una comida completa es de $17.
Los lugares que deberás visitar en tu estadía por la famosa isla de Aruba son los siguientes:
* Parque Nacional de Arikok: este parque representa casi el 20% de toda la isla. Es el hogar de una gran cantidad de flora y fauna en sus más de 4 mil hectáreas, además de muchas atracciones. Entre ellas se encuentra el explorar las cuevas que cuentan con arte rupestre original de los aborígenes que vivían ahí y también podrás conocer las formaciones geográficas inusuales de lava, piedra caliza, cuarzo entre otro tipo de piedras. El costo de entrada es de $11 y es destinado a diversos programas de conservación del parque.
* Museo Histórico del fuerte Zoutman: aquí podrás conocer un poco más de la historia de Aruba. Esta edificación data del año 1796 y es en honor al contraalmirante Johan Arnold Zoutman, quien venció a los ingleses en el mar del norte. Además, aquí se construyó la torre Guillermo III que funcionaba como faro y como reloj público. Todos los martes por la noche aquí se da la fiesta de bienvenida a la isla en el festival Bon Bini entre las 6:30 pm y las 8:30 pm.
* Cosecha: mercado de artesanías de la región. En este mercado podrás encontrar distintos trabajos artesanales que hacen representación a las tradiciones de Aruba. Además de poder comprar distintos productos, en este sitio podrás tomar algunos de los cursos y talleres que te enseñarán a hacer parte de estas artesanías de la manera ancestral.
* Eagle Beach: una de las mejores playas en el mundo según TripAdvisor. Es la playa más ancha y famosa de toda la isla y esto se debe a su suave arena blanca y el hermoso color turquesa del mar del caribe. Además en esta hermosa playa anidan cuatro especies de tortugas marinas, lo que la hace también un lugar altamente protegido para la conservación de la vida marina. A pesar de eso, es una playa en la que podrás encontrar todo tipo de servicios, desde kioscos de información y venta de tours, zonas para hacer picnic, zona de sombrillas y, al estar muy cerca de muchos hoteles, también encontrarás varios restaurantes cercanos. En esta playa se encuentran los dos árboles fofoti, los cuales seguramente son la postal más conocida de Aruba, ya que ambos árboles se inclinan en dirección al mar caribe.
* Mangel Halto: el mejor lugar para bucear en todo Aruba. Aquí se encuentran las aguas más calmadas y poco profundas de la isla lo que permite, además de bucear, el poder practicar buceo y kayak. Aquí se encuentra el arrecife por lo que podrás disfrutar de una gran variedad de vida marina.
La moneda oficial de Aruba es el Florín Arubeño. Aunque en gran parte de la isla son bien recibidos los dólares, nunca está de más cambiar un poco de efectivo a la moneda local.
Sin más por el momento me despido no sin antes desearles tengan una excelente aventura, saludos y buen viaje.