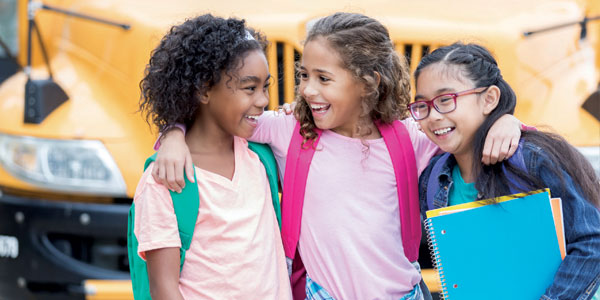 By FF
Finding new clothes and gathering pens, pencils, notebooks and other supplies are always part of the back-to-school fun, but there are other needs and wants to consider when another school year rolls around.
This year, make sure you send your student to the classroom with everything he or she requires for a successful transition at any age. From providing cleaner water and better at-home or dorm room organization to nutritious snacks and the latest tech, consider these all-important ideas for enhancing the schooltime experience.
Drink Smarter
Ensure your kids drink smarter this school year by providing cleaner, healthier, great-tasting water from an option like the PUR Advanced Faucet Filtration System. It's certified to reduce more than 70 contaminants, including 99 percent of lead – more than any other brand, according to NSF. Filling up a reusable water bottle with filtered water is also an economical, environmentally friendly way to help your kids stay hydrated all day long. Learn more at PUR.com.
Seating and Storage
During school season, odds and ends can tend to clutter living spaces. Clean up your child's shoes, toys, books, school supplies and more with an option like ClosetMaid's Cubeicals 3-Cube Bench, perfect for adding extra storage for home organization, especially in areas like entryways, playrooms and bedrooms. With a multi-functional storage space featuring three cubbies, the bench is available in multiple colors and can act as both a seating area and organizer. Find more information at ClosetMaid.com.
A Desirable Lunchtime Dip
Packing an everyday lunch is part of the back-to-school routine, and you can make it a fun and flavorful one for your little learner with options like Sabra Hummus Singles, a plant-based snack perfect for kids. Ideal for pairing with lunchbox classics like carrots, cucumbers, tortilla chips or pretzels, they're available in Classic and Roasted Red Pepper flavors to make lunchtime a cinch or simplify after-school snacking. Find more lunchbox inspiration at sabra.com.
Customizable Dorm Room Storage
If you're looking for extra storage space in your dorm room, consider an option like the Closet Maximizer from ClosetMaid. Featuring four shelves and an adjustable, double-hang rod, the system takes about 30 minutes to install and requires no tools. You can further customize the system to fit your needs with accessories like decorative fabric bins and wire baskets, plus it's portable enough to be reused in another room if you move. Find more information at ClosetMaid.com.
Today's Tech Necessity
While schools and universities across the country become more advanced and reliant on technology in the classroom, make sure your child is up-to-date with a laptop that fulfills his or her educational needs. Available in multiple sizes with varying capabilities, there's almost certainly a laptop that fits your student's specific requirements. Between Internet research, completing coursework, notetaking and far more, the right laptop can aid in the educational experience while making you an A-plus parent.
Find more tips for a smoother, simpler back-to-school season at eLivingtoday.com.
________________________________________________________________________
Pasos sencillos para el éxito de regreso a la escuela
Encontrar ropa nueva y recolectar bolígrafos, lápices, cuadernos y otros útiles siempre son parte de la diversión de regreso a la escuela, pero hay otras necesidades y deseos que considerar cuando llega otro año escolar.
Este año, asegúrese de enviar a su estudiante al aula con todo lo que necesite para una transición exitosa a cualquier edad. Desde darle agua más limpia y mejor organización en casa o en su dormitorio hasta refrigerios nutritivos y la última tecnología, tenga en cuenta estas ideas tan importantes para mejorar la experiencia escolar.
Beba de forma más inteligente
Asegure que sus hijos beban de manera más inteligente este año escolar al darles agua más limpia, más saludable y de excelente sabor con una opción como el Sistema de filtración de grifos avanzado PUR. Está certificado para reducir más de 70 contaminantes, incluido el 99 por ciento del plomo, más que cualquier otra marca, según NSF. Llenar una botella de agua reutilizable con agua filtrada también es una manera económica y ecológica de ayudar a sus hijos a mantenerse hidratados durante todo el día. Obtenga más información en PUR.com.
Asientos y almacenamiento
Durante la temporada escolar, las probabilidades y los extremos tienden a saturar los espacios de vida. Limpie los zapatos, juguetes, libros, útiles escolares y más de su hijo con una opción como el banco Cubeicals 3-Cube de ClosetMaid, perfecto para agregar almacenamiento adicional para la organización del hogar, especialmente en áreas como entradas, salas de juegos y dormitorios. Con un espacio de almacenamiento multifuncional con tres cubículos, el banco está disponible en varios colores y puede actuar como área de asientos y como organizador. Encuentre más información en ClosetMaid.com.
Un refrigerio deseable a la hora del almuerzo
Preparar un almuerzo diario es parte de la rutina de regreso a la escuela, y puede hacer que sea divertido y sabroso para su pequeño aprendiz con opciones como Sabra Hummus Singles, un bocadillo a base de plantas perfecto para los niños. Ideales para combinar con clásicos de loncheras como zanahorias, pepinos, chips de tortilla o pretzels, están disponibles en los sabores Classic y Roasted Red Pepper para que la hora del almuerzo sea fácil o para simplificar los refrigerios después de la escuela. Encuentra más inspiración de loncheras en sabra.com
Almacenamiento personalizable en el dormitorio
Si está buscando espacio de almacenamiento adicional en su dormitorio, considere una opción como el Closet Maximizer de ClosetMaid. Con cuatro estantes y una barra ajustable de doble suspensión, el sistema tarda unos 30 minutos en instalarse y no requiere herramientas. Puede personalizar aún más el sistema para que se adapte a sus necesidades con accesorios como papeleras decorativas y canastas de alambre, además de que es lo suficientemente portátil para ser reutilizado en otra habitación si se muda. Encuentre más información en ClosetMaid.com.
Necesidad tecnológica de hoy
Mientras las escuelas y universidades en todo el país se vuelven más avanzadas y dependientes en la tecnología en el aula, asegúrese de que su hijo esté al día con una computadora portátil que satisfaga sus necesidades educativas. Disponibles en varios tamaños con diferentes capacidades, es casi seguro que haya una computadora portátil que se adapte a los requisitos específicos de su estudiante. Entre la investigación por internet, completar los cursos, tomar notas y mucho más, la computadora portátil correcta puede ayudar en la experiencia educativa al tiempo que lo convierte en un padre de 10.
Encuentre más consejos para una temporada de regreso a clases más sencilla y fluida en eLivingtoday.com.