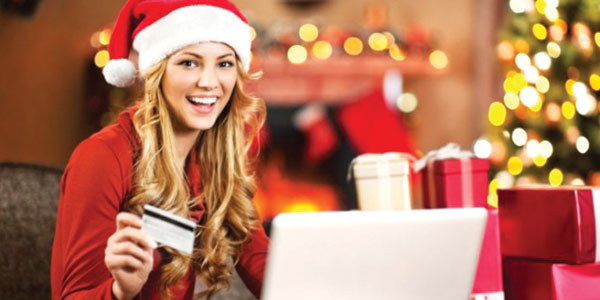 Find deals on holiday gifts and ways to save all year long
By AARP
You can save a load of money clipping coupons out of newspaper inserts, but you can save even more by adding digital coupons and other online shopping tools to the mix. One sign of how popular they've become: In 2018, Americans "clipped" 8.4 billion digital coupons, according to the analytics firm Kantar.
Here are five essential tools that will help you get the most value as you shop for holiday gifts — and anything else. Some are what are known as extensions (or plug-ins or add-ons) for the internet browser on your computer; others are apps for your smartphone or tablet.
If you've never tried, or heard of, browser extensions before, don't worry. They're super easy to use! Simply go to the listed websites, click a few times to install the add-ons, and soon they'll automatically start popping up when you shop online. They're all free, and I consider each to be best in class.
Best for: online coupons and price alerts
The JoinHoney.com browser extension literally automates your savings. When you check out at Amazon or any of 30,000 other websites, you just click on Apply Coupons in a pop-up box, and Honey will input coupon codes for you. Honey can alert you when a product's price drops and provide price histories on many items, perhaps helping you decide whether to buy now or hold out for later.
Best for: choosing what and where to buy
Fakespot.com site's browser extension is essential if you shop on Amazon, Walmart or any other e-retailer that offers products sold by third parties. The problem that the plug-in solves is that fake reviews are rampant on many retail sites, as are counterfeit products, including cosmetics, electronics and other merchandise that could pose health or safety risks. Fakespot flags both reviews and products it suspects to be bogus and gives letter grades to product reviews to help you avoid being duped by fake 4- and 5-star reviews. The app also gives you a summary of the most helpful reviews, saving you time and flagging items that are most likely duds.
Best for: price comparisons
Here's how PriceBlink.com works: When you land on a product page on a retail site such as Target or Amazon, a yellow bar will pop up; click on Compare Prices and you'll get a list of prices for that item at other stores. According to Karl Quist, president of PriceBlink, the browser extension checks prices at 11,000 stores. There is no PriceBlink mobile app, so when I'm out shopping in stores, I use a different app, called ShopSavvy, to compare prices. Or I'll turn to the Amazon and eBay apps. (Tap the camera icon in each app's search bar and point your phone at an item's bar code to find competing prices.) Another option is to search for a product on google.com/shopping.
Best for: cash back
By using the Rakuten mobile app on your smartphone or its browser extension on your computer, you'll earn cash back when making qualifying online purchases at more than 3,500 merchants, including Macy's, Walgreens and Best Buy. Rakuten, formerly known as eBates, sends out a check in the mail quarterly, once you've racked up at least $5 in rewards. The reward you've earned may grow even bigger if you take it as a gift card instead. Deals also extend to services such as Lyft, Grubhub and DoorDash. Link your credit card to the smartphone app and you can also earn cash back on certain in-store purchases, plus 5 percent cash back on meals at more than 10,000 participating restaurants.
Best for: in-store coupons and sales
Add the RetailMeNot app plus Coupon Sherpa, to your phone before you head to the mall. When you're at Bed, Bath & Beyond or Michaels crafts store, or a wide selection of other stores and food chains, you can check both of these apps for coupons and sales; they'll supply you bar codes to be scanned at the register. Similar to Rakuten, RetailMeNot also features cash-back offers for both in-store and online purchases.
Lisa Lee Freeman, cohost of the Hot Shopping Tips podcast, was founder and editor in chief of ShopSmart magazine from Consumer Reports and an investigative reporter for The Dr.Oz Show.
____________________________________________________________________________________________
5 aplicaciones que debes revisar antes de hacer tus compras
Ahorra dinero y tiempo en la Navidad y el resto del año.
Puedes ahorrar bastante dinero al recortar los cupones en los suplementos de los periódicos, pero puedes ahorrar incluso más si agregas cupones digitales y otras herramientas de compras en internet. Una señal de su popularidad: en el 2018, las personas "recortaron" 8,400 millones de cupones digitales, según la firma de análisis Kantar.
A continuación, cinco herramientas esenciales que te ayudarán a sacar el mayor provecho de tus compras de regalos para las fiestas —y todo lo demás—. Algunas se conocen como extensiones (o complementos) para los navegadores de internet en tu computadora; otras son aplicaciones para tu teléfono inteligente o tableta.
Si nunca has probado o escuchado acerca de las extensiones de navegadores, no te preocupes. ¡Son muy fáciles de usar! Sólo visita los sitios web mencionados, haz clic varias veces para instalar los complementos, y pronto empezarán a aparecer cuando hagas tus compras en internet. Todas estas herramientas son gratuitas, y considero que son las mejores de su clase.
La mejor para: Cupones en internet y alertas de precios
La extensión de navegador Joinhoney.com literalmente automatiza tus ahorros. Cuando vayas a pagar en Amazon o cualquiera de los otros 30,000 sitios web, solo haz clic en Apply Coupons (Aplicar cupones) en el recuadro emergente y Honey ingresará los códigos de los cupones. Honey puede avisarte cuando baje el precio de un producto y darte los historiales de precios de muchos artículos, lo que quizá te ayude a decidir si comprarlo ahora o dejarlo para después.
La mejor para: Elegir qué y cuándo comprar
La extensión de navegador del sitio web fakespot.com es esencial si compras en Amazon, Walmart o cualquier otro comercio en línea que ofrezca productos vendidos por terceros. El complemento soluciona el problema de las abundantes opiniones falsas en muchos sitios de comercios en línea, así como el de los productos falsificados, incluidos cosméticos, electrónicos y otra mercancía que podría presentar riesgos de seguridad o para la salud. Fakespot alerta sobre las opiniones y los productos que sospeche que podrían ser fraudulentos y las clasifica para ayudarte a evitar que caigas en la trampa de las opiniones de 4 a 5 estrellas. La aplicación también te ofrece un resumen de las opiniones más útiles, lo que te ahorra tiempo y te alerta sobre los productos que probablemente sean una mala compra.
La mejor para: Comparar precios
Priceblink.com funciona así: Cuando visitas la página de productos en el sitio de un comercio como Target o Amazon, aparecerá una barra amarilla; haz clic en Compare Prices (Comparar precios) y obtendrás una lista de precios del artículo en otras tiendas. Según Karl Quist, presidente de PriceBlink, la extensión de navegador verifica precios en 11,000 tiendas. No hay una aplicación móvil de PriceBlink, por lo que cuando voy de compras a las tiendas, uso una aplicación diferente, que se llama ShopSavvy, para comparar precios. O recurro a las aplicaciones de Amazon y de eBay. (Haz clic en el ícono de la cámara en la barra de búsqueda de cada aplicación y apunta tu teléfono al código de barras del artículo para encontrar los precios de la competencia). Otra opción es buscar el producto en google.com/shopping.
La mejor para: Obtener reembolsos
Al usar la aplicación móvil de Rakuten en tu teléfono inteligente o su extensión de navegador en tu computadora, obtendrás reembolsos cuando hagas compras que califiquen en internet en más de 3,500 tiendas, incluidas Macy's, Walgreens y Best Buy. Rakuten, conocido antes como eBates, envía cheques por correo postal trimestralmente, una vez que hayas acumulado al menos $5 en recompensas. Las recompensas que has acumulado pueden aumentar aún más si las aceptas como tarjetas de regalo. Las ofertas también se extienden a servicios como Lyft, GrubHub y DoorDash. Vincula tu tarjeta de crédito a tu teléfono inteligente y también podrás obtener reembolsos en determinadas compras en tiendas, además del 5% de reembolso en comidas en más de 10,000 restaurantes participantes.
La mejor para: Cupones y ofertas para compras en tiendas
Agrega la aplicación RetailMeNot.com, más Coupon Sherpa, en tu teléfono antes de ir al centro comercial. Cuando estés en Bed, Bath & Beyond o Michaels, o una amplia variedad de otras tiendas y cadenas de restaurantes, puedes verificar en ambas aplicaciones para obtener cupones y ofertas; te darán códigos de barra para escanearlos en la caja registradora. De manera similar a Rakuten, RetailMeNot también tiene ofertas de reembolsos para las compras en tiendas y en internet.
Lisa Lee Freeman, copresentadora del podcast Hot Shopping Tips, fue fundadora y jefa de redacción de la revista ShopSmart de Consumer Reports y periodista investigativa de The Dr. Oz Show.