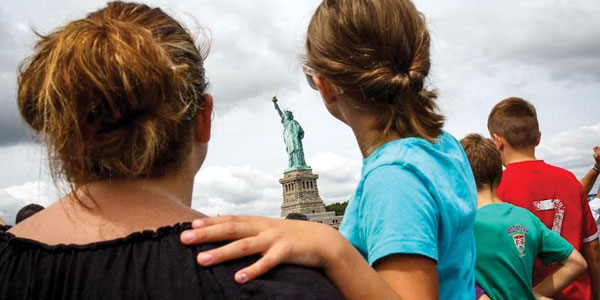 By Angie Baldelomar
The U.S. Supreme Court cleared the way Monday (Jan. 27) for the Trump administration to move forward with plans to deny green cards to immigrants that might use occasional or minor use of public benefits like Medicaid, food stamps and housing vouchers.
The 5-4 vote lifted preliminary injunctions — court orders that block a policy across the country — that had blocked the new program.
The administration announced in August 2019 that it would revise the so-called "public charge" rule. The rule allows officials to deny permanent legal status to immigrants who are likely to need public assistance.
Before, only substantial or long-term monetary help counted, and fewer than 1% of applicants were disqualified on public-charge grounds. Now, the criteria has broadened to include "noncash benefits providing for basic needs such as housing or food" used in any 12 months in a 36-month period.
Advocates and several states immediately opposed the rule, arguing it would penalize immigrants who rely on temporary assistance from the government and impose costs on the states, CNN reported.
The rule has the potential to limit access to green cards for lower-income immigrants, reshaping legal immigration.
The court's order will allow the rule to take effect in every state, pending appeal, except for Illinois which is covered by a separate injunction.
Susan Welber, a staff attorney at the Legal Aid Society, told CNN the government was trying to exclude anyone who is predicted to receive even a small amount of food, health or housing assistance at any point.
"We are very disappointed in the Supreme Court's decision, and the irreparable consequences it will have for immigrants and their families across the nation, but we continue to believe that our legal claims are very strong that we will ultimately prevail in stopping this rule permanently," Welber said in her statement to CNN.
__________________________________________________________________________________________
Corte Suprema permite que la regla de "carga pública" entre en vigencia
La Corte Suprema de Estados Unidos despejó el camino el lunes (27 de enero) para que la administración Trump avance con los planes de negar las tarjetas verdes a los inmigrantes que podrían usar ocasionalmente o de manera menor los beneficios públicos como Medicaid, cupones de alimentos y cupones de vivienda.
La votación de 5-4 levantó los mandatos preliminares (órdenes judiciales que bloquean una política en todo el país) que bloqueaban el nuevo programa.
La administración anunció en agosto de 2019 que revisaría la llamada regla de "carga pública". La regla permite que los oficiales nieguen el estatus legal permanente a los inmigrantes que probablemente necesiten asistencia pública.
Antes, sólo contaba la ayuda monetaria sustancial o de largo plazo, y menos del 1% de los solicitantes fueron descalificados por razones de carga pública. Ahora, los criterios se han ampliado para incluir "beneficios no monetarios que cubren necesidades básicas como vivienda o alimentos" utilizados en cualquier período de 12 meses en un período de 36 meses.
Los defensores y varios estados se opusieron de inmediato a la regla, argumentando que penalizaría a los inmigrantes que dependen de la asistencia temporal del gobierno e impondría costos a los estados, informó CNN.
La regla tiene el potencial de limitar el acceso a las tarjetas verdes para inmigrantes de bajos ingresos, remodelando la inmigración legal.
La orden de la Corte permitirá que la regla entre en vigencia en cada estado, pendiente de apelación, excepto en Illinois, que está cubierta por una orden judicial separada.
Susan Welber, abogada del personal de la Sociedad de Ayuda Legal, dijo a CNN que el gobierno estaba tratando de excluir a cualquier persona que se prevé que reciba incluso una pequeña cantidad de alimentos, salud o asistencia para la vivienda en cualquier momento.
"Estamos muy decepcionados con la decisión de la Corte Suprema y las consecuencias irreparables que tendrá para los inmigrantes y sus familias en todo el país, pero seguimos creyendo que nuestros reclamos legales son muy fuertes y que finalmente prevaleceremos para detener esta regla de forma permanente", dijo Welber en su comunicado a CNN.