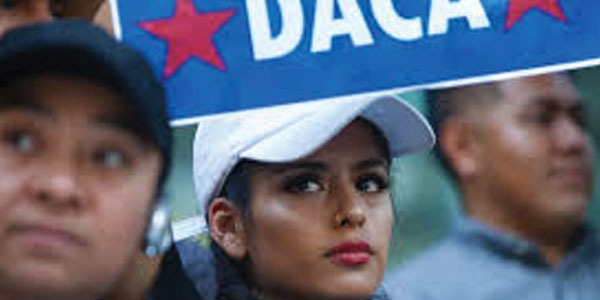 Renew your DACA now! As we are waiting for the Supreme Court decision about whether the program will be ended – don't wait to take action! The USCIS has made changes to how they will process these and other work permits since their offices are closed to the public.
President Trump cancelled the DACA program in September of 2017. Community organizations and immigrant youth sued and won in court. A Federal Judge said that the government must allow DACA renewals. About 600,000 people have DACA work permits.
The case has now made it up to the Supreme Court. We could get a decision anytime now until the end of June. It is likely that the Supreme Court will decide to end the DACA program and not allow any more renewals. It is critical to apply now, if your card expires in 2020 and even beyond. If you apply before they make their decision, it is likely that your case will be processed and you will be protected for another two years.
There are many benefits to having DACA. We usually think of protection from deportation and the ability to work legally in the United States. Two other benefits have become very important in this crisis. DACA holders will be eligible for the stimulus checks from the government if they have filed their taxes. People with DACA are also eligible for unemployment benefits. The USCIS has said they will not count it for public charge purposes.
Because of the Coronavirus, the USCIS shut it's fingerprinting offices on March 18th. Recently, they announced that they will reuse previously taken fingerprints so that work permits can go forward. DACA applicants have all been fingerprinted many times. This is good news as it means your DACA application will not be slowed down by the shutdown.
Another reason to apply now, is that the Trump administration wants to raise the fees. It could become even more expensive to apply. We have access to loans for the immigration filing fees if you need help with the $495. We are handling these applications through the mail for the safety of our staff and your family. Don't wait to take action. Call us today at 816-895-6363 or send a message through our Facebook page – www.facebook.com/jpiedralaw.com!
____________________________________________________________________________
DACA sin huellas!
¡Renueve su DACA ahora! Mientras esperamos la decisión de la Corte Suprema sobre si el programa terminará, ¡no espere para tomar acción! El USCIS ha realizado cambios en la forma en que procesarán estos y otros permisos de trabajo ya que sus oficinas están cerradas al público.
El presidente Trump canceló el programa DACA en septiembre de 2017. Organizaciones comunitarias y jóvenes inmigrantes demandaron y ganaron en los tribunales. Un juez federal dijo que el gobierno debe permitir las renovaciones de DACA. Alrededor de 600,000 personas tienen permisos de trabajo de DACA.
El caso ahora ha llegado a la Corte Suprema. Podrían tomar una decisión en cualquier momento hasta finales de junio. Es probable que la Corte Suprema decida finalizar el programa DACA y no permitir más renovaciones. Es fundamental solicitarlo ahora, si su tarjeta vence en 2020 e incluso más allá. Si presenta una solicitud antes de que tomen su decisión, es probable que su caso sea procesado y que esté protegido por otros dos años.
Hay muchos beneficios de tener DACA. Generalmente pensamos en la protección contra la deportación y la capacidad de trabajar legalmente en los Estados Unidos. Otros dos beneficios se han vuelto muy importantes en esta crisis. Los titulares de DACA serán elegibles para los cheques de estímulo del gobierno si han presentado sus impuestos. Las personas con DACA también son elegibles para beneficios de desempleo. El USCIS ha dicho que no lo contarán para fines de carga pública.
Debido al Coronavirus, el USCIS cerró sus oficinas de huellas digitales el 18 de marzo. Recientemente, anunciaron que reutilizarán las huellas dactilares tomadas previamente para que los permisos de trabajo puedan avanzar. A los solicitantes de DACA se les han tomado las huellas digitales muchas veces. Esta es una buena noticia, ya que significa que su aplicación DACA no se detendran con el cierre.
Otra razón para postularse ahora es que la administración Trump quiere aumentar las tarifas. Podría ser aún más costoso de aplicar. Tenemos acceso a préstamos para las tarifas de presentación de inmigración si necesita ayuda con los $ 495. Estamos manejando estas aplicaciones por correo para la seguridad de nuestro personal y su familia. No esperes para tomar acción. ¡Llámenos hoy al 816-895-6363 o envíe un mensaje a través de nuestra página de Facebook: www.facebook.com/jpiedralaw.com!