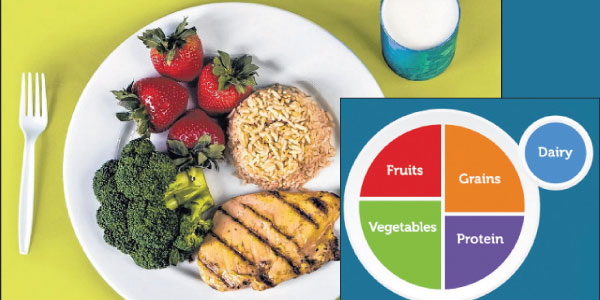 Commentary by Chara
It can be challenging to eat a balanced meal.
Fortunately, there are websites that are helpful in creating nutritionally balanced meals. An excellent one is MyPlate.gov.
Offered through the U.S. Department of Agriculture, the website helps you organize your plates of food through tools that allow you to set goals, find healthy recipes and even eat balanced meals on limited budgets.
The website helps ensure that you not only get all the nutrients your body needs, but also helps you control your portion sizes. In addition, it helps you create diet plans based on your age and gender.
In addition, MyPlate.gov provides information about the key food groups. Those include vegetables (examples: leafy greens, carrots, broccoli, cauliflower); whole grains (examples: rice, tortillas, bread, pasta); fruits (examples: oranges, limes, apples); and proteins (examples: chicken, fish, eggs, beans, tofu).
MyPlate.gov offers a special plus for the Latin community: The site is available in Spanish.
Check out MyPlate.gov. The information there is invaluable. And you'll find eating a balanced meal to be less challenging.
---
MyPlate.gov útil para crear comidas balanceadas
Puede ser un desafío comer una comida saludable.
Afortunadamente, existen sitios web que son útiles para crear comidas nutricionalmente equilibradas. Uno excelente es MyPlate.gov.
Ofrecido a través del Departamento de Agricultura, el sitio web lo ayuda a organizar sus platos de comida a través de herramientas que le permiten establecer metas, encontrar recetas saludables e incluso comer comidas balanceadas con presupuestos limitados.
El sitio web ayuda a garantizar que no sólo obtenga todos los nutrientes que su cuerpo necesita, sino que también lo ayuda a controlar el tamaño de las porciones. Además, le ayuda a crear planes de alimentación en función de su edad y sexo.
Además, MyPlate.gov proporciona información sobre los grupos de alimentos clave. Estos incluyen verduras (ejemplos: verduras de hoja verde, zanahorias, brócoli, coliflor); cereales integrales (ejemplos: arroz, tortillas, pan, pasta); frutas (ejemplos: naranjas, limas, manzanas); y proteínas (ejemplos: pollo, pescado, huevos, frijoles, tofu).
MyPlate.gov ofrece una ventaja especial para la comunidad latina: el sitio está disponible en español.
Visite MyPlate.gov. La información allí es invaluable. Y encontrará que comer una comida balanceada no es tan desafiante.