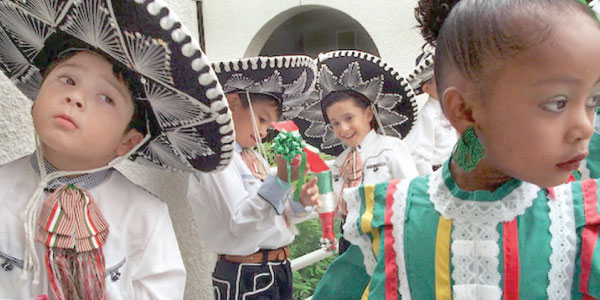 Mexico celebrates Independence Day Sept. 16. On that day in 1810, Roman Catholic priest, Miguel Hidalgo set off a decade-long Mexican struggle for freedom from Spain. An impassioned utterance from his moving speech, Grito de Dolores (the cry of Dolores) is known as the battle cry for independence. Here in America, Mexico's Independence Day is commemorated during Hispanic Heritage Month, which starts on Sept. 15 and ends Oct. 15. The month spans the anniversaries for independence for Mexico, Costa Rica, El Salvador, Guatemala, Honduras and Nicaragua.
Mexico's Independence Day is often confused with Cinco de Mayo, a holiday celebrated on May 5.
Tomorrow is Cinco de Mayo. It commemorates the triumph in 1862 of Mexican troops over the invading French, despite being outnumbered three-to-one. Celebrating Cinco de Mayo began in Puebla, where the battle took place. There, the official name of the holiday that falls on May 5 is El Día de la Batalla de Puebla (The Day of the Battle of Puebla, in English.)
On Sept. 8, 1862, Mexican Gen. Ignacio Zaragoza who led Mexican forces to victory died of typhoid fever. He was given a state funeral, and three days later, Mexico's President Juárez ordered the city of Puebla de los Angeles be renamed Puebla de Zaragoza in the general's honor. When Mexicans living in California heard about the great victory of their countrymen over the French, they celebrated. Thus likely marked the genesis of a tradition that's spread and flourished throughout America over the past 161 years.
U.S. President Franklin Roosevelt bore a hand in popularizing Cinco de Mayo here. In 1933, he included it in his "Good Neighbor" policy, designed to foment friendly relations with Latin American nations. The U.S. Congress in 2005 declared Cinco de Mayo an official U.S. holiday. It's not, however, a federal holiday so banks, businesses and schools remain open.
Kids in Mexico get May 5 off. Schools are closed although it's not a federal holiday. In general, Cinco de Mayo celebrations are largely confined to the state of Puebla.
In four months, Mexico will celebrate the 213th anniversary of independence from Spain. So to everyone planning something special tomorrow, you'll be celebrating a hard-won victory by the Mexican army over the French invaders on May 5, 1862 in Puebla. Party tomorrow, but save your Mexican Independence Day fireworks for Sept. 16.
---
El día de la Independencia de México: 16 de septiembre
México celebra su Día de la Independencia el 16 de septiembre. Ese día en 1810, el sacerdote católico romano Miguel Hidalgo inició una lucha mexicana de una década por la libertad de España. Una expresión apasionada de su conmovedor discurso, el Grito de Dolores es conocido como el grito de batalla por la independencia. Aquí en Estados Unidos, el Día de la Independencia de México se conmemora durante el Mes de la Herencia Hispana, que comienza el 15 de septiembre y finaliza el 15 de octubre. El mes abarca los aniversarios de la independencia de México, Costa Rica, El Salvador, Guatemala, Honduras y Nicaragua.
El Día de la Independencia de México a menudo se confunde con el Cinco de Mayo, un día festivo que se celebra el 5 de mayo.
Mañana es Cinco de Mayo. Esa fecha conmemora el triunfo en 1862 de las tropas mexicanas sobre las francesas invasoras, a pesar de ser superadas en número de tres a uno. La celebración del Cinco de Mayo comenzó en Puebla, donde tuvo lugar la batalla. Allí, el nombre oficial del feriado que cae el 5 de mayo es El Día de la Batalla de Puebla.
El 8 de septiembre de 1862, el general mexicano Ignacio Zaragoza, quien condujo a las fuerzas mexicanas a la victoria, murió de fiebre tifoidea. Recibió un funeral de estado y, tres días después, el presidente Juárez de México ordenó que la ciudad de Puebla de los Ángeles pasara a llamarse Puebla de Zaragoza en honor del general. Cuando los mexicanos que vivían en California se enteraron de la gran victoria de sus compatriotas sobre los franceses, celebraron. Por lo tanto, probablemente marcó la génesis de una tradición que se extendió y floreció en todo Estados Unidos durante los últimos 161 años.
El presidente de wEstados Unidos, Franklin Roosevelt, participó en la popularización del Cinco de Mayo aquí. En 1933 lo incluyó en su política de "Buen Vecino", diseñada para fomentar relaciones amistosas con las naciones latinoamericanas. El Congreso de los Estados Unidos en 2005 declaró el Cinco de Mayo como feriado oficial en Estados Unidos. Sin embargo, no es un feriado federal, por lo que los bancos, las empresas y las escuelas permanecen abiertas.
Los niños en México tienen descuento el 5 de mayo. Las escuelas están cerradas aunque no es un feriado federal. En general, las celebraciones del Cinco de Mayo se limitan en gran medida al estado de Puebla.
En cuatro meses, México celebrará el 213 aniversario de la independencia de España. Entonces, para todos los que planean algo especial mañana, estarán celebrando una victoria ganada con esfuerzo por el ejército mexicano sobre los invasores franceses el 5 de mayo de 1862 en Puebla. Celebra mañana, pero reserva los fuegos artificiales del Día de la Independencia de México para el 16 de septiembre.