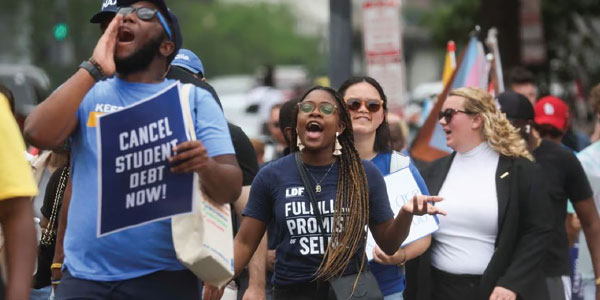 By Roberta Pardo
On June 29, the U.S. Supreme Court nullified President Biden's student loan debt relief plan, as multiple media outlets reported.
Ruling 6-3, the court declared the plan was an unlawful exercise of presidential power because it had not been explicitly approved by Congress.
The court rebuffed arguments by Biden's administration that the 2003 Higher Education Relief Opportunities for Students (HEROES) Act made it legal for the administration to enact the plan. As NBC News reported, the law states the government can provide relief to recipients of student loans when there is a 'national emergency,' allowing it to act to ensure people are not in 'a worse position financially' as a result of said emergency.
Chief Justice John Roberts said the HEROES Act language was not specific enough, and therefore Biden needed explicit approval from Congress before implementing his plan.
Following the Supreme Court's decision, Biden spoke with reporters to express his disappointment with the ruling and vowed to work to help Americans with student loan debts, as he had promised during his 2020 presidential campaign.
"I will stop at nothing to find other ways to deliver relief to hard-working middle-class families," he said in a statement released ahead of the press conference. "My administration will continue to work to bring the promise of higher education to every American."
The rejected plan would've been permitted to eliminate a maximum of $20,000 in student loans. About 43 million Americans would have been eligible to participate.
---
Corte Suprema anula plan de alivio de préstamos estudiantiles
El 29 de junio, la Corte Suprema de Estados Unidos anuló el plan de alivio de deuda de préstamos estudiantiles del presidente Biden, como reportaron varios medios de comunicación.
Con un fallo de 6-3, el tribunal declaró que el plan era un ejercicio ilegal del poder presidencial porque no había sido aprobado explícitamente por el Congreso.
La corte rechazó los argumentos de la administración de Biden de que la Ley de Oportunidades de Alivio de Educación Superior para Estudiantes (HEROES) de 2003 legalizó que la administración promulgara el plan. Como reportó NBC News, la ley establece que el gobierno puede brindar alivio a los beneficiarios de préstamos estudiantiles cuando hay una "emergencia nacional", lo que le permite actuar para garantizar que las personas no estén en "una peor posición financiera" como resultado de dicha emergencia.
El presidente de la Corte Suprema, John Roberts, dijo que el lenguaje de la Ley HEROES no era lo suficientemente específico y, por lo tanto, Biden necesitaba la aprobación explícita del Congreso antes de implementar su plan.
Tras la decisión de la Corte Suprema, Biden habló con los periodistas para expresar su decepción con el fallo y prometió trabajar para ayudar a los estadounidenses con las deudas de los préstamos estudiantiles, como había prometido durante su campaña presidencial de 2020.
"No me detendré ante nada para encontrar otras formas de brindar alivio a las familias trabajadoras de clase media", dijo en un comunicado emitido antes de la conferencia de prensa. "Mi administración seguirá trabajando para llevar la promesa de la educación superior a todos los estadounidenses".
El plan rechazado por la corte hubiera permitido que los que calificaran eliminaran un máximo de $20,000 en préstamos estudiantiles. Alrededor de 43 millones de estadounidenses habrían sido elegibles para participar.