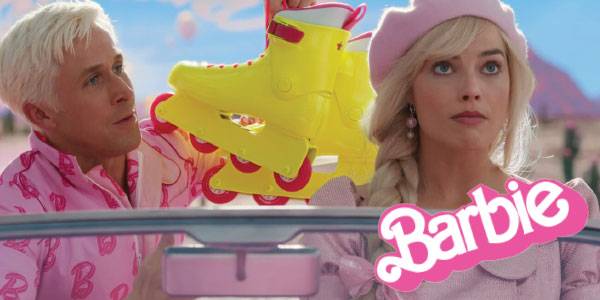 Commentary by Tere Siqueira
In recent years, the U.S. film industry has prioritized storylines and characters that reflect the diversity of experiences of the real world – and rightfully so.
Among such efforts, the recent buzz surrounding the new movie "Barbie" is particularly important.
This film, starring Australian actress Margot Robbie and Canadian actor Ryan Gosling, serves as a beacon for Hispanic representation in Hollywood. One reason is that the cast includes two talented Hispanic actresses – Ariana Greenblatt, who has Puerto Rican heritage; and America Ferrera, who has Honduran heritage.
Greenblatt's character, Sasha; and Ferrera's character, Gloria, play pivotal roles in driving the narrative. They also play pivotal roles in driving home the pleas for diversity and acceptance the movie makes. In one notable scene, Gloria delivers a powerful speech about the contradictory expectations women face. The speech articulates the expectations and struggles that women confront, presenting an unvarnished reality of womanhood.
The speech, candidly highlighting the societal pressure of being "extraordinary" yet never good enough, has resonated profoundly with women worldwide, particularly Latinas. Social media has exploded with praise for the monologue and the film, with many expressing that it has had a profound impact on their understanding of womanhood.
"Barbie" is not only a testament to Hollywood's growing awareness of representation; it's also a symbol of the progress Hollywood is making in representing America's various cultural groups. It sends a strong message to young girls of all backgrounds that they, too, can be heroes in their own stories, setting the stage for a new era of diverse and inclusive storytelling that is long overdue.
"Barbie" accomplishes all that by going beyond the superficial. It provides much-needed depth to a brand that has often been criticized for its shallow portrayal of femininity. Directed by Greta Gerwig, "Barbie" shatters the mold of its stereotype, telling a tale of empowerment and resilience. Amid all the fun and fashion, it subtly carves out a space for conversations about gender, identity and societal expectations, as the aforementioned speech by Ferrera indicates.
But in being a celebration of inclusion and female empowerment, "Barbie" is a far cry from the anti-male or anti-traditional society messages some might perceive as being linked with feminism. One reason is that balances its messages of empowerment and acceptance with serving as a mirror of society, reflecting our slow but determined stride toward a more equitable world.
In reminding us of the importance of diversity and representation in our storytelling, "Barbie" is a milestone for the movie industry, signifying a departure from one-dimensional narratives and a shift toward complex, meaningful, inclusive storylines. It serves as an embodiment of a new era in Hollywood – one that prioritizes diversity and equity.
In short, "Barbie" is not just a movie; it's a cultural phenomenon, presenting a glimpse into the future of filmmaking. And based on that glimpse, that future includes a more extensive representation of Hispanics onscreen.
---
"Barbie" es un poderoso homenaje y argumento a favor de la diversidad
En los últimos años, la industria cinematográfica de EE. UU. ha priorizado tramas y personajes que reflejan la diversidad de experiencias del mundo real, y con razón.
Entre tales esfuerzos, el reciente revuelo en torno a la nueva película "Barbie" es particularmente importante.
Esta película, protagonizada por la actriz australiana Margot Robbie y el actor canadiense Ryan Gosling, sirve como un faro para la representación hispana en Hollywood. Una razón es que el elenco incluye a dos talentosas actrices hispanas: Ariana Greenblatt, de ascendencia puertorriqueña; y America Ferrera, de ascendencia hondureña.
El personaje de Greenblatt, Sasha; y el personaje de Ferrera, Gloria, juegan roles fundamentales en el impulso de la narrativa. También juegan roles fundamentales en impulsar las súplicas de diversidad y aceptación que hace la película. En una escena notable, Gloria pronuncia un poderoso discurso sobre las expectativas contradictorias que enfrentan las mujeres. El discurso articula las expectativas y luchas que confrontan las mujeres, presentando una realidad cruda de la feminidad.
El discurso, destacando abiertamente la presión social de ser "extraordinaria" pero nunca lo suficientemente buena, ha resonado profundamente con mujeres de todo el mundo, particularmente las latinas. Las redes sociales han explotado con elogios para el monólogo y la película, con muchos expresando que ha tenido un impacto profundo en su comprensión de la feminidad.
"Barbie" no sólo es un homenaje al creciente reconocimiento de Hollywood de la representación; también es un símbolo del progreso que Hollywood está haciendo en representar a los diversos grupos culturales de América. Envía un fuerte mensaje a las niñas de todos los orígenes de que ellas también pueden ser heroínas en sus propias historias, preparando el escenario para una nueva era de narración diversa e inclusiva que hace mucho tiempo es necesaria.
"Barbie" logra todo eso al ir más allá de lo superficial. Proporciona la profundidad necesaria a una marca que a menudo ha sido criticada por su representación superficial de la feminidad. Dirigida por Greta Gerwig, "Barbie" rompe el molde de su estereotipo, contando una historia de empoderamiento y resistencia. En medio de toda la diversión y la moda, sutilmente abre un espacio para conversaciones sobre género, identidad y expectativas sociales, como lo indica el discurso mencionado de Ferrera.
Pero al ser una celebración de la inclusión y el empoderamiento femenino, "Barbie" está lejos de los mensajes anti-masculinos o anti-sociedad tradicional que algunos podrían percibir como vinculados con el feminismo. Una razón es que equilibra sus mensajes de empoderamiento y aceptación con servir como un espejo de la sociedad, reflejando nuestro lento pero decidido avance hacia un mundo más equitativo.
Al recordarnos la importancia de la diversidad y la representación en nuestras historias, "Barbie" es un hito para la industria del cine, significando una desviación de las narrativas unidimensionales y un cambio hacia tramas complejas, significativas e inclusivas. Sirve como la encarnación de una nueva era en Hollywood, una que prioriza la diversidad y la equidad.
En resumen, "Barbie" no es sólo una película; es un fenómeno cultural, que presenta una visión del futuro de la realización de películas. Y basándose en esa visión, ese futuro incluye una representación más extensa de hispanos en pantalla.