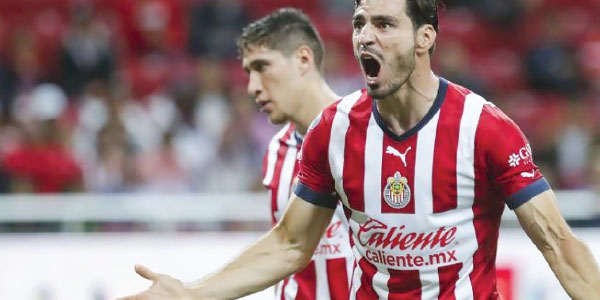 By Chara
Sporting Kansas City will have to play its next Leagues Cup game without one of its key players.
The guys in blue will face C.D. Guadalajara (a.k.a., "Chivas") in Group F play at 9 p.m. July 31 at Children's Mercy Park in Kansas City, Kansas. They opened the international club soccer tournament by drawing FC Cincinnati 3-3 Sunday night (July 23) at TQL Stadium; however, Cincinnati received two points and Sporting received only one for winning the shootout that followed regulation and extra time, 4-2.
It was against Cincinnati that Sporting forward Alan Pulido received a red card. In addition to being ejected from that game for the violation, the Mexican-born striker must sit out the meeting with Chivas, who'll open pool play Thursday at Cincinnati.
Coincidentally, Pulido played for Chivas before joining Sporting in 2020. From 2016 to 2019, he helped the top-tier Mexican club win the Liga MX Clausura title and the Copa MX Clausura, both in 2017; and the 2018 CONCACAF Champions League title.
Chivas enters the Leagues Cup after a 3-0 start to the Liga MX Apertura campaign. Sparked by an attacking flair and a solid defense, Guadalajara scored seven goals and allowed only two in those games.
Sporting, on the other hand, enters its meeting with Chivas in 11th place in the Western Conference of MLS, the top-level men's soccer league in the United States, which also has three Canadian teams. The guys in blue also enter the meeting with a four-game winless streak. Before meeting Cincinnati, Sporting went 0-1-2 in MLS play, tying the Houston Dynamo 2-2 July 8 and Real Salt Lake 2-2 July 12, then falling to Austin FC 2-1 July 15.
And with Pulido sidelined, Sporting will have to attempt to snap the streak without its top scorer in MLS regular-season play. The 32-year-old has 10 MLS goals – five more than the club's No. 2 scorer, Hungarian-born Daniel Salloi.
---
SKC enfrentará a las Chivas sin Pulido
Sporting Kansas City tendrá que jugar su siguiente partido de la Leagues Cup sin uno de sus jugadores clave.
Los chicos de azul se enfrentarán al C.D. Guadalajara (alias, "Chivas") en el Grupo F a las 9 p.m. del 31 de julio en Children's Mercy Park en Kansas City, Kansas. Abrieron el torneo internacional de fútbol de clubes al empatar con FC Cincinnati 3-3 el domingo por la noche (23 de julio) en el TQL Stadium; sin embargo, Cincinnati recibió dos puntos y Sporting recibió solo uno por ganar la tanda que siguió al tiempo reglamentario y la prórroga, 4-2.
Fue contra Cincinnati que el delantero de Sporting, Alan Pulido, recibió una tarjeta roja. Además de ser expulsado de ese juego por la violación, el delantero nacido en México debe quedarse fuera del encuentro con Chivas, quien abrirá el juego de grupo el jueves en Cincinnati.
Coincidentemente, Pulido jugó para Chivas antes de unirse al Sporting en 2020. De 2016 a 2019, ayudó al club mexicano de primer nivel a ganar el título de la Liga MX Clausura y la Copa MX Clausura, ambas en 2017; y el título de la Liga de Campeones CONCACAF 2018.
Chivas ingresa a la Leagues Cup luego de un inicio de 3-0 en la campaña del Apertura de la Liga MX. Impulsado por un estilo de ataque y una defensa sólida, Guadalajara anotó siete goles y permitió sólo dos en esos juegos.
Sporting, por su parte, llega a su encuentro con Chivas en el puesto 11 de la Conferencia Oeste de la MLS, la liga de fútbol masculino de primer nivel en Estados Unidos, que también cuenta con tres equipos canadienses. Los chicos de azul también llegan al encuentro con una racha de cuatro partidos sin ganar. Antes de enfrentarse a Cincinnati, Sporting tuvo marca de 0-1-2 en la MLS, empató con Houston Dynamo 2-2 el 8 de julio y Real Salt Lake 2-2 el 12 de julio, y luego cayó ante Austin FC 2-1 el 15 de julio.
Y con Pulido fuera de juego, el Sporting tendrá que intentar romper la racha sin su máximo goleador en la temporada regular de la MLS. El jugador de 32 años tiene 10 goles en la MLS, cinco más que el segundo goleador del club, el húngaro Daniel Salloi.