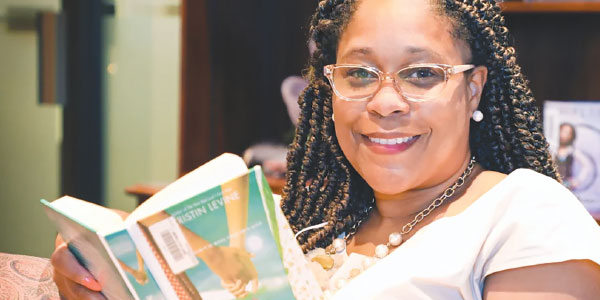 I hope that you all are enjoying your summer. We are hard at work getting ready for another successful school year in 2023-2024 at KCPS. There is so much to look forward to next year, but I want to take a moment to reflect on the successes we have achieved as a district over the last year and to express my deep commitment to supporting our Latino students and families.
At the heart of our work is our commitment to ensuring that every student can succeed and has access to a quality public education. One example of our academic success is Gladstone Elementary. Gladstone was one of only nine schools state wide to earn top growth scores in English Language Arts.
One of our key initiatives this past year was our focus on family engagement. We recognize that the involvement of families is critical to the success of our students, and we have implemented a range of programs and initiatives to ensure that our Latino families are engaged and connected to their children's education.
Through our Family and Community Engagement team, we have established partnerships with community organizations and developed programs and resources to support our Latino families. Our bilingual parent liaisons are available to provide support and resources to families, and we have established parent-teacher conferences and family nights to build stronger connections between families and schools.
We understand that some of our Latino families face language barriers and may not be familiar with the education system in Kansas City. That is why we have established bilingual support services to ensure that every family has access to the resources they need. We want to make sure that every parent can advocate for their child and feel connected to their school community.
Another way that we are meeting Latino parents' and students' needs is by offering world-class dual language programs at both Carver Elementary and Foreign Language Academy. Opportunities won't end there, with our students now able to continue their Spanish Dual Language skills at Paseo High School. We are proud to offer this program because students who speak more than one language generally have higher overall academic performance than students who do not. Also, students with dual language skills are more in demand in the workforce and generally earn higher incomes in their professions.
Lastly, KCPS understands the demands that all parents face, which is why offer free Pre-K at 15 of our schools for 3- and 4-year-olds. Early education is essential for the development of our children. Our pre-kindergarten programs are designed to foster cognitive, social, and emotional growth in a safe and joyful environment. Every year our Pre-K programs enroll more Latino children than any other school district or charter school in Kansas City, MO.
We remain committed to continuing to engage with Latino students and parents and to addressing the unique challenges they face. We want to hear from you about how we can better support your needs, and we encourage you to reach out to us if you have any questions or concerns.
In closing, I want to express my gratitude for your hard work, support, and dedication. We recognize the sacrifices you make every day to ensure that your child has a bright future. We are committed to supporting you every step of the way and to working together to create a brighter future for our students and our community.
Sincerely,
Dr. Jennifer Collier
Superintendent, Kansas City Public Schools
---
Queridas familias latinas de Kansas City que son parte de KCPS
Espero que todos estén disfrutando de su verano. Estamos trabajando muy duro preparándonos para otro exitoso año escolar en 2023-2024 aquí en KCPS. Hay mucho que esperar el próximo año, pero quiero tomarme un momento para reflexionar sobre los éxitos que hemos logrado como distrito durante el último año y expresar mi profundo compromiso de apoyar a nuestros estudiantes y familias latinas.
En el corazón de nuestro trabajo está nuestro compromiso de asegurar que cada estudiante pueda tener éxito y tenga acceso a una educación pública de calidad. Un ejemplo de nuestro éxito académico es la primaria Gladstone. Gladstone fue una de las únicas nueve escuelas en todo el estado que obtuvo puntajes de crecimiento superiores en artes del lenguaje inglés.
Una de nuestras iniciativas clave el año pasado fue nuestro enfoque en la participación familiar. Reconocemos que la participación de las familias es fundamental para el éxito de nuestros estudiantes, y hemos implementado una variedad de programas e iniciativas para garantizar que nuestras familias latinas participen y estén conectadas con la educación de sus hijos.
A través de nuestro equipo de Participación Familiar y Comunitaria, hemos establecido asociaciones con organizaciones comunitarias y desarrollado programas y recursos para apoyar a nuestras familias latinas. Nuestros enlaces de padres bilingües están disponibles para brindar apoyo y recursos a las familias, y hemos establecido conferencias de padres y maestros y noches familiares para construir conexiones más fuertes entre las familias y las escuelas.
Entendemos que algunas de nuestras familias latinas enfrentan barreras del idioma y pueden no estar familiarizadas con el sistema educativo en Kansas City. Es por eso que hemos establecido servicios de apoyo bilingües para asegurar que cada familia tenga acceso a los recursos que necesita. Queremos asegurarnos de que todos los padres puedan defender a sus hijos y sentirse conectados con su comunidad escolar.
Otra forma en que estamos satisfaciendo las necesidades de los padres y estudiantes latinos es ofreciendo programas bilingües de clase mundial tanto en Carver Elementary como en Foreign Language Academy. Las oportunidades no terminarán ahí, ya que nuestros estudiantes ahora pueden continuar con sus habilidades bilingües en español en la Escuela Secundaria Paseo. Estamos orgullosos de ofrecer este programa porque los estudiantes que hablan más de un idioma generalmente tienen un rendimiento académico general más alto que los estudiantes que no lo hablan. Además, los estudiantes con habilidades bilingües tienen más demanda en la fuerza laboral y generalmente obtienen mayores ingresos en sus profesiones.
Por último, KCPS comprende las demandas que enfrentan todos los padres, por lo que ofrece prekínder gratuito en 15 de nuestras escuelas para niños de 3 y 4 años. La educación temprana es fundamental para el desarrollo de nuestros niños. Nuestros programas de prejardín de infantes están diseñados para fomentar el crecimiento cognitivo, social y emocional en un ambiente seguro y alegre. Cada año, nuestros programas de prekínder inscriben a más niños latinos que cualquier otro distrito escolar o escuela chárter en Kansas City, MO.
Seguimos comprometidos a continuar reforzando relaciones con nuestros estudiantes y padres latinos y a afrontar los desafíos únicos que enfrentan. Queremos saber de usted acerca de cómo podemos satisfacer mejor sus necesidades, y lo alentamos a que se comunique con nosotros si tiene alguna pregunta o inquietud.
Para terminar, quiero expresar mi gratitud por su arduo trabajo, apoyo y dedicación. Reconocemos los sacrificios que hace todos los días para garantizar que su hijo tenga un futuro brillante. Estamos comprometidos a apoyarlo en cada paso del camino y trabajar juntos para crear un futuro mejor para nuestros estudiantes y nuestra comunidad.
Sinceramente,
Dra. Jennifer Collier
Superintendente, Escuelas Públicas de Kansas City (KCPS)