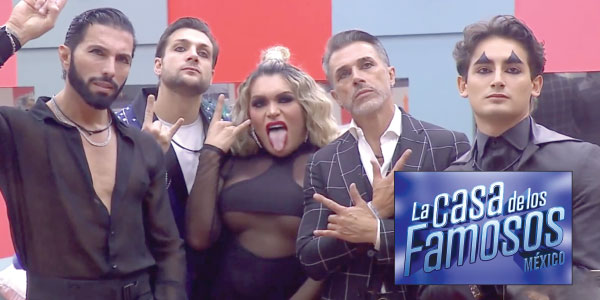 By Tere Siqueira
In recent months, a Mexico-based reality TV show has become a cultural phenomenon.
The show is called "La Casa de los Famosos Mexico" ("The Celebrity House Mexico" in English). Produced by Rosa María Noguerón for TelevisaUnivsion and a Mexican version of the "Celebrity Big Brother" program, it has broken audience records, with peaks of 15.4 million viewers and more than 20 million views on the ViX platform. The active participation of the public with the program has even surpassed the voting numbers of some political elections.
Controversies within the house, such as an incident between entertainer/politician Sergio Mayer and retired soccer player-turned-actor Nicola Porcella, have helped generate interest in the show. Interest continues to grow with the arrival of the final week, as viewers wonder who will win the grand prize of 4 million pesos and what the winner will do with the prize money.
Like other cultural phenomena, discussion of "La Casa de los Famosos" has become a part of viewers' everyday conversations. One viewer, Araceli Jimenez, a passionate fan of the program, shared her opinion about the reality show.
"Everything started very well because the interaction between the characters created an exciting dynamic that made you want to see what was happening in the house," Jimenez said. "The Hell Team has made history with all the plots they have made trying to control everyone, and they managed to finish off the Heaven Team. Now that it's coming to an end, I won't miss it because, in the end, things from production slipped out that show favoritism is being given to certain characters, although I'm very excited to see the finale."
The program has not only been a success in terms of audience numbers; it also has been a commercial triumph. Advertising time is reportedly sold out.
The program is about to come to an end and the finalists are: Wendy Guevara, Poncho de Nigris, Nicola Porcella, Emilio Osorio y Sergio Mayer.
---
Reality show mexicano se convierte en fenómeno cultural
En los últimos meses, un reality show mexicano se ha convertido en un fenómeno cultural.
El show se llama "La Casa de los Famosos México". Producido por Rosa María Noguerón para TelevisaUnivision y una versión mexicana del programa "Celebrity Big Brother", ha roto récords de audiencia, con picos de 15.4 millones de televidentes y más de 20 millones de vistas en la plataforma ViX. La participación activa del público con el programa incluso ha superado los números de votación de algunas elecciones políticas.
Las controversias dentro de la casa, como un incidente entre el animador/político Sergio Mayer y el exfutbolista convertido en actor Nicola Porcella, han ayudado a generar interés en el show. El interés continúa creciendo con la llegada de la última semana, ya que los espectadores se preguntan quién ganará el gran premio de 4 millones de pesos y qué hará el ganador con el dinero del premio.
Al igual que otros fenómenos culturales, la discusión sobre "La Casa de los Famosos" se ha convertido en parte de las conversaciones cotidianas de los espectadores. Una espectadora, Araceli Jiménez, una fanática apasionada del programa, compartió su opinión sobre el reality show.
"Todo comenzó muy bien porque la interacción entre los personajes creó una dinámica emocionante que te hacía querer ver qué estaba pasando en la casa", dijo Jiménez. "El Equipo del Infierno ha hecho historia con todas las intrigas que han hecho tratando de controlar a todos, y lograron acabar con el Equipo del Cielo. Ahora que está llegando a su fin, no lo extrañare porque, al final, se filtraron cosas de la producción que muestran que se está favoreciendo a ciertos personajes, aunque estoy muy emocionada por ver la final".
El programa no solo ha sido un éxito en términos de números de audiencia; también ha sido un triunfo comercial. Se informa que el tiempo de publicidad está agotado.
El programa esta por llegar a su fin y los finalistas son : Wendy Guevara, Poncho de Nigris, Nicola Porcella, Emilio Osorio y Sergio Mayer.