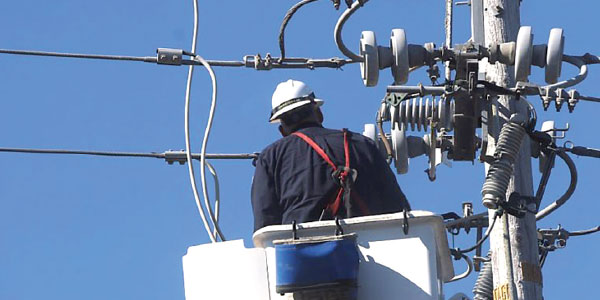 Power outages are a fact of life. Twice within the past month, most recently on July 30 and before that July 14, severe storms caused customers to lose power. Thousands of metro area homes were without electricity, some for two or more days. Excessive energy consumption during heat waves can also strain power grids and result in loss of electricity.
Interruptions in power aren't confined to summer or to storms; the risk of outages exists year-round. In January 2019, a snowstorm choked the metro with several inches of snow, blowing down trees and downing power lines. More than 100,000 customers were without electricity for days. Not all outages are weather-related, either; they can result from equipment failure or planned maintenance.
At best, power outages are inconvenient; but at worst, they're expensive or even life-threatening. For instance, without electricity powering refrigerators and freezers, food spoils. Replacing it can cost a fortune. According to the Centers for Disease Control and Prevention, food will stay safe for up to four hours in a refrigerator, 48 hours in a full freezer and 24 hours in a half-freezer while the power's off as long as the doors stay closed. Electricity also powers some essential medical devices, such as supplemental oxygen equipment.
The inevitability of losing power obligates readiness. There are ways to minimize the economic loss associated with power outages and mitigate the danger. Be prepared.
Create a plan to accommodate the household's specific needs and carry everyone through several days without electricity. Store cell phones and other essential electronic devices fully charged. Keep a full tank of gas in the car. Maintain a small supply of non-perishable food. Be weather aware.
Consider investing in a back-up generator. It can represent a life-saving aid, restoring power during an outage. Whole-house generators can cost from $4,000 to $25,000-plus, per Forbes.com. Most homeowners pay around $9,000, including installation. Prices vary, Forbes noted, depending on the generator's size, brand and fuel type.
The least expensive generators are gas-powered and portable, not whole-house. They typically cost $500 to $3,200. Operating costs depend on the prevailing pump price of gasoline.
Other types of back-up generators include those powered by liquid propane, natural gas, diesel gas and solar.
Power outages happen, but they don't have to cost a life or a fortune.
Nota bene:
The July 3, 2023 guide to buying back-up generators is available online at https://www.forbes.com/home-improvement/electrical/generator-cost-guide/#:~:text=Whole%2Dhouse%20generators%20can%20range,size%2C%20brand%20and%20fuel%20type.
---
Sin energía no significa sin poder
Los cortes de energía son una realidad. Dos veces durante el mes pasado, la más reciente el 30 de julio y antes el 14 de julio, tormentas severas provocaron que los clientes se quedaran sin electricidad. Miles de hogares del área metropolitana se quedaron sin electricidad, algunos durante dos o más días. El consumo excesivo de energía durante las olas de calor también puede sobrecargar las redes eléctricas y provocar pérdidas de electricidad.
Las interrupciones del suministro eléctrico no se limitan al verano o a las tormentas; el riesgo de cortes existe durante todo el año. En enero de 2019, una tormenta de nieve ahogó el área metropolitana con varios centímetros de nieve, derribando árboles y derribando líneas eléctricas. Más de 100.000 clientes estuvieron sin electricidad durante días. Tampoco todos los apagones están relacionados con el clima; pueden resultar de fallas del equipo o mantenimiento planificado.
En el mejor de los casos, los cortes de energía son un inconveniente; pero, en el peor de los casos, son costosos o incluso ponen en peligro la vida. Por ejemplo, sin electricidad para los refrigeradores y congeladores, los alimentos se echan a perder. Reemplazarlo puede costar una fortuna. Según los Centros para el Control y la Prevención de Enfermedades, los alimentos permanecerán seguros hasta cuatro horas en un refrigerador, 48 horas en un congelador lleno y 24 horas en un medio congelador mientras no haya electricidad, siempre y cuando las puertas permanezcan cerradas. La electricidad también alimenta algunos dispositivos médicos esenciales, como los equipos de oxígeno suplementario.
La inevitabilidad de un corte de energía nos obliga a estar preparados. Hay formas de minimizar las pérdidas económicas asociadas con los cortes de energía y mitigar el peligro. Esté preparado.
Cree un plan que se adapte a las necesidades específicas del hogar y permita que todos pasen varios días sin electricidad. Guarde los teléfonos móviles y otros dispositivos electrónicos esenciales completamente cargados. Mantenga el tanque lleno de gasolina en el auto. Mantenga una pequeña provisión de alimentos no perecederos. Sea consciente del clima.
Considere invertir en un generador de respaldo. Puede representar una ayuda para salvar vidas, restaurando la energía durante un corte. Los generadores para toda la casa pueden costar entre $4,000 y $25,000 o más, según Forbes.com. La mayoría de los propietarios pagan alrededor de $9,000, incluida la instalación. Los precios varían, señaló Forbes, según el tamaño, la marca y el tipo de combustible del generador.
Los generadores menos costosos son los que funcionan con gasolina y son portátiles, no para toda la casa. Por lo general, cuestan entre 500 y 3200 dólares. Los costos operativos dependen del precio predominante de la gasolina en el surtidor.
Otros tipos de generadores de respaldo incluyen los que funcionan con propano líquido, gas natural, gas diésel y energía solar.
Los cortes de energía ocurren, pero no tienen por qué costar una vida o una fortuna.
Nota bene:
La guía del 3 de julio de 2023 para comprar generadores de respaldo está disponible en línea en https://www.forbes.com/home-improvement/electrical/generator-cost-guide/#:~:text=Whole%2Dhouse%20generators%20can%20range,size%2C%20brand%20and%20fuel%20type.