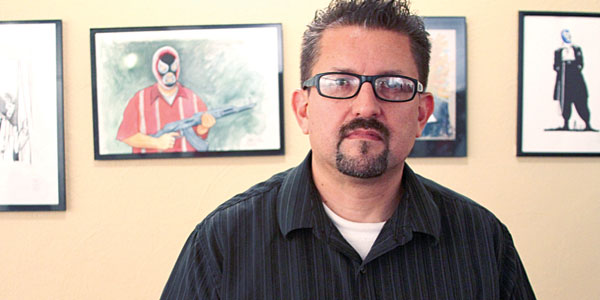 Lalo Alcaraz regularmente utiliza sus habilidades artísticas para protestar contra las injusticias sociales, y el 16 de septiembre, el caricaturista político, artista, productor y activista chicano habló sobre su arte y activismo en Topeka, Kan.
Alcaraz dio una conferencia en la Universidad de Washburn durante el ciclo de conferencias Mes de la Herencia Hispana el Tercer Anual de la Sociedad de Tonantzin.
"Espero que ellos (el público) se sienten muy bien por ser de color marrón en este Día de la Independencia de México," declaró Alcaraz. "Después de todo, hemos estado tomando (todo) de este año – y para, ya sabes, décadas. Es hora de que nos mantenemos de pie y no ser por vencidos."
Alcaraz también espera que los asistentes se alejaron riendo como locos después de su conferencia.
Alcaraz, que es más conocido por su tira cómica "La Cucaracha," comenzó su racha de dibujos animados satíricos durante su estancia en la Universidad Estatal de San Diego. Allí, fue un dibujante artista de paga en el periódico de la universidad. Eso provocó su interés en hacer arte para ganarse la vida.
Fue cuando era un niño que Alcaraz vio el injusto tratamiento de los individuos, especialmente los inmigrantes.
"Yo era un niño enojado," él recordó. "Estaba molesto por la forma en que mis padres fueron tratados sólo porque eran inmigrantes mexicanos. Y yo estaba molesto por la forma en que me trataron porque yo era el hijo de inmigrantes mexicanos."
A pesar de que la crianza de Alcaraz abrió sus ojos a una nueva forma de justicia y una voz para hablar, no fue sino hasta que tenía 15 años cuando empezó a comprender lo que sucedía a su alrededor, él dijo.
Con el tiempo, Alcaraz combinó su interés por el arte y su activismo político. Está satisfecho de que su trabajo puede proporcionar una voz para los demás, sugirió.
"Me gusta cuando dicen mis lectores, 'Oh, yo quería decir eso, pero no sabía cómo decirlo,'" dijo Alcaraz. "Creo que la gente recuerda más visuales que se recuerdan texto. Realmente se pone bajo la piel de las personas."
Como activista chicano,  Alcaraz subrayó que poner atención a la política cada cuatro años no es efectivo para la creación de cualquier tipo de acción o reforma para los hispanos en los Estados Unidos. Dijo que es un pecado no votar – y es un doble pecado de no involucrarse, especialmente en la política.
"Me gustaría que la gente era más complicado," dijo Alcaraz. "La gente se sienten emocionalmente y lloran y … (no) hacen nada."
Para obtener más información acerca de Alcaraz y su trabajo, visite laloalcaraz.com o seguienlo en Facebook.
---
Political cartoonist Lalo Alcaraz visits Washburn
By Katherine Diaz
Lalo Alcaraz regularly uses his artistic skills to protest against social injustices – and on Sept. 16, the political cartoonist, artist, producer and Chicano activist discussed his art and activism in Topeka, Kan.
Alcaraz lectured at Washburn University during the Third Annual Tonantzin Society's Hispanic Heritage Month lecture series.
"I hope that they (the audience) feel O.K. about being brown on this Mexican Independence Day," Alcaraz stated. "After all, we've been taking (it) this year – and for, you know, decades. It's time for us to keep standing up and not give up."
Alcaraz also hoped the attendees walked away laughing their heads off after his lecture.
Alcaraz, who's best known for his comic "La Cucaracha," began his satirical cartoon streak during his time at San Diego State University. There, he was an artist cartoonist for pay at the university paper. That sparked his interest in doing art for a living.
It was as a boy that Alcaraz saw the unjust treatment of individuals, especially immigrants.
"I was an angry young child," he recalled. "I was upset about the way my parents were treated just because they were Mexican immigrants. And I was upset about how I was treated because I was the son of Mexican immigrants."
Although Alcaraz's upbringing opened his eyes to a new form of justice and a voice to speak up, it wasn't until he was 15 that he began to understand what was happening around him, he said.
Eventually, Alcaraz combined his interest in art and his political activism. He's pleased that his work can provide a voice for others, he suggested.
"I do like it when my readers say, 'Oh I wanted to say that, but I didn't know how to say it,' " Alcaraz said. "I think people remember visuals more than they remember text. It really gets under people's skin."
As a Chicano activist, Alcaraz stressed that paying attention to politics every four years is ineffective at creating any type of action or reform for Hispanics in the United States. He said it's a sin not to vote – and it's a double sin not to get involved, especially in politics.
"I wish people were more involved," he stated. "People will sit around and cry and … (not) do anything."
For more information on Alcaraz and his work, visit laloalcaraz.com or follow him on Facebook.