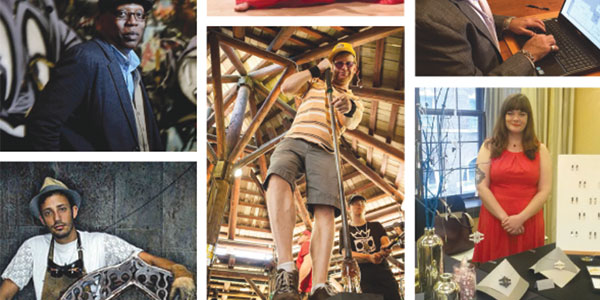 By Melissa Arroyo
Members of Kansas City, Mo.'s arts community might soon have more affordable places to live and work, thanks in part to a recent research study.
The Office of Culture and Creative Services (OCCS) in Kansas City, Mo., and the Economic Development Corp. of Kansas City partnered to contract with ArtSpace, a non-profit art facilities developer, to conduct a survey to assess the interest in design and development of affordable live-work units for artists and other individuals in Kansas City's arts community. More than 500 Kansas City area residents who devote some or most of their time to making a living through art participated in the study by filling out a survey.
Through the survey, the artists expressed their interest in living in affordable units that would allow them to live and pursue their creative profession. Around 100 area businesses also participated to express interest in this initiative.
On July 27, the results of the survey, which was conducted from October 2016 to January 2017, were presented to the Kansas City Council Business Committee and Mayor Sly James. Wendy Holmes, a consultant from ArtSpace, outlined during the presentation that creating affordable housing and work spaces for area artists would "help with the economic development of the city, encourage population growth and preserve affordability for artists who have been displaced."
The study offered three recommendations for the city to consider implementing: creating 60 living units of affordable live/work housing, up to 40 additional studio/creative work-only spaces and up to 3,000 square feet of traditional creative commercial space. The OCCS plans to leverage the results to move forward with a housing or creative commercial project, consider the best location for that project and create a community leadership task force.
For more information about the OCCS and to view the survey results, visit http://kcmo.gov/citymanagersoffice/creative-services/.
---
La comunidad artística de KCMO quiere espacios asequibles para trabajar y vivir, según un estudio
Los miembros de la comunidad artística de Kansas City, Missouri pronto podrían tener lugares más asequibles para vivir y trabajar, gracias en parte a un reciente estudio de investigación.
La Oficina de Cultura y Servicios Creativos (OCCS) en Kansas City, Missouri, y la Corporación de Desarrollo Económico de Kansas City se asociaron para contratar con ArtSpace, un desarrollador de instalaciones artísticas sin fines de lucro, para realizar una encuesta para evaluar el interés en el diseño Y el desarrollo de unidades de trabajo en vivo asequibles para artistas y otras personas en la comunidad artística de Kansas City. Más de 500 residentes del área de Kansas City que dedican parte o la mayor parte de su tiempo a ganarse la vida a través del arte participaron en el estudio llenando una encuesta.
A través de la encuesta, los artistas expresaron su interés en vivir en unidades asequibles que les permitirían vivir y desarrollar su profesión creativa. Alrededor de 100 empresas del área también participaron para expresar su interés en esta iniciativa.
El 27 de julio, los resultados de la encuesta, que se llevó a cabo de octubre del 2016 a enero del 2017, se presentaron a la Comisión de Negocios del Ayuntamiento de Kansas y el alcalde Sly James. Wendy Holmes, consultora de ArtSpace, señaló durante la presentación que la creación de viviendas asequibles y espacios de trabajo para los artistas del área "ayudarían al desarrollo económico de la ciudad, fomentarían el crecimiento de la población y preservarían la asequibilidad de los artistas desplazados".
El estudio ofreció tres recomendaciones para que la ciudad considere la implementación: la creación de 60 unidades asequibles para trabajar y vivir, hasta 40 espacios adicionales de estudio / trabajo creativo y hasta 3.000 pies cuadrados de espacio comercial creativo tradicional. La OCCS planea aprovechar los resultados para avanzar con una vivienda o un proyecto comercial creativo, considerar la mejor ubicación para ese proyecto y crear una fuerza de trabajo de liderazgo comunitario.
Para más información sobre el OCCS y para ver los resultados de la encuesta, visite http://kcmo.gov/citymanagersoffice/creative-services/.