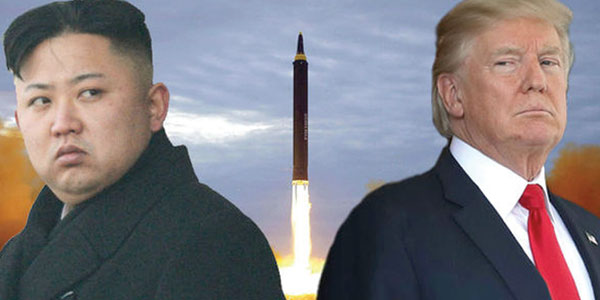 Commentary by Dermidio Juez-Perez
America's relationship with North Korea continues to get worse.
As proof, consider the latest war of words between the two countries.
On Sept. 23, the Pentagon announced that military planes had flown off the coast of North Korea to send "clear message" to leader Kim Jong-un. On Sunday (Sept. 24), U.S. President Donald J. Trump tweeted: "I just heard the foreign minister of North Korea speak at the UN (United Nations). If … (he) represents the thoughts of the Rocket Man, they will not be around for much longer!"
As a result, on Monday (September 25), North Korean Foreign Minister Ri Yong Ho made an accusation against Trump.
"Last weekend, Trump claimed that our leadership wouldn't be around much longer and declared … war on our country," Ri told reporters in New York.
The foreign minister also said North Korea would take action in response to Trump's threat. And he didn't discard North Korea's right to shoot down U.S. bombers flying over the Korean peninsula, even if they didn't enter North Korean airspace.
Fortunately, also on Monday, White House Press Secretary Sarah Sanders said the U.S. hadn't declared war on anyone, adding, "The suggestion of that is absurd." Sanders also stated it's "never appropriate" to shoot down another nation's planes in international waters.
Hopefully, for humanity's sake, the relationship between the United States and North Korea continues to be nothing but a war of words between two countries.
---
La guerra de palabras entre Estados Unidos y Corea del Norte continúa
La relación de Estados Unidos con Corea del Norte continúa empeorando.
Como prueba, considere la última guerra de palabras entre los dos países.
El 23 de septiembre, el Pentágono anunció que aviones militares habían volado sobre la costa de Corea del Norte para enviar "mensaje claro" al líder Kim Jong-un. El domingo (24 de septiembre), el presidente de los Estados Unidos Donald J. Trump twitteó: "Acabo de escuchar al canciller de Corea del Norte hablar en la ONU (Naciones Unidas). Si … (él) representa los pensamientos del Hombre Rocket, ¡no existirán por mucho tiempo! "
Como resultado, el lunes (25 de septiembre), el canciller norcoreano, Ri Yong Ho, hizo una acusación contra Trump.
"El fin de semana pasado, Trump afirmó que nuestro liderazgo no estaría por mucho tiempo y declaró… la guerra a nuestro país", dijo Ri a periodistas en Nueva York.
El canciller también dijo que Corea del Norte actuaría en respuesta a la amenaza de Trump. Y no descartó el derecho de Corea del Norte a derribar a los bombarderos estadounidenses sobrevolando la península coreana, aunque no entraran en el espacio aéreo norcoreano.
Afortunadamente, también el lunes, la secretaria de prensa de la Casa Blanca, Sarah Sanders, dijo que Estados Unidos no había declarado la guerra a nadie, agregando que "la sugerencia de eso es absurda". Sanders también declaró que "nunca es apropiado" derribar aviones de otra nación en vuelos sobre aguas internacionales.
Esperemos que, por el bien de la humanidad, la relación entre Estados Unidos y Corea del Norte siga siendo una guerra de palabras entre dos países.