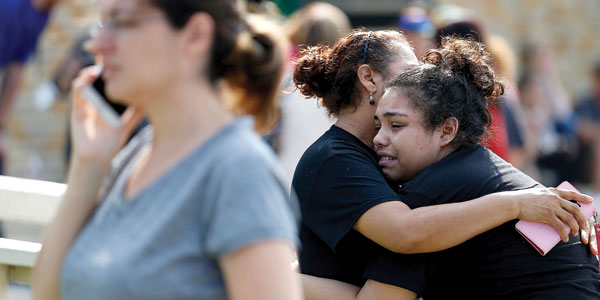 By Tere Siqueira
A small Texas town is attempting to recover from the latest mass school shooting in the United States.
On May 18, Dimitiros Pagoutzis, 17, allegedly opened fire at Santa Fe High School. Multiple news sources reported that 10 people (eight students, two teachers) were killed, with 11 more people injured. Listed by CNN as the 22nd school shooting this year in America, including an April incident in Raytown, Mo., the Texas shooting caused the most fatalities since the mass shooting in February in Parkland, Fla. The February shooting resulted in 17 deaths.
Pagoutzis has been charged with capital murder and aggravated assault on a public servant. Classmates have described him as shy and unassuming, a video gamer who always wore black boots and a trench coat.
Texas Gov. Greg Abbott said there were no outward signs of Pagoutzis planning an attack. Abbott called the shooting "one of the most heinous attacks that we've ever seen in the history of Texas schools."
As details began emerging about the shooting, President Trump alerted Americans about the incident through social media.
"School shooting in Texas," Trump tweeted. "Early reports not looking good. God bless all!"
Shortly thereafter, Trump took to the podium during an event, and addressed the shooting and gun control policies.
Trump isn't the only political leader to discuss the issue. On Tuesday (May 22), Governor Abbott hosted a roundtable talk regarding school safety in Austin, the state capital. The Republican, who has been a strong supporter of gun rights and has worked to expand them in recent years in Texas, was reportedly hosting another discussion session on Wednesday (May 23).
As lawmakers and political activists wrestle with gun control and school safety issues, Santa Fe school district employees and students are slowly getting back into their daily routines. Teachers reportedly returned to work on Wednesday. Students are expected to return to school on May 29. In a letter released by the Superintendent Leigh Wall, it was stated that high school graduation would take place on June 1 at Joe Raitano Memorial Stadium.
---
Ciudad de Texas se vuelve el último tiroteo masivo en una escuela
Una pequeña ciudad de Texas está tratando de recuperarse del último tiroteo masivo en los Estados Unidos.
El 18 de mayo, Dimitiros Pagoutzis, de 17 años, supuestamente abrió fuego en Santa Fe High School. Varios medios de comunicación informaron que 10 personas (ocho estudiantes y dos profesores) fueron asesinadas, y otras 11 personas resultaron heridas. Fue incluido por CNN como el 22 ° tiroteo escolar este año en Estados Unidos, contando un incidente en abril en Raytown, Missouri, el tiroteo en Texas causó la mayor cantidad de muertes desde el tiroteo masivo en febrero en Parkland, Florida. El tiroteo de febrero que resultó en 17 muertes.
Pagoutzis ha sido acusado de asesinato capital y asalto agravado a un servidor público. Los compañeros de clase lo han descrito como tímido y modesto, un jugador de video juegos que siempre usaba botas negras y una gabardina.
El gobernador de Texas Greg Abbott dijo que no había señales externas de que Pagoutzis planeara un ataque. Abbott calificó el tiroteo como "uno de los ataques más atroces que hemos visto en la historia de las escuelas de Texas".
Cuando comenzaron a salir del tiroteo, el presidente Trump alertó a los estadounidenses sobre el incidente a través de las redes sociales.
"Tiroteo en Texas", twiteó Trump. "Los primeros informes no se ven bien. ¡Dios los bendiga a todos!"
Poco después, Trump subió al podio durante un evento y abordó las políticas del tiroteo y control de armas.
Trump no es el único líder político para discutir el tema. El martes (22 de mayo), el Gobernador Abbott organizó una mesa redonda sobre seguridad escolar en Austin, la capital del estado. El republicano, que ha sido un firme defensor de los derechos de las armas de fuego y ha trabajado para expandirlos en los últimos años en Texas, habría estado en debate el miércoles (23 de mayo).
Mientras los legisladores y activistas políticos luchan con el control de armas y los problemas de seguridad escolar, los empleados del distrito escolar de Santa Fe y los estudiantes lentamente vuelven a sus rutinas diarias. Según los informes, los maestros volvieron al trabajo el miércoles. Se esperaba que los estudiantes regresaran a la escuela el 29 de mayo. En una carta dada a conocer por el Superintendente Leigh Wall, se declaró que la graduación de la preparatoria se llevaría a cabo el 1 de junio en el Joe Raitano Memorial Stadium.