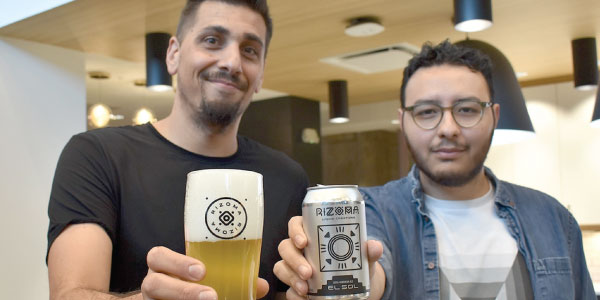 By Chara
Damon Arrendondo and Edwing Mendez have become pioneers in the Kansas City area's business community.
Recently, the two founded Rizoma Liquid Creations, the area's first known Hispanic-owned beer company.
"We don't have a brewing space," Mendez said. "It is something that we've kind of been figuring out as well. Damon is the one brewing all the beer. He has a background as a brew master."
With Arrendondo doing the brewing, Rizoma Liquid Creations has launched its first brand of beer, El Sol.
"The idea was to have one beer that is sort of the light, easy-to-drink-every-day (beer)," Mendez said.
The two also plan to launch La Luna, a beer with a deep, robust flavor. With those two beers, Arredondo and Mendez are trying to reach people who want to try something different.
"We want to reach the folks that are curious about new flavors and are willing to try," Mendez said.
Their pioneering business venture started in 2021, when Arredondo began considering opening a brewery. He reached out to Mendez. Then, they decided on their company's name, Rizoma, Spanish for the word rhizome.
"I was like, 'It's like a word that it's in Spanish, but it's not necessarily like a word that is attached to Spanish culture directly. So it's a word that we can kind of play around with and we can mess with and make our own,'" Mendez said. "So that was kind of the idea – of, like, it's a different enough word, (but) it's still (a) Spanish word. But if you speak English, you could just say Rizoma. It doesn't feel weird. It feels like a different word."
Being part of the area's first Hispanic-owned beer company is important to Mendez.
"Kansas City has 100 years of Mexican culture and community here," he said. "There have been brewers that have made beer, probably, here. We just never heard of them. Maybe they never got picked up or they never got to sell it in a store. So, to me, Mexican culture and brewing have probably already … (had) a long history here in Kansas City."
"But I guess the significance is that we're the first ones to have our brand be able to make our product and put it on the shelves," he added. "To me, (it) is also like we're carrying a little bit of responsibility by doing that because we get to represent the community in that in that space very directly."
Rizoma is sold at Crane Brewing Co., 6515 Railroad St., Raytown, Missouri.
---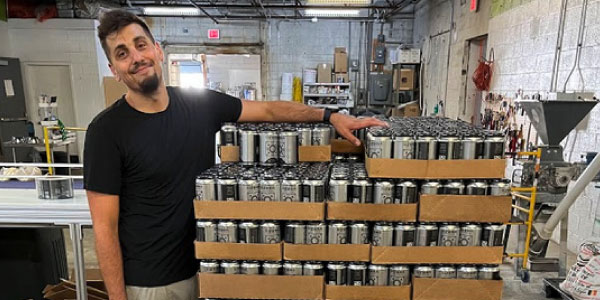 Primera compañía cervecera hispana en KC lanza su primera cerveza
Damon Arredondo y Edwing Méndez se han convertido en pioneros en la comunidad empresarial en el área de Kansas City.
Recientemente, los dos fundaron Rizoma Liquid Creations, la primera compañía cervecera de propiedad hispana conocida en el área.
"No tenemos un espacio para preparar cerveza", dijo Méndez. "Es algo que también hemos estado averiguando. Damon es el que prepara toda la cerveza. Tiene experiencia como maestro cervecero".
Con Arrendondo elaborando cerveza, Rizoma Liquid Creations ha lanzado su primera marca de cerveza, El Sol.
"La idea era tener una cerveza que fuera ligera, fácil de beber todos los días", dijo Méndez.
Entre sus planes también está el lanzar La Luna, una cerveza con un sabor profundo y robusto. Con esas dos cervezas, Arredondo y Méndez están tratando de llegar a la gente que quiere probar algo diferente.
"Queremos llegar a las personas que sienten curiosidad por los nuevos sabores y están dispuestas a probar", dijo Méndez.
Su aventura empresarial pionera comenzó en 2021, cuando Arredondo comenzó a considerar abrir una cervecería. Se acercó a Méndez. Luego, decidieron el nombre de su empresa, Rizoma.
"Yo estaba como, 'Es como una palabra que está en español, pero no es necesariamente como una palabra que está directamente unida a la cultura española. Así que es una palabra con la que podemos jugar y podemos jugar y hacerla nuestra", dijo Méndez. "Así que esa era la idea, como si fuera una palabra lo suficientemente diferente, (pero) sigue siendo (una) palabra en español. Pero si hablas inglés, podrías decir simplemente Rizoma. No se siente raro. Se siente como una palabra diferente".
Ser parte de la primera compañía cervecera de propiedad hispana del área es importante para Méndez.
"Kansas City tiene 100 años de cultura y comunidad mexicana aquí", dijo. "Ha habido cerveceros que han hecho cerveza, probablemente, aquí. Simplemente nunca hemos oído hablar de ellos. Tal vez nunca se volvieron famosos o nunca llegaron a venderlo en una tienda. Entonces, para mí, la cultura y la elaboración de cerveza mexicana probablemente ya… (tenían) una larga historia aquí en Kansas City".
"Pero supongo que la importancia es que somos los primeros en tener nuestra marca capaz de fabricar nuestro producto y ponerlo en los estantes", agregó. "Para mí, también es como si asumiéramos un poco de responsabilidad al hacer eso porque podemos representar a la comunidad en ese espacio de manera muy directa".
Rizoma se vende en Crane Brewing Co., 6515 Railroad St., Raytown, Missouri.