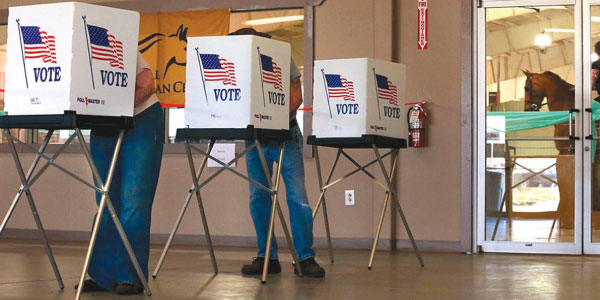 On Nov. 8, voters in Missouri will decide whether to hold another constitutional convention to draft a new state constitution or propose amendments to the current 208-page constitution. The ballot question, which reads: "Shall there be a convention to revise and amend the (state) Constitution?" appears on the ballot every 20 years as required by the state constitution.
If a majority of Missourians vote "yes," Missouri Governor Parsons begins the process. He must call an election for 83 delegates "in not less than three nor more than six months." In this case, the election would be held between February and May 2023. The 83 convention delegates would be comprised of 68 partisan and 15 nonpartisan Missourians.
Each of the state's 34 Senate districts would elect two delegates to the convention from Missourians nominated by one of the state's five recognized political parties – Constitution, Democratic, Green, Libertarian and Republican.
The remaining 15 at-large delegates are elected on a nonpartisan statewide ballot. That election is open to interested Missouri voters. To win nomination, they must turn in petition signatures from their respective Senate districts equal to five percent of that district's registered voters. Within 30 days before the delegate election, they must have petition signatures verified and filed with the Missouri secretary of state.
Missouri voters get the final say on constitutional recommendations the convention delegates make. They ratified the current constitution in February 1945. In November 1943, a majority of Missouri voters – 58% — had approved a Constitutional Convention, which was held in 1943. The delegates approved the new constitution in 1944. It was submitted to voters the following year and has now been amended 120 times.
A new constitutional convention would be Missouri's seventh. The first convened in St. Louis in 1820 and produced the state's first constitution; it was only 38 pages long. The second took place in Jefferson City in 1845, but voters refused to ratify the proposed constitution. Missourians did approve the constitutions drafted by convention delegates in St. Louis in 1865 and then in Jefferson City in 1875. The fifth constitutional convention assembled in Jefferson City in 1922. Delegates produced 21 amendments instead of a new constitution. Voters approved seven of the 21.
Forty-four states have rules governing how constitutional conventions can be called in their respective states. Missouri is one of 14 states with the question placed automatically on the ballot every 10, 16 or 20 years. This year, three states – Alaska, Missouri and New Hampshire are asking voters whether to hold a constitutional convention.
Since 1945, Missourians have voted three times — in 1962, 1982 and 2002 — on whether to hold a convention. The last time the question appeared on the ballot, 1,079,085 Missouri voters rejected it by sizeable margin – 65.5% to 34.5%.
The question has supporters and opponents on both sides of the political aisle. A self-described nonpartisan group — Say Yes To Democracy (https://sayyestodemocracy.org/) — is campaigning for a constitutional convention.
If approved, Missouri's constitutional convention would be open to the press and public, as constitutionally mandated.
Nota bene:
In Missouri, the deadline to register to vote in the Nov. 8 election is Oct. 12. To register to vote or check or update your voter registration online, go to https://www.sos.mo.gov/elections/goVoteMissouri/register or https://www.vote411.org/missouri.
---
Residentes de Missouri votarán sobre una convención constitucional
El 8 de noviembre, los votantes de Missouri decidirán si realizan otra convención constitucional para redactar una nueva constitución estatal o proponer enmiendas a la constitución actual de 208 páginas. La pregunta de la boleta, que dice: "¿Debe haber una convención para revisar y enmendar la Constitución (del estado)?" aparece en la boleta electoral cada 20 años como lo exige la constitución estatal.
Si la mayoría de los habitantes de Missouri vota "sí", el gobernador de Missouri, Parsons, inicia el proceso. Debe convocar a la elección de 83 delegados "en no menos de tres ni más de seis meses". En este caso, la elección se llevaría a cabo entre febrero y mayo de 2023. Los 83 delegados de la convención estarían compuestos por 68 partisanos y 15 no partidistas de Missouri.
Cada uno de los 34 distritos del Senado del estado elegiría dos delegados para la convención de los residentes de Missouri nominados por uno de los cinco partidos políticos reconocidos del estado: Constitución, Demócrata, Verde, Libertario y Republicano.
Los 15 delegados generales restantes se eligen en una boleta estatal no partidista. Esa elección está abierta a los votantes interesados ​​de Missouri. Para ganar la nominación, deben entregar firmas de petición de sus respectivos distritos senatoriales equivalentes al cinco por ciento de los votantes registrados de ese distrito. Dentro de los 30 días antes de la elección de delegados, deben verificar las firmas de la petición y presentarlas ante el secretario de estado de Missouri.
Los votantes de Missouri tienen la última palabra sobre las recomendaciones constitucionales que hacen los delegados de la convención. Ratificaron la constitución actual en febrero de 1945. En noviembre de 1943, la mayoría de los votantes de Missouri (58 %) había aprobado una Convención Constitucional, que se celebró en 1943. Los delegados aprobaron la nueva constitución en 1944. Se presentó a los votantes el año siguiente y ya ha sido modificada 120 veces.
Una nueva convención constitucional sería la séptima de Missouri. La primera se reunió en St. Louis en 1820 y produjo la primera constitución del estado; sólo tenía 38 páginas. El segundo tuvo lugar en Jefferson City en 1845, pero los votantes se negaron a ratificar la constitución propuesta. Los residentes de Missouri aprobaron las constituciones redactadas por los delegados de la convención en St. Louis en 1865 y luego en Jefferson City en 1875. La quinta convención constitucional se reunió en Jefferson City en 1922. Los delegados produjeron 21 enmiendas en lugar de una nueva constitución. Los votantes aprobaron siete de los 21.
Cuarenta y cuatro estados tienen reglas que rigen cómo se pueden convocar convenciones constitucionales en sus respectivos estados. Missouri es uno de los 14 estados en los que la pregunta se coloca automáticamente en la boleta electoral cada 10, 16 o 20 años. Este año, tres estados: Alaska, Missouri y New Hampshire están preguntando a los votantes si deben celebrar una convención constitucional.
Desde 1945, los residentes de Missouri han votado tres veces, en 1962, 1982 y 2002, sobre la celebración de una convención. La última vez que apareció la pregunta en la boleta, 1.079.085 votantes de Missouri la rechazaron por un margen considerable: 65,5 % contra 34,5 %.
La pregunta tiene partidarios y opositores en ambos lados del espectro político. Un grupo no partidista autodenominado, Di Sí a la Democracia (https://sayyestodemocracy.org/), está haciendo campaña para una convención constitucional.
Si se aprueba, la convención constitucional de Missouri estaría abierta a la prensa y al público, según lo dispuesto por la constitución.
Nota bene:
En Missouri, la fecha límite para registrarse para votar en las elecciones del 8 de noviembre es el 12 de octubre. Para registrarse para votar o verificar o actualizar su registro de votante en línea, visite https://www.sos.mo.gov/elections/goVoteMissouri/register o https://www.vote411.org/missouri.