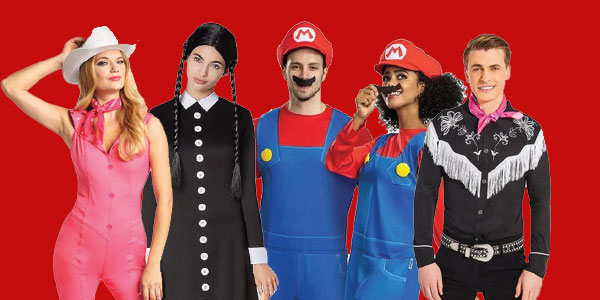 Como cada año, el próximo 31 de octubre se celebra Halloween en Estados Unidos y otros países alrededor del mundo. Como ya es costumbre, las calles y fiestas estarán llenas de niños y personas con sus mejores disfraces.
Aunque hay disfraces que nunca pasan de moda en esta fecha, algunas personas optan por elegir un atuendo basado en lo mejor del año y este 2023 nos ha regalado varias opciones. Desde series y películas populares hasta atuendos virales, te compartimos las mejores ideas.
Aqui hay varias ideas para que te disfraces este 2023
The Eras Tour y Renaissance Tour
Si asististe a alguno de estos dos conciertos y no tienes mucho tiempo o presupuesto para un disfraz, puedes reciclar tu look para este Halloween.
Jugadores deportivos: Travis Kelce y Taylor Swift o Patrick Mahomes
¿Eres fan de Taylor y tu novio tiene un jersey de los Chiefs o de algun equipo deportivo? La pareja del momento continúa acaparando los titulares desde que el mes pasado The Messenger revelara que llevaban varias semanas saliendo y Swift fue a su primer juego en el Arrowhead Stadium.
La Sirenita
El live-action de la película, estrenada este año, es la excusa perfecta para retomar este disfraz.
Carmy de 'The Bear'
Si eres fan de la serie 'The Bear' y buscas una opción de disfraz sencilla, puedes disfrazarte de Carmy. Sólo necesitas una camiseta blanca y un delantal azul. Puedes combinarlos con algún utensilio de cocina.
Mario, Luigi, Peach, Bowser
Peaches, Peaches, Peaches… The Super Mario Bros. Movie también dominó este año, por lo que un disfraz de Mario y Luigi, así como Peach y Bowser es perfecto para el Halloween
Wednesday Addams
Según datos recientes de búsqueda de Google, Wednesday Addams está en camino de convertirse en uno de los disfraces de Halloween más populares de este año tras el auge de la serie el año pasado.
Trenzas, vestido negro, pantalón negro, botas, sólo recuerda mantener la paleta de colores estrictamente en blanco y negro.
Barbie & Ken
La película más taquillera del año nos regaló algunos momentos y vestuarios épicos, como el look rosa vaquero de Barbie en el "mundo real" o el outfit colorido de patinaje de Barbie & Ken o el look con el abrigo de piel del Mojo Dojo Ken.